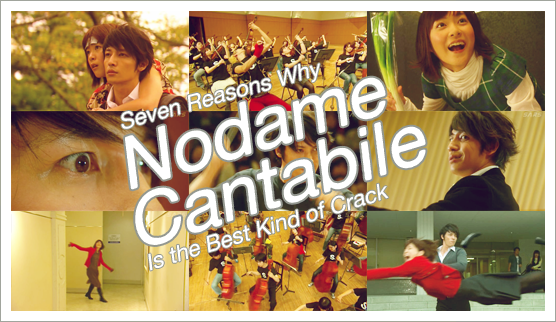 It's like listening to classical music on acid.
But while snuggling a puppy and eating a cupcake!
That's how happy it makes you!



Ah,
Nodame Cantabile
! How can I describe my love for you? After first falling in love with Asian dramas through
Hana Yori Dango
,
Nodame Cantabile
was the first show that really knocked my socks off and showed me that I hadn't reached the pinnacle of my drama love. I've been both brought to tears and to cackling laughter by this show. It's more of a straight comedy than anything else I've watched and yet all the insanity works (and works well) because this show made me care about its characters so very much. Plus, the writing just consistently impressed me and made the whole thing feel so fresh and original.
To summarize,
Nodame Cantabile
is about the quirky, odd couple relationship between Noda Megumi and Chiaki Shinichi. Nodame, as she's called, is an incredibly talented but free-spirited pianist, preferring to compose little ditties about farting for her future career as a kindergarten teacher. Chiaki is an unyielding, highly critical perfectionist, already an accomplished pianist but with his sights really set on conducting. Twin crippling phobias, due to a childhood emergency crash landing and a subsequent near drowning, keep him grounded in Japan. As you can probably guess, they have quite an impact on the each others' lives. :)
1. Nodame = Cutest Eccentric Prodigy Ever Y/Y?

I just
love
Nodame herself. Now, a lot of heroines in dramas are adorable, plucky, independent women who go against the grain. However, I haven't yet seen any quite as actually crazy as Nodame. She's a packrat who lives surrounded by mountains of garbage. She steals other people's food as soon as they turn their backs. She gets so obsessed that she doesn't bother to sleep or shower for days. She's also an amazingly talented musician who can play anything by ear. Nodame is chaotic and unpredictable and you can't help but love her for being totally whacked.
2. This guy's face. So pretty. So hilarious.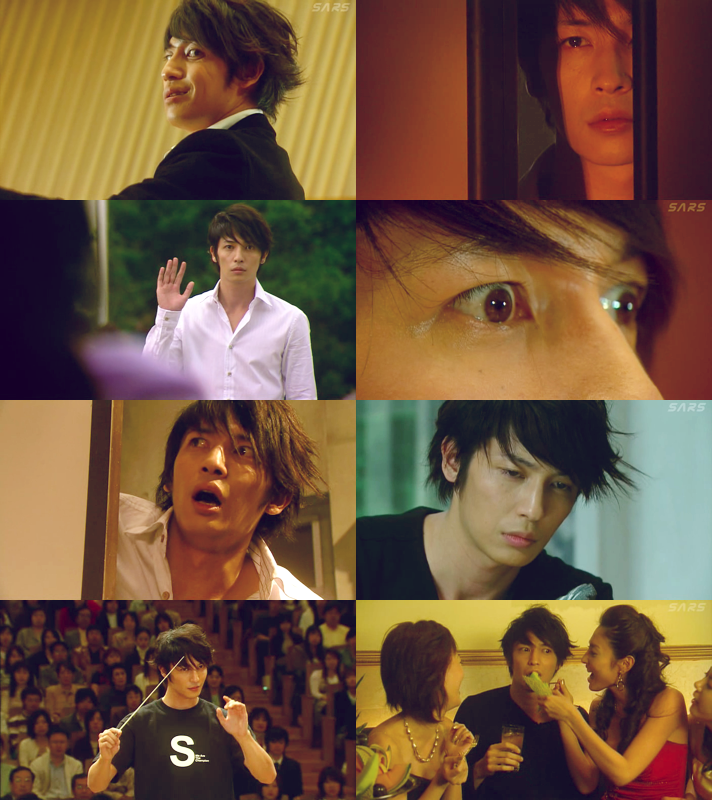 Oh, Chiaki. As the relatively less odd half of a very odd couple, Chiaki is often the straight man to other people's (especially Nodame's) antics. His face generally switches between expressions of shock, incredulity, I'M GOING TO HAVE TO KILL YOU NOW, and various facial tics that being surrounded by these people have created. But I like that Chiaki really has as many eccentricities and flaws as the other characters. He's can be arrogant, prone to OMGKILLFACE, insensitive and exacting. In fact in several episodes, Chiaki acts as "the bad guy" of the plot. But he comes across harsher than he really is. Also, you may have already noticed, he's gorgeous. And I'm nominating him for "Most Successful Translation of Anime/Manga Hair to Real Life". It's fabulous.
3. This is not a drama about normal people.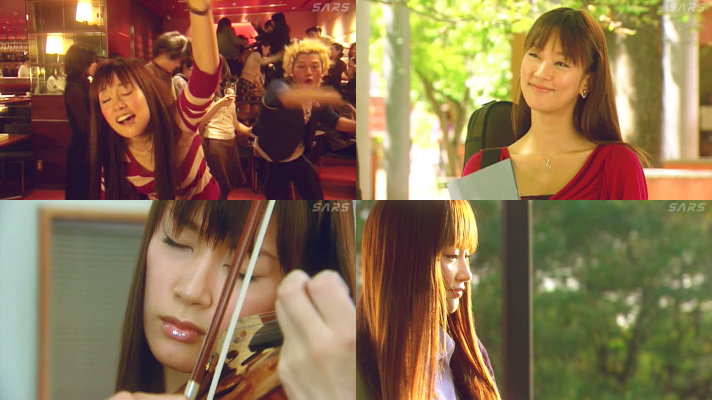 I just love all the characters, with their various talents and eccentricities. This drama is chock full of interesting people, so I only listed my pictured my four favorite secondary characters. Trust me, there's more. From the top:
Mine Ryuutaro
, (electric) violinist and champion of expressing music through your whole body. Just look at the hair.
OMG HE'S MY FAVORITE
!
Masumi-chan
, a timpani player also known for his hair. Also, his big gay crush on Chiaki. Can you blame him?
Kiyora Miki
, an excellent violinist and Concert Mistress, a dream right-hand woman for any conductor. Seems a bit on the cool side at first but isn't shy about getting awesomely drunk.
Sakura Saku
, a tiny girl who often gets mistaken for a elementary school kid yet plays the huge contrabass. Because she thinks it's cooler than a violin. Solid reasoning.
4. The show isn't constrained by reality.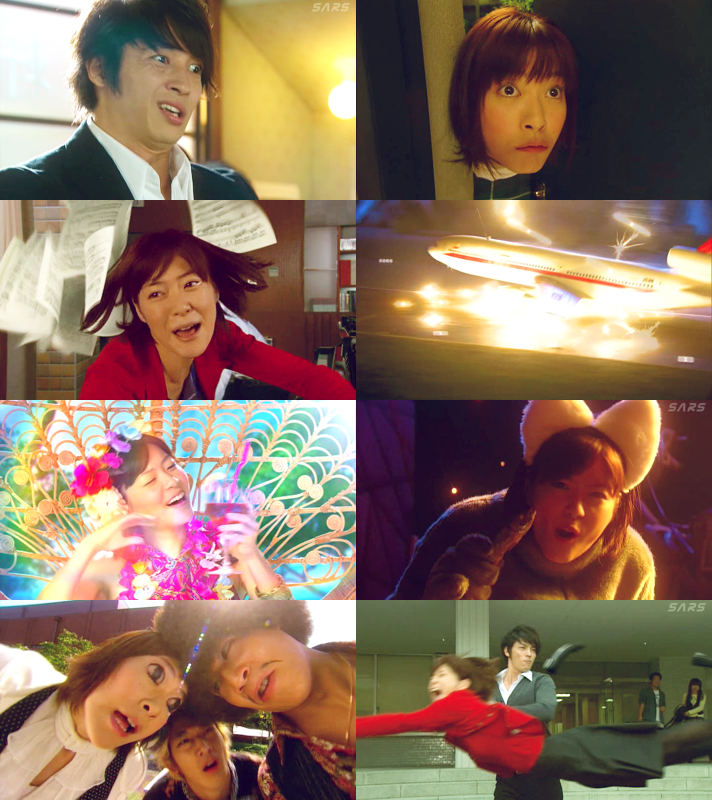 Honestly, it's madness in the best way. This drama uses the slapsticky visual conventions of anime/manga more than any other I've seen and actually pulls it off! I didn't think I'd ever like that! Also, everyone makes the BEST FACES all the time. If you want a show with wacky hijinks, this is the one for you! Between weird fantasy sequences, using an extremely fake plastic plane to simulate a plane crash and just plain outlandish people, there's enough to satisfy any fan of crackiness and WTFery.
5. The music will make you seriously verklempt.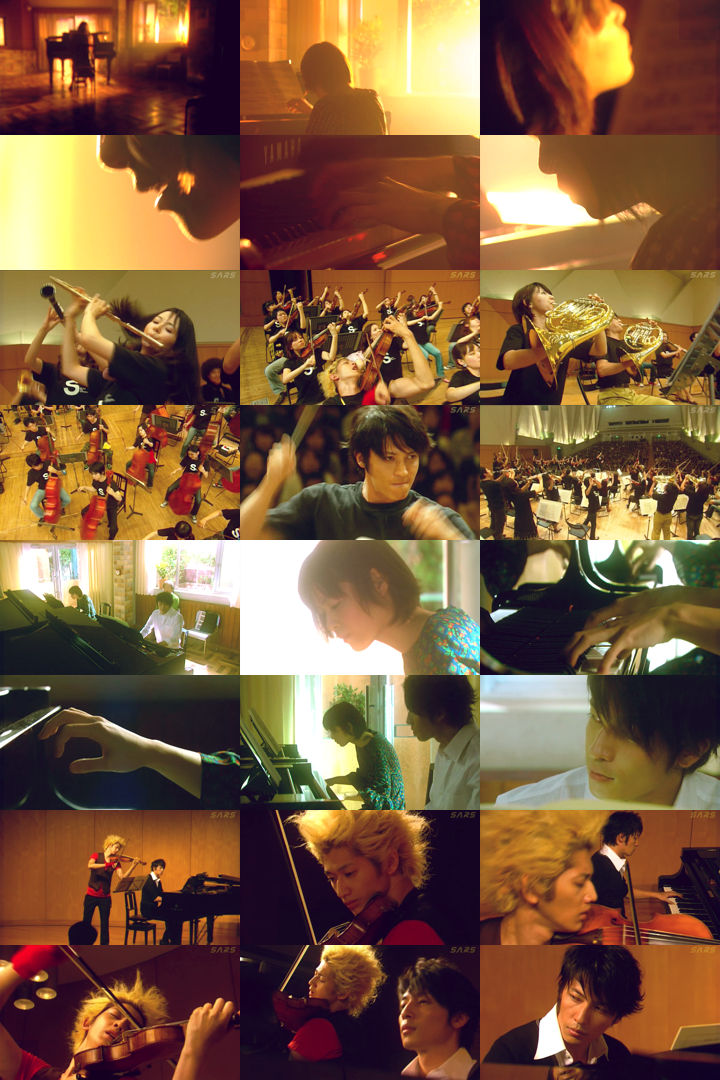 The music of Nodame Cantabile is just so powerful and moving, from watching a solitary figure alone at the piano or a sweeping orchestra in concert. Whether you're a fan of classical musical or not, the characters love what they do so much and are so invested in the piece, it creates a real emotional connection to whatever they're playing. The musical sequences have often brought me to the point of tears, not just because they're often the culmination of a plot but because they're so damn beautiful! Plus, now I find myself humming things like the melody of "Montagues and Capulets" from the Romeo and Juliet ballet. Have I seen the ballet? No, but I've seen
Nodame Cantabile
.
6. Everyone is so BFF!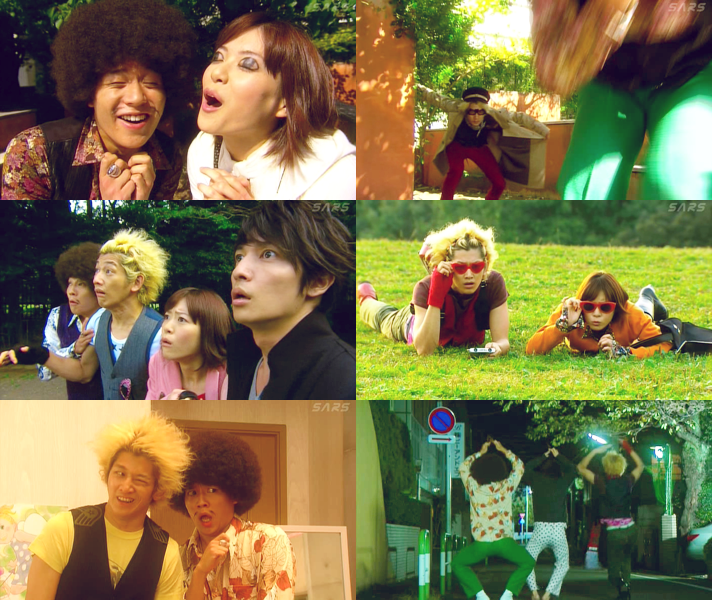 I just adore that this drama focuses so much on all the interactions between our group of weirdos. Everyone gets their little moments together and hilarity is usually the result. It's fun that you can have any two given characters in a scene and have there be something interesting there. But I have a special place in my heart for whenever some combination of Mine, Masumi, Nodame and Chiaki hang out. They have
hijinks
. *smishes them*
7. Crazy people need love too!

When I started off this drama, I was struck at first by how unromantic it was. Not that I didn't think that Nodame and Chiaki were absolutely adorable, it was just that Nodame and Chiaki aren't developed like your average couple. Chiaki can be tough on her, but he pretty much immediately takes up the charge of Nodame's domestic life. Nodame is instantly smitten with Chiaki but she has a hard time being serious (and taken seriously) about anything. In every moment I watched, it slowly built up just how great they are for each other. At its heart,
Nodame Cantabile
is about how someone can come into your life and change everything. There really isn't anything more central to show than the relationship of these two and it's such a pleasure to watch.
As I mentioned in my previous pimping posts, if you're interested in downloading this or any other Asian drama, you should go join
jdramas
. It's an awesome community that's provided me with many hours of entertainment. If you prefer there's also a lot of torrents floating around, many of which can be found on
D-Addicts
.
I hope you enjoyed the picspam! Thanks for watching, folks! Leave a comment for your waitress! ;)
Current Mood:
satisfied
Current Music: Piano Sonata #16 in A minor, D845 - 1st Movement - Amir Kats