Seven ways Ohno Satoshi has broken my brain, squeezed my heart and generally made my life better in the past six months or so: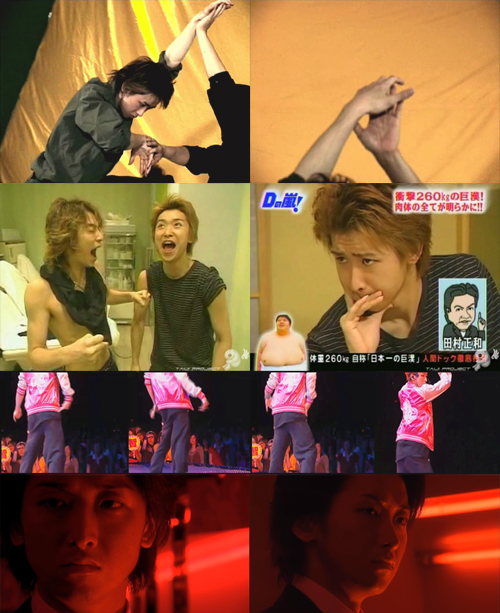 (WARNING: FILLED WITH EXTREME HOTNESS AND UNASHAMED FANGIRLING)
It has come to my attention that though I
obsess
lust over
keysmash about
okay, I do all of these things in an Ohno-related capacity daily, my livejournal doesn't reflect that at all. Let's take this day of celebration to begin to rectify this okay?
(
NOTE:
This is in no way a comprehensive list! It's not the best things about Ohno or even the most important things to me, just some of the many things about this man that are worth mentioning. ♥ Also, while I'm here, you should go check out
phrenk
's
celebratory picspam
too! I can vouch for its excellent quality!)
IN RANDOM ORDER:
1. Surviving his time as cowboy (or Ohno is a weird kid but it's okay)

Oh Ohno, you could at least pretend that microphone is going to reach your lips. ♥
It may be occuring on public television but I read this as entirely true.
Whenever I watch old performances, one of the things that always strikes me (y'know AFTER the HORRIBLE AMOUNTS OF FRINGE AND COW PRINT) is how uncertain and vaguely traumatized Young Ohno often looks. While everyone had a tough time at first, I think Ohno's face most apparently shows how out of place he felt. I like to go back to those moments, just to appreciate how this weird, unposed, amazingly talented guy found his place in the world. Don't worry, Young Ohno, good times are coming for you. :)
2. Ohno Satoshi's hips. (Or a good way to get Ohno-baited)
Ohno has given many gifts to the world. His hands. His dorkiness. His voice, oh god,
his voice
. But just as great as any of those is the gift of watching his hips. His ability to stun people through only the power of dance was the first thing I knew about him, so I feel no Ohno post can be complete with a mention.
3. NARUSE RYOU. (Or that guy can
act
)
MAOU. What to say about you? That word has come to encompass so much. Now I first heard of Maou months ago, when I was looking to stalk Toma and hey, he runs in a wifebeater? Awesome, goes on the list. However I'll be straight with you, after my fall into the Arashi blackhole, I really just wanted to see Ohno act in something other than my beloved Arashi Side Story. And act he
does
. Naruse Ryou, played by one Ohno Satoshi, is a
compelling
character. Even if you came into the drama fresh, all attention goes to Naruse and wondering what's next in his elaborate plan for revenge. His chilling eyes and hairpin shifts hold nothing of Ohno. I was watching Naruse and not only couldn't I keep my eyes off him, I couldn't keep from rooting for him. As I remarked to Val, "Damn, this is a good show. I am both scared of and scared for Naruse." ALSO: Ohno's natural aptitude? Definitely applies to acting too. Holy shit.
4. Ohno is the Sweetest. (No, seriously)
When I was first working out how everyone in Arashi related to each other, I often wondered just what first attracted Nino to befriend one Ohno Satoshi. I mean, why
wouldn't
he but I think Ohno was more hesitant to let his crazy flag fly back then and it's not like Nino was lacking in friends. I sort of came to the conclusion that a) Ohno was always very natural and very interesting b) Ohno needed friends and c) Ohno is pretty much a sweet person. Everyone could use an Ohno.
Anyway, this is a roundabout way of saying that there are a lot of little moments where I just think Ohno is so kind. Like on the most recent Utaban, quiet Ohno was the first to say that Taka-san shouldn't embarrass a fan: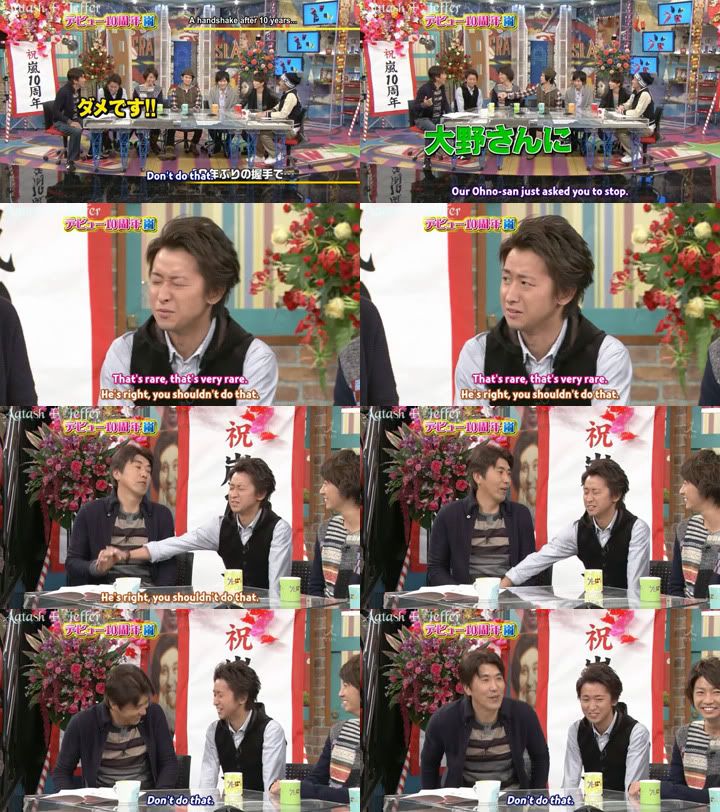 Seriously, what a sweetheart.
5. Myojo Aug 2008 (Otherwise known as OHNO IS REALLY HOT)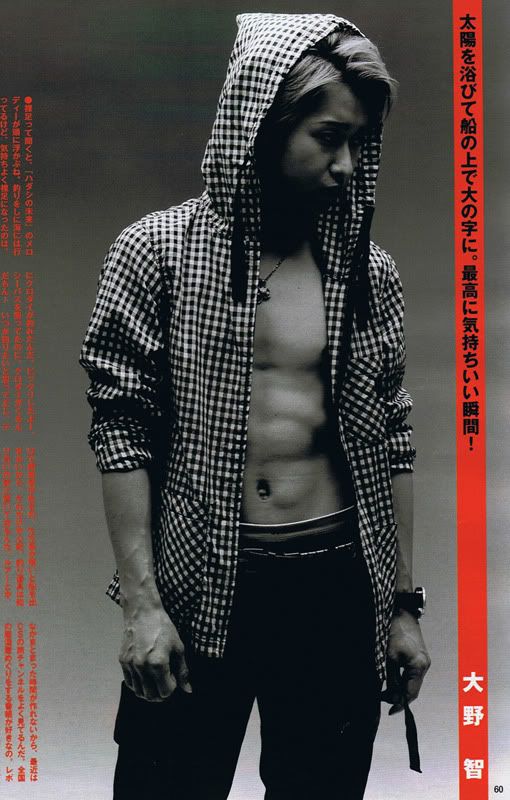 Now often when magazine photos tell Ohno to try and be sexy, I giggle. Ohno is not that stellar at projecting sexiness. He is however, excellent at being sexy. Blah blah, tastes vary but HOLY HELL. LOOK. (Is it weird that I find the veins in his arms to be the key selling point? I think not.)
6. Nrghh, Capoeira (Or he is a talented dude)
As an extension of both the general theme of OHNO IS REALLY HOT and Ohno has the best hips ever, I present another moment my brain was totally broken: Ohno does capoeira. Yeah. YEAH.
(Alert, alert,
download and watch
if you have not already!)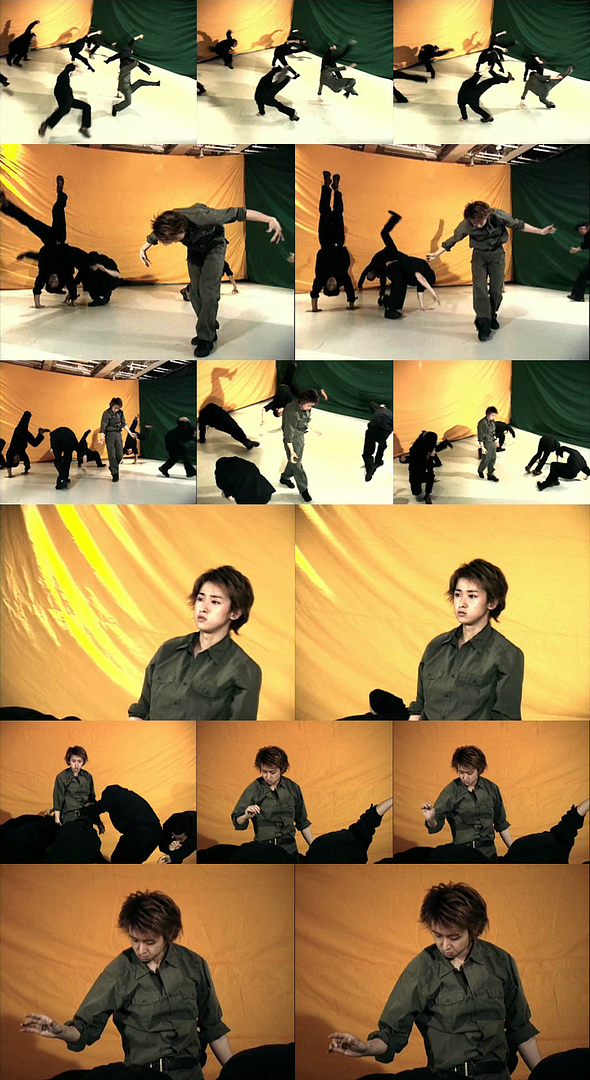 Okay, here is my original commentary from when I watched this for the first time:
"HOLY FUCK HOLY FUCK HOLY FUCKING FUCK! I just watched probably one of the HOTTEST THINGS IN LIFE.
OHNO
doing
CAPOEIRA
. ALSKJDFDKDDFDFLKDHFDKGHDLASLKD;DK;DJF!!!
! That is so PERFECTLY SUITED to Ohno's crazy smooth movement and body control. AND ARMS. AND BALANCE. AND HOTNESS. I have lost the ability to think. I watched it with my jaw dropped open. There's this one part where a dude has a restraining hand on his wrist... then my mind goes blank."
...Basically I think this is as close to Arashi porn as there is for me. Lots of close-ups of hands. Ohno's ass in those pants. Twisting all around. YEAH.
7. DnA Ohno is the Spazziest Ohno (There is nothing better than dorkiness)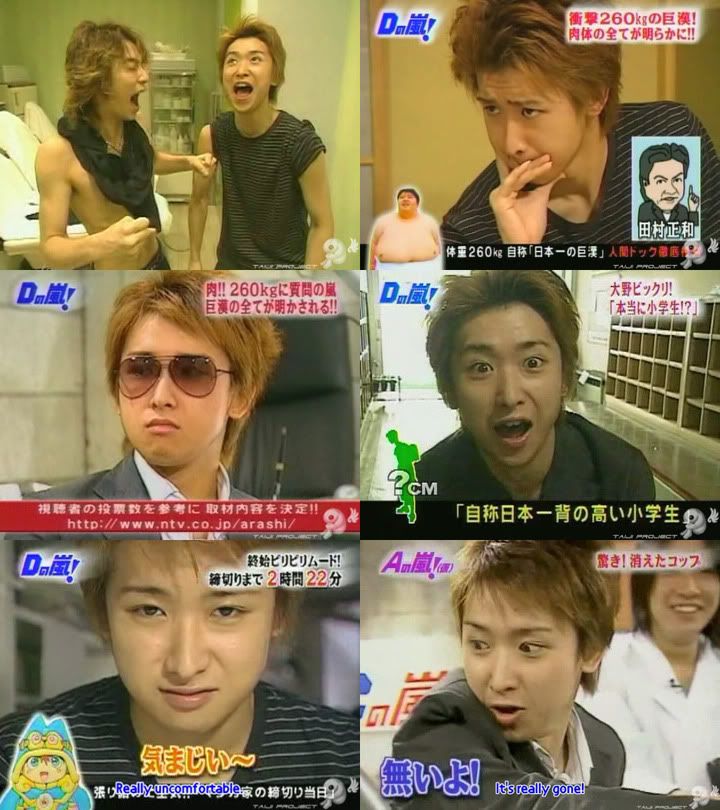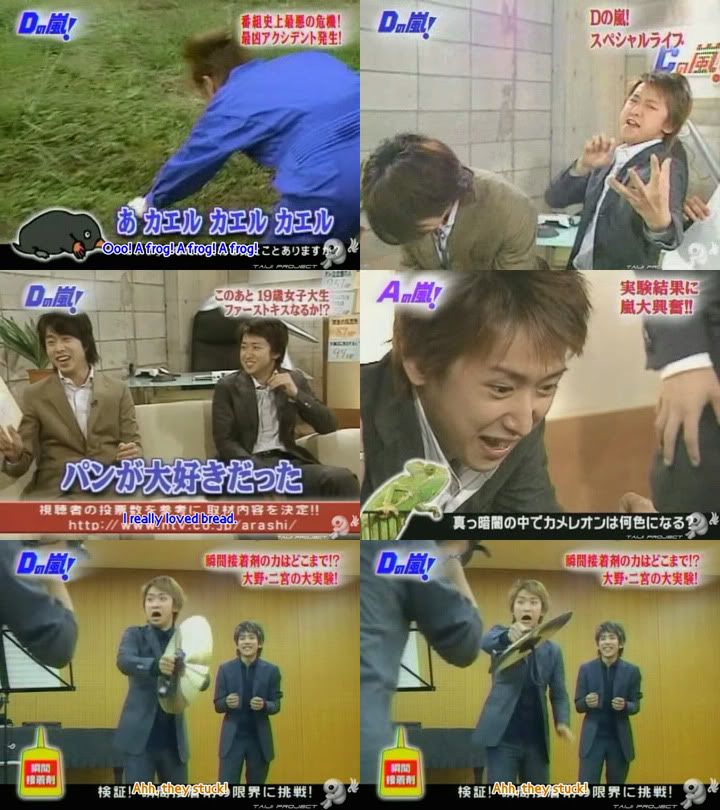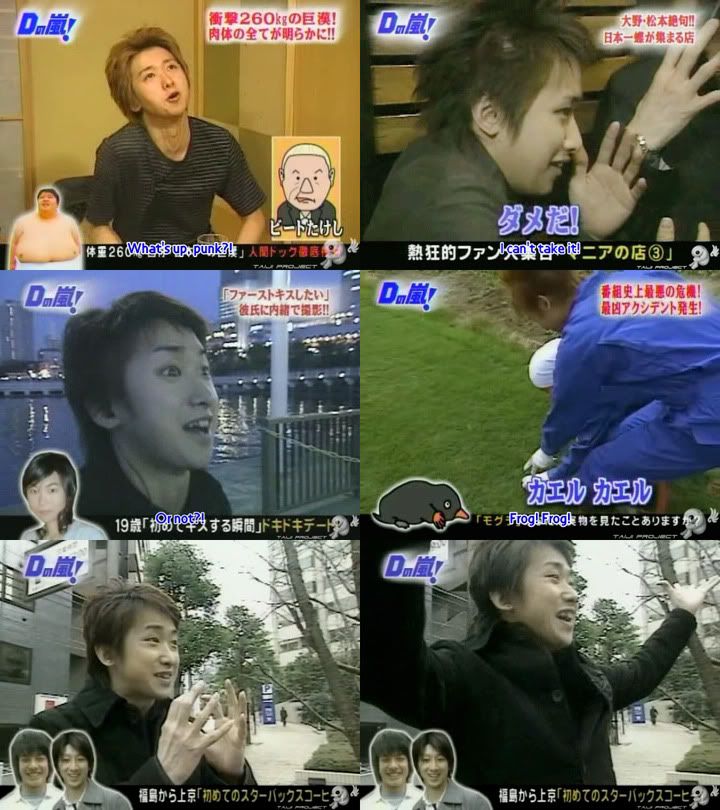 As much as I love all iterations of Leader, I think my very favorite has to be Spazzy!Ohno. There are some days when Ohno keeps the sedate, calm face on. Then there are the
other days
. The days when you see that inside he is TOTALLY WHACKED OUT. ♥♥ I think DnA may have the highest Spazz to Blank-faced Ohno ratio of anything I have seen so far.
Okay, I've covered acting, dancing, dorkery, weirdness, hotitude, sweetness... oh yes, by the way, the boy can also sing. And draw. And take a mean photograph. And could provide you with fresh fish every night. Please don't hate him for being more awesome than you. :)
Ohno Satoshi, I could never do justice to you in the span of single post. Thank you for being so many things to me, thank you for introducing me to Arashi and thank you for being you.
Happy 29nd Birthday! ♥

Current Mood:
high