Time travel, gorgeous historical settings and damn attractive people. What's not to like?
I know, I'm so in love with list picspams right? It's either this or I spam
everything
in an episode... so lists it is. :) This time I bring you several excellent reasons why you should be watching the Japanese drama
JIN
(or if you already are, several reasons I love it)! In this drama season,
My Girl
has been providing me with sap (in a good way) and an opportunity to ogle Aiba consistently while
You're Beautiful
is just the kind of drama crack I can't get enough of. Yet
JIN
may still be my favorite drama that I'm watching.
To use my specific frame of reference (please don't judge this show by my taste in other shows! ;) ),
JIN
is like a combination of
Dr. Quinn Medicine Woman
and
Rurouni Kenshin
. You get the excitement of old-fashioned medicine blended with the intrigue of a transitional time in Japanese history. The series follows Minakata Jin, a surgeon in modern-day Tokyo who is thrown back in time to the Bakumatsu period. He is left to wonder if he'll ever see his fianceé and own time again, creating a new life in the past in the meantime.
1. History with a twist.

When I first heard about this show, two things peaked my interest: Ayase Haruka and time travel. As it's important to the structure of the show, let's start with the latter! I think bringing your main character from the present to a past era is such a perfect way to do a historical drama. While this show keeps the integrity of the period, Minakata Jin brings a modern point of view and sensibility with him. It allows the show to explain and break open old traditions for the audience. In addition, the time travel aspect adds a thread of mystery to the show. There's definitely moments that really screw with your mind, in a pleasant way! I'm only a few episodes in, so I couldn't possible spoil that for you! There's still so much I don't know but I'm eager to find out. :D
2. Our hero, Minakata Jin.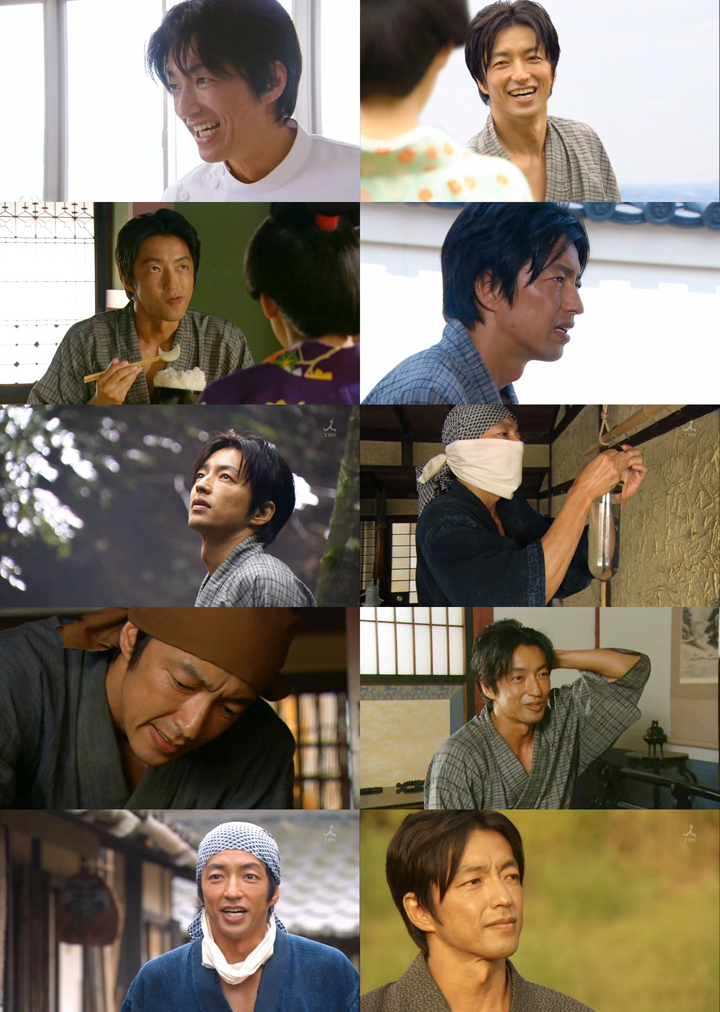 Minakata-sensei, as he's usually called, is the heart of the series. As the audience, we're introduced to this new time through his eyes. Every time he tries a medical procedure with his limited resources, we're invested in his success or failure. I think he's a great lead character: he's sort of odd and flawed but unambiguously a good guy. I like that a lot of his strength comes from his skill as a doctor. In a short span of time, I've really fallen in love with this guy's face. Just look at that crazy toothy crocodile smile!
Those forearms also aren't hard on the eyes.
NECK.
3. Attempting surgery with stone knives and bearskins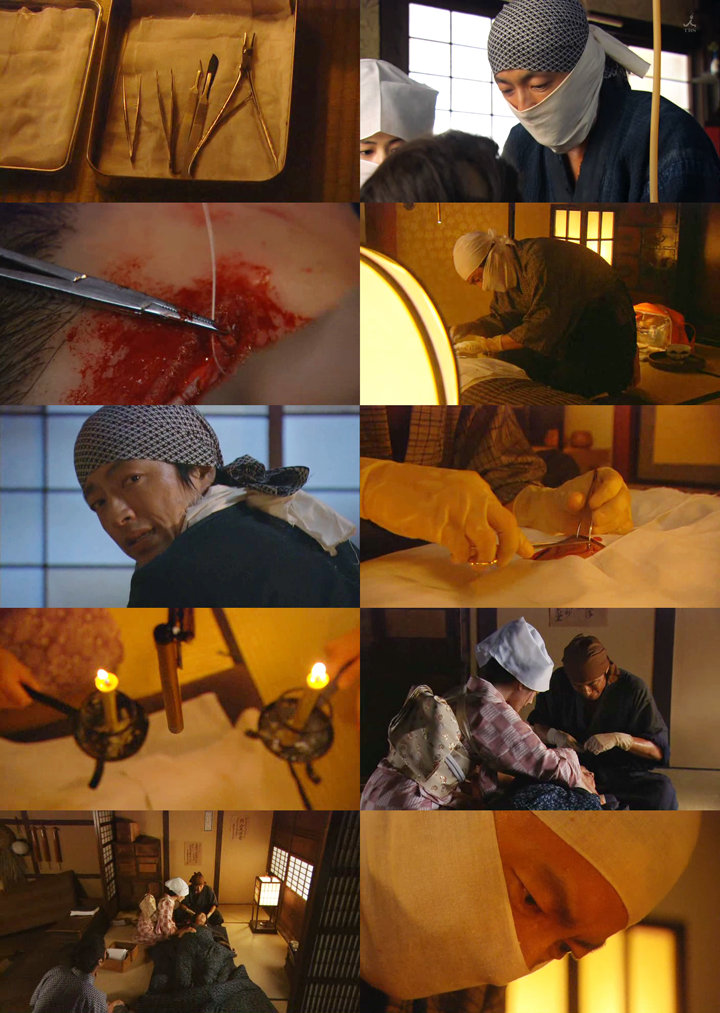 Note: Totally not impugning the medicine of the Edo period, it's a Spock quote. XD
You can't really talk about our main character without mentioning the importance of his profession! We meet Minakata-sensei at a low point professionally, a failed surgery has caused him to doubt himself. But when he arrives in the past, he's forced to jump back in. Okay, I know medical dramas aren't everyone's cup of tea but it's really fascinating to watch Minakata-sensei try and translate his skills to 150 years in the past! Plus it means life or death drama is built into the series but in an expected way so it's not quite as emotionally taxing as surprise cancer. :)
4. Saki is the BEST. Seriously.

While I really love everything about this show, I
may
love Saki a little extra. Saki is our heroine, and not in the way that just indicates she's the love interest of the hero. She meets Minakata-sensei when he takes her brother's surgery on his shoulders. From the moment you see her inquisitive eyes, you know that Saki is going to learn, to change, to become more than what she thought she could be. Saki is a great mix of softness and pure steel. Bonus: she's played by Ayase Haruka and therefore gorgeous. And wears beautiful kimonos all the time. And is generally kickass. SAKI. ♥
5. You can't do Bakumatsu without a lovable ronin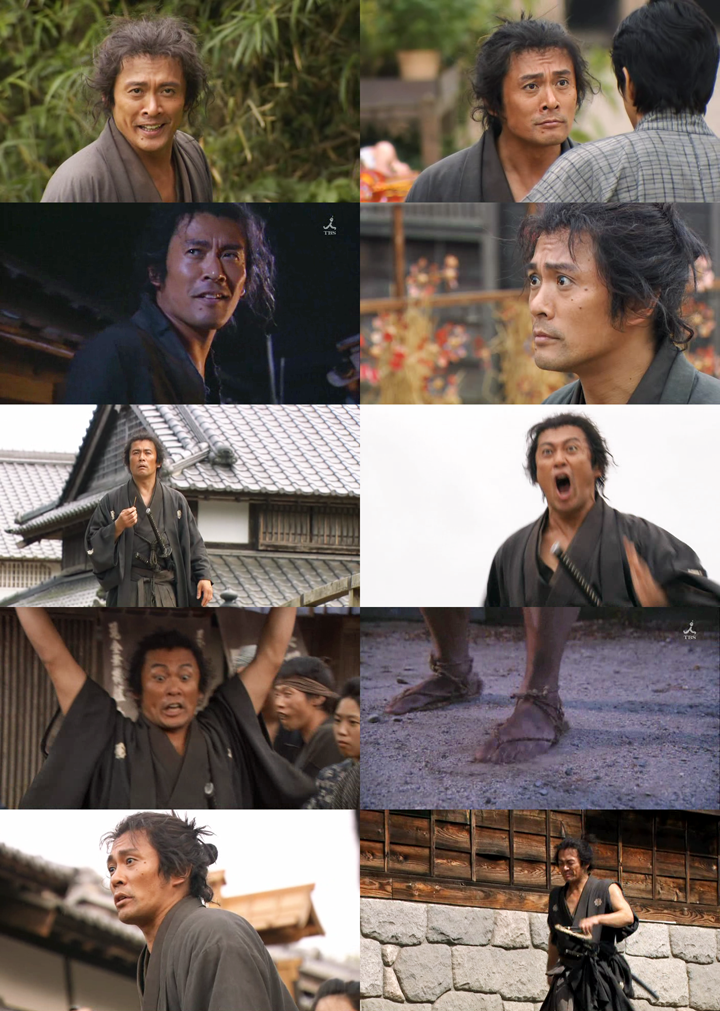 Now this may just be my previous exposure to
Rurouni Kenshin
speaking, but you really can't explore a chaotic period of Japanese history without a lovable
ronin
with a mysterious past! I don't want to give too much away but the show definitely inspired me to go wiki
the Bakumatsu period
to figure out the historical events that have (and will) shape the characters introduced in this drama. Something that really needs no explanation: this guy's face. He totally has the best facial expressions. And awesomely growly and informal speech. To quote
phrenk
, "The way he talks reminds me of Nagase's voice in My Boss, and indeed a lot of his mannerisms also remind me of such. He is kind of like a shorter, older, dirtier Nagase. Which is to say: awesome." (Also awesome,
her picspam
on the subject! Just be very careful in your scrolling, there is a point where she warns for spoilers in episode three that you
really
cannot go past! Warning! ♥)
6. No weak links here!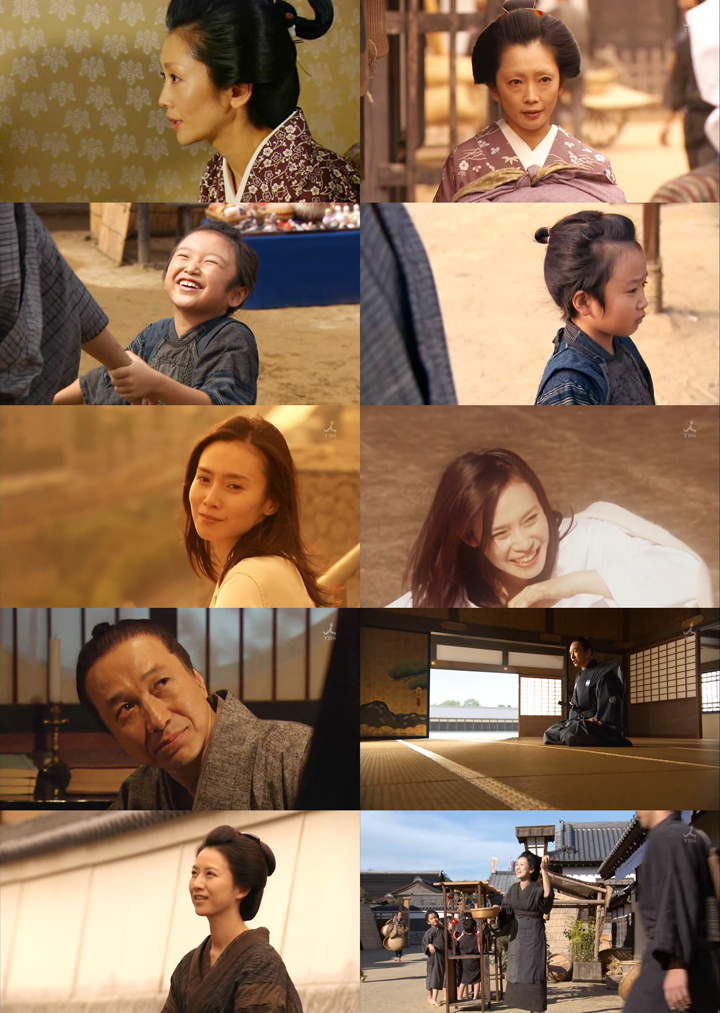 Basically, no matter what size part, all the characters are really well drawn. This show not only builds a new world, it populates it really convincingly. From Saki's tough-as-nails mother to the respected head of medicine in Edo, everyone is compelling and carries their own history. There's even a kid who's in no way cloying and is in fact really likable! I'm interested to see where all these minor characters go.
7. Building a world isn't so hard with settings like this.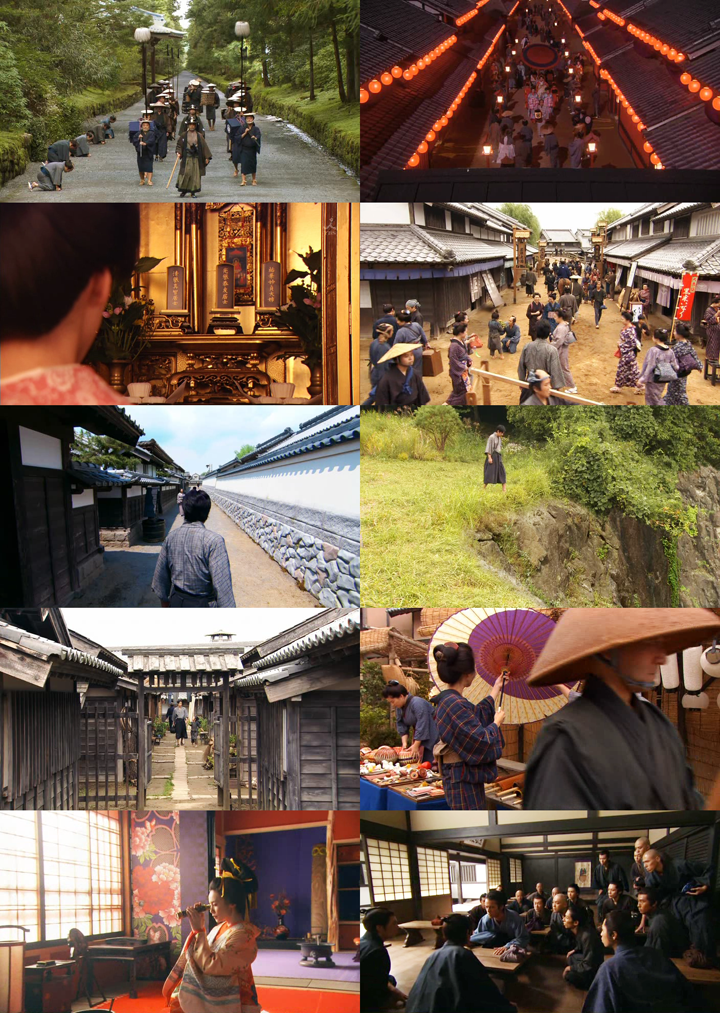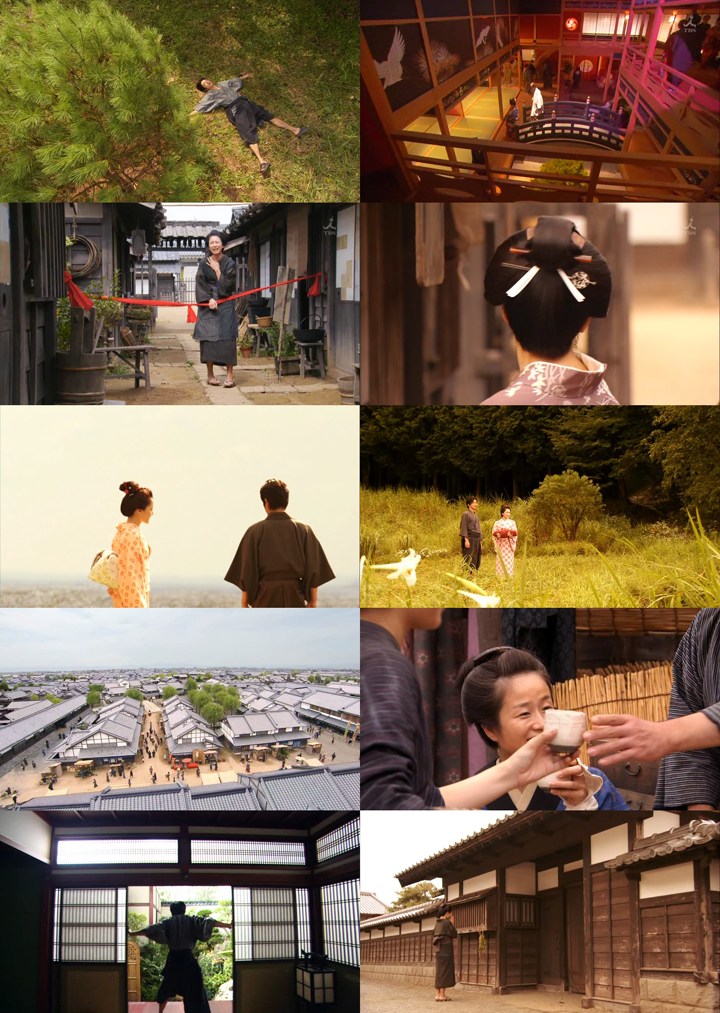 As you can see from this small sampling, this show is amazingly beautiful! I love the colors, the cinematography, the lighting! As it's set in another time period, they really had to build a new world from the ground up.
JIN
creates a rich setting, from the architecture to the small details on an outfit. Really, I could just watch this show for its visual beauty! When added to all the other things it does right, this drama really winds up being a knockout!
I hope I've given you a taste of the pretty and the interesting elements you'll find in
JIN
! I really recommend you download the first episode and give it a try. It has certainly stolen my heart! As I mentioned in my previous pimping efforts, if you're interested in downloading this or any other Asian drama, you should go join
jdramas
. Go
here
to download the show if you're already a member. We're about half way through the release of subs, so you have a nice head start!
I hope you enjoyed the picspam! Thanks for looking and any comments are more than welcome! JIN. :)
Current Mood:
enthralled