It's a time of celebration! No, not
Christmas
. Aiba Masaki's birthday, duh! Hee, I like how Arashi members conveniently timed their birthday's around holidays. It's very festive.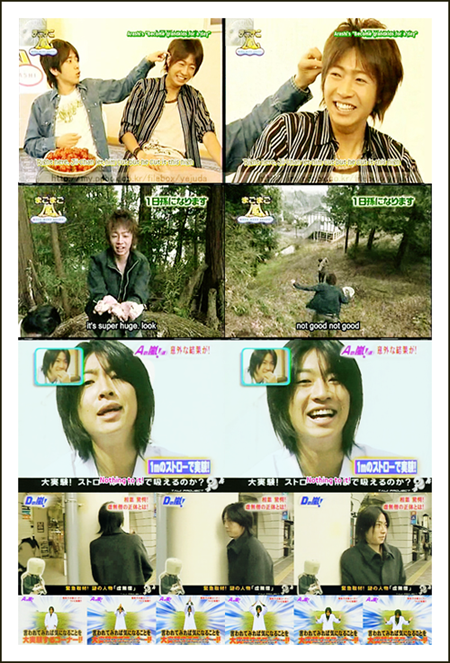 In honor of his birth, I've collected an Aiba to suit every television need: DnA!Aiba, VSA!Aiba, MMA!Aiba, AnS!Aiba. It seems a fitting topic considering Aiba was the one who was most eager to get Arashi into the wonderful world of TV. There's no doubt that shaped the group and made them into the dorks who sail boats of salt and dress up as reindeer and generally capture our hearts. Aiba-chan, we'd be nothing without you!
VS Arashi: Aiba fails with vigor!

I feel there are two strong appeal points of Aiba in VSA: he flings himself so wholeheartedly in all the games. (Watch Aiba throw himself floorwards to get the falling pipe! See him leap for the next hold on the climbing wall!) and you get to see him grin win or lose.
NOTE:
This picspam is incomplete without Aiba laughter and giggling! ♥ Please use your imagination.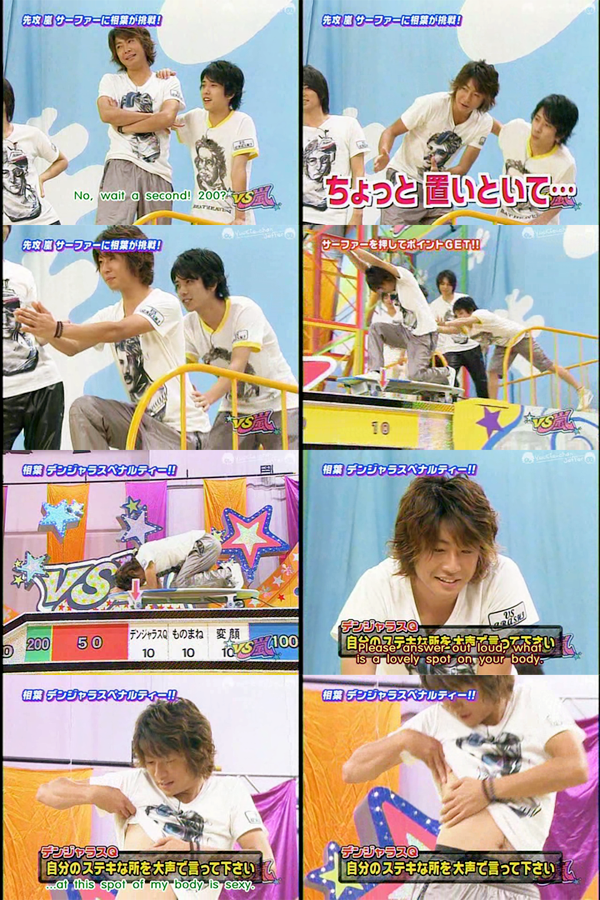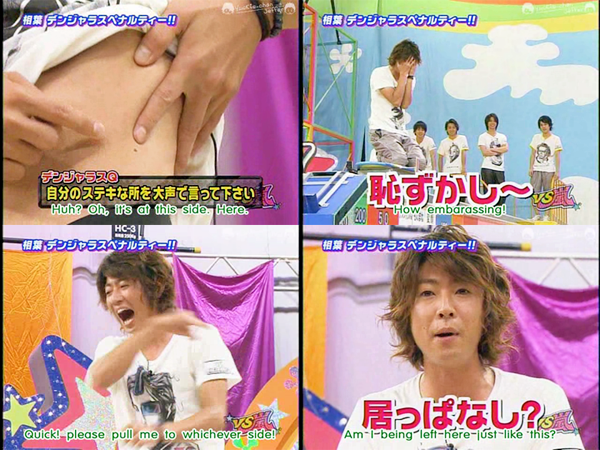 BONUS:
Aiba looks excellent in those thin tees they dress him in. And he is willing to remove them if the game calls for it too. AIBA, I LIKE YOUR STYLE. (AND MOLE.) ♥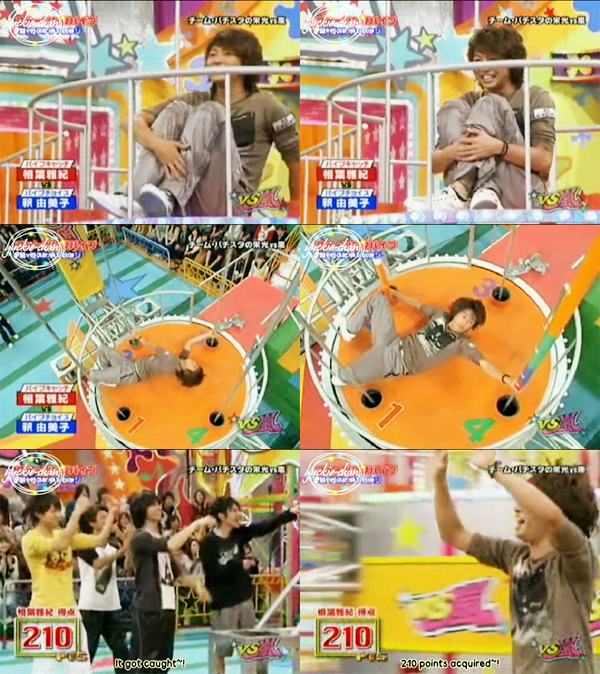 See? Exposing yourself is a winning strategy, Aiba. Your opponent may try to distract you with words but that's nothing compared to what they are facing when you contort yourself on the floor with your legs open and then grin sheepishly at them.
D no Arashi A no Arashi: Great or Greatest Segment?

A NO ARASHI! I love that while Aiba
is
adorably more excited than anyone's else... Sho has such a fond look on his face and replies so encouragingly and Ohno is super excited and into this too and while Neen and Jun make cutting remarks but only through a grin. AIBA MASAKI'S ENTHUSIASM COULD CAUSE A PANDEMIC OF CHEERFULNESS, THAT'S HOW CONTAGIOUS IT IS.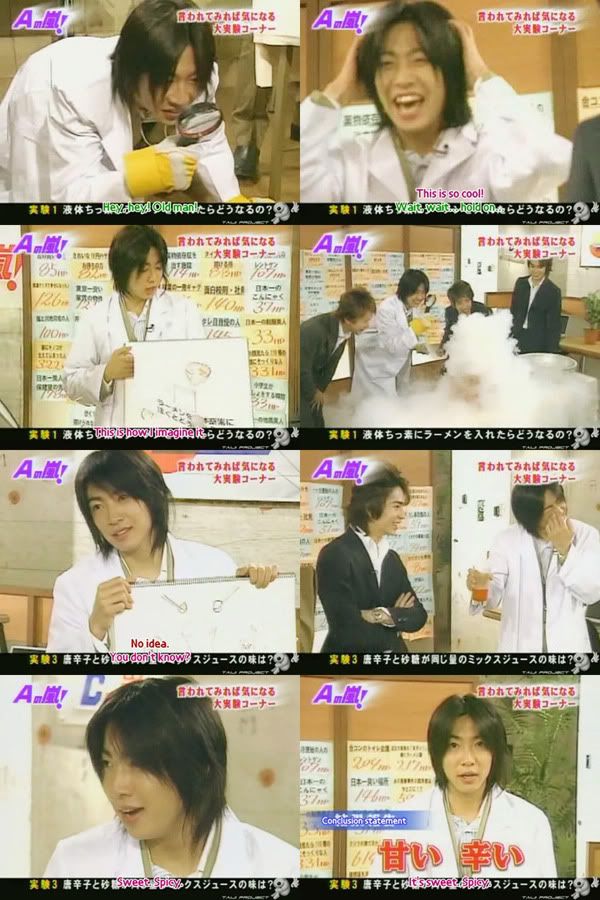 ♥♥♥ How is Aiba this cute?? His excited little face! His magnifying glass that he whips out belatedly and when it's not at all useful. I adore how he's never afraid to say he has no clue. And of course, his matter of fact conclusions. "It's sweet. It's spicy" I love you, Aiba.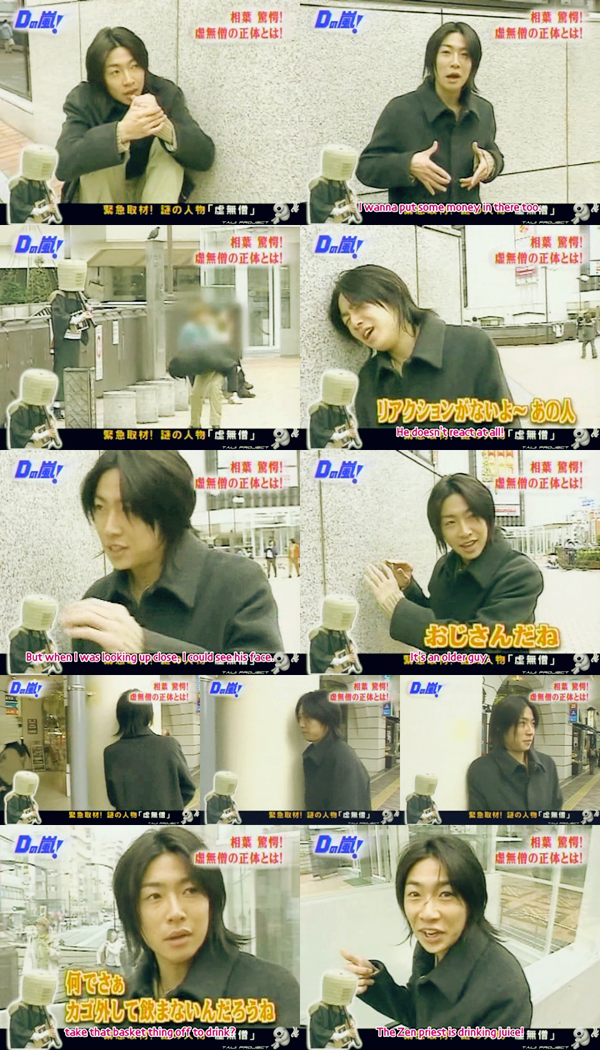 Although this is not technically an AnA, let's be straight, it pretty much is. One of the things I love about Aiba is that he seems equally engaged by the differing weight of oil and water, the logistics of cleaning a tiger's cage, finding a mushroom or discovering someone was getting juice. Aiba is irrepressible! ALSO, I will
always
laugh when he hides behind that pole. I laugh at just the stills. AIBA.
Seriously, everyone just has
such a good time
from the moment Aiba takes center stage. I think that's something intrinsically part of Aiba-chan, he makes the people around him smile. He makes his friends happier, he makes his audience happier. More than anyone, Aiba just makes me see the world as a little sunnier.

I want to use this disclaimer myself. If you imagine you're Aiba, then the way he sees the world makes perfect sense. If not... :D
I have never loved a face in quite that way I love this one.
Mago Mago Arashi: You can take him home to the grandparents for sure.
They will love him, phallic gestures and all.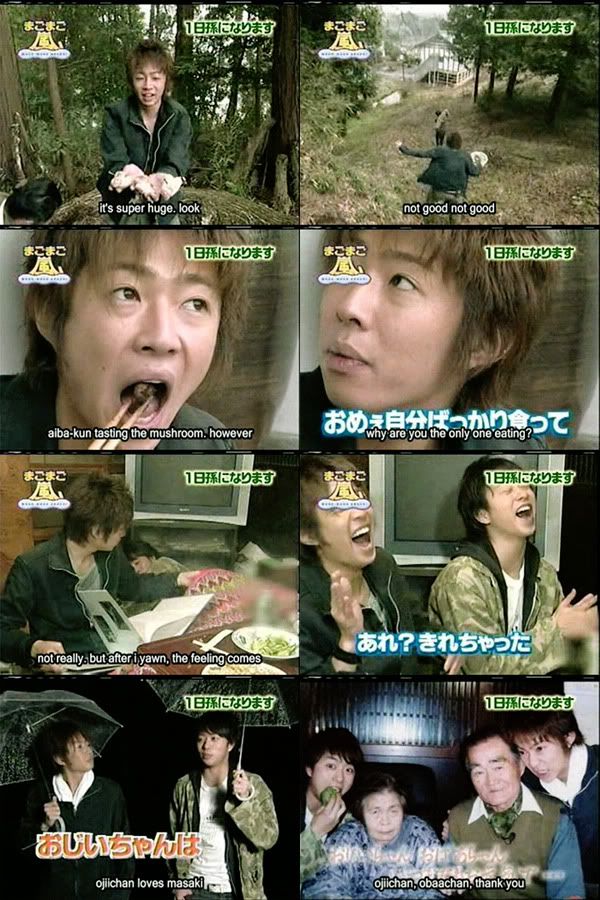 Ojichan
Everyone loves Masaki. Aiba has such an ease to him, it's not hard to see why he fits in so quickly.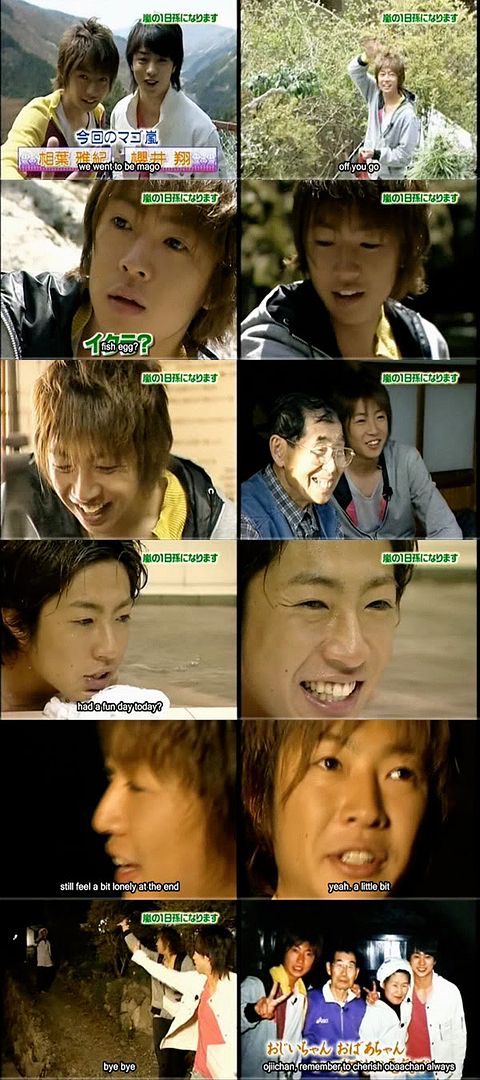 A recipe for a good episode of television: Aiba in natural lighting. Aiba in an onsen. DONE.
LOL, AIBA. Also: THIS GUY DROPPED THE YAM. I adore how Nino using "this guy" so much when relaying dumb Aiba stories. There's so much affection there. I feel ya Neen, he's quite the weak spot.
I don't know how Mago manages to fit so much hijinks into a half an hour and still have time to bring me to tears by the end of the episode. I'm not even exaggerating, when I watch this show I have to keep my schedule open to a good cry. Can't they just go visit their temporary grandparents once a month? You know, with all that spare time they have built into their schedule? ;)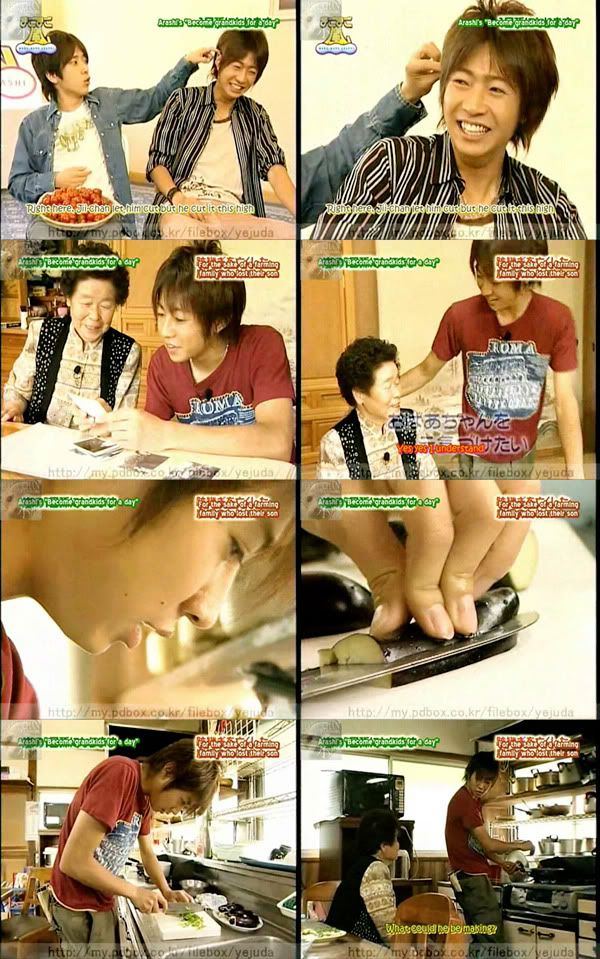 Basically this was the episode of
touching
. Aiba is so gentle and comforting, I think he should spend more time with the obasans. Plus his arms and legs look about twice their normal length crammed into that little kitchen next to that little old woman.
He also laughs things off so easily, whether being bullied by Nino or a dog. XD
AUGH. AUGH, I SAY. Look at the way her hugs her! And peers down at her face! I take Mago as solid proof that all the Arashi members are such good
people
. It's not like that was ever in doubt but talk about kindness in motion.
Arashi no Shunkudai-kun: And all this on top of his naturally stunning face!

Our Aiba-chan, so grown up with so many skills to utilize! He snuggles his bandmates. He does (wacky to us, completely logical to him) experiments for which he happily volunteers himself as a test subject! There are not-even-thinly-veiled dirty jokes! He gets so excited he forgets to control the volume of his voice. Food is devoured before it should be. And well, we get to look at the face of one Aiba Masaki for hundreds of hours.
Happy 27th, Aiba-chan!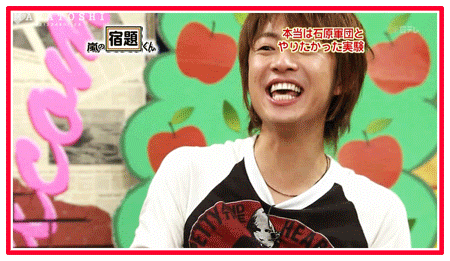 ♥♥♥
(Heads up: you should totally go to
phrenk
's
post for the occasion
. It addresses an important issue of our time: AIBA IS FREAKING GORGEOUS, OH MY
GOD
. You might not make it through in one sitting. He's that pretty.)