Hi, new JE friends (who are mostly Eito fans because that meme isn't as many pages and I needed more correcting on that front)! It's nice to meet you and although I don't post very often, it's pretty likely to be something Asian. So: score, you get the potentially relevant posts and this one is no exception. ;)
First off, I have exciting news to share! While my buddy
phrenk
and I spend a lot of time randomly blabbering about whatever Arashi thing we're currently watching, she's now really done it and invited me to do a project with her! That's right,
posting regularly
, watch out! (I was suckered in by making a layout! Cheater! ...Okay that's a LIE, I joyfully asked to be allowed to do that. XD) Our new game is
Arashi Concert Roulette
, in which which we alternate spinning the Roulette Wheel of Glitziness and are assigned a song from a concert that we must picspam. If you like that sort of thing, come join us! (I'll keep you posted you if we start something with Eito, as we both love them too. I need to picspam them more. ♥)
Hopefully this is just the first project we're going undertake over at our new home of glee: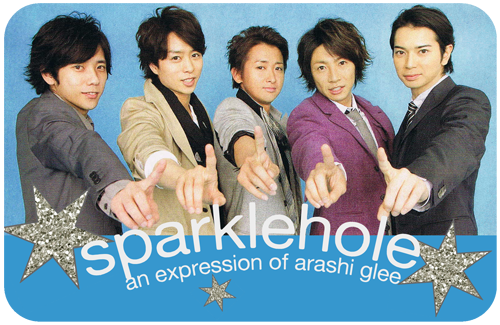 sparklehole: Intro Post | Val's First Assignment | Top's First Assignment
ALSO
, I never manage to do this but I
should
, here's a little recap of the dramas I've been watching lately:
Just Finished
Spring Waltz:
I. LOVED. THIS. SHOW. I started it due to
biases
(and in the past,
miss_magrat
!) posting
absolutely
,
gorgeous
caps and I'm so glad they did. I hadn't watched a straight romance in a while and it filled a need I didn't even know I had. The cinematography is killer, they use awesome locations in both Korea and Austria and the two leads of this show are
wonderful
! They pull off a childhood OTP and a gentle heroine and a magnificent melting of an icy guy with aplomb! Jae Ha has pretty much instantly risen to near the top of my favorite male leads and I'll hopefully soon be inundating you with icons of his face and I can blather further about him there. And OTP icons because they are ONE MILLION PERCENT OTP. If you don't mind some melodrama in your drama, you should really watch this show!
Haikei, Chichiue-sama:
If it's a Nino-drama, you can guarantee both that I will watch it eventually and I will be totally biased in its favor. I really enjoyed this show, it's a slow-moving, character-driven, slice of life drama that might not grab everyone but I loved nothing better than settling in with a cup of coffee and an ep of this. It was really well-drawn and there's a ton of narration by Nino that I loved. Plus he gets to make more of his unimpressed/snarky/critical faces than I had yet seen (compared to, like,
Yamada Taro Monogatari
and
Letters
, I have not seen a lot. XD) and most of them were at Yoko, SCORE. It was realistic and touching and charming and I was sold completely.
Currently Watching
My Girl (Japan):
(all except the last ep) I haven't posted about it so AIBA DRAMA AIBA DRAMA.
My Girl
has earned such a place in my heart and for as little as I usually need kids in my shows, I love Masamune and his little Koharu-chan and I don't want to let them go. Sometimes the plots seem a little typical but I just feel so proud of these characters. (Also you get to look Aiba in wardrobe of v-necks and
smiling
and putting his arm around a tiny girl, which is all worth the price of admission!)
Liar Game S1:
(up through episode nine) OH LIAR GAME. Such a combination of cheesy and/or terrible things and pretty PRETTY people! Basically I really want to watch a version of the show that's all things I like (Toda Erika, Matsuda Shota, his hair, games that screw with people's minds, dudes snorting the spice from
Dune
) and none of the things I really DO NOT (grandstanding, laughing, annoyingly jumpy camera work, flashes of everyone's reaction shot, Fukunaga's FACE). I'm having fun but I also have
grievances
with this show!
Tokyo DOGS:
(up through episode six) I'm still not sure if all the tone switches work for me but this is a nice break when I just want to rest my mind as I eat dinner. Oguri Shun is pretty though I still want to see
him
to play the wacky guy eventually! I love Yoshitaka Yuriko so much! Mizushima Hiro... is too wacky for me honestly!
Utahime:
(up through episode three) This show is turning out to be a lot crackier than I imagined it to be (hearing "war veteran with amnesia") but with Nagase that is always welcome! I'm a fan of the spunky, tomboy main girl (Suzu played by Aibu Saki), I find her more convincing than some other tomboys. Plus we have Sato Ryuta, who gets to be both badass and use his excellent smile occasionally! And Ohkura! And sweet hats and suits and a-line skirts as it's set in the 50s! Awesome!
Bara no nai Hanaya:
(up through episode two) I've only just started this show but it has all the ingredients for me to really get into it! Takeuchi Yuko's smile and hair and eyes and self. A cozy little world of characters. Shingo and his fine acting! Matsuda Shota and his fine hair! A quirky and sweet little girl I can't help but love! I'm looking forward to more of this one too.
Man, what's with me and single father dramas lately? Should I start
Shiroi Haru
next? Actually I was thinking I needed more kdrama soon and might start
Bad Family
which fits in with both my "taking care of children" and "amnesia" themes. :)
Current Mood:
satisfied