Ahaha, so posting every day is hard but I will keep forging on! Maybe I will actually make up for it tomorrow (though that's what I thought today)? Now for the second night of concerts, my last
Tuesday
was filled with the sounds of:
4/27/2010 - This Time Around

(All photos from Tourphotographer.com!)


(lol Ike. Also, Dr.Pepper product placement! And not only a unibody MacBook Pro but the previous design as well! \m/)
Wore:
Black turtleneck with creamsicle orange striped tank over it.
Line:
Woke up 9:00ish. Went with roommates at around 11:30, met their two friends (upstairs girls) who were there since 10:30. First quarter of the Duane Reed. We were later joined by two more friends (of whom? I'm not sure!) and wound up absorbing New Yorker Renna into our line group. Cold and windy but wasn't bad at all for me in wool coat, scarf and hat. There was one downpour in the afternoon but I was against the wall under my two neighbor's umbrellas and didn't get wet at all. Discovered the delicious Gramercy Street Cafe and got a roasted turkey with avocado and a mardi gras chicken sandwich. Several people asked where they were from because they were that awesome. Yes, I want to remember the good things this sandwich place did for me forever. XD It was really nice to be in a big group because my roommates and I got to leave for an hour to get ready and ditch all the things we didn't want to carry into the show! ♥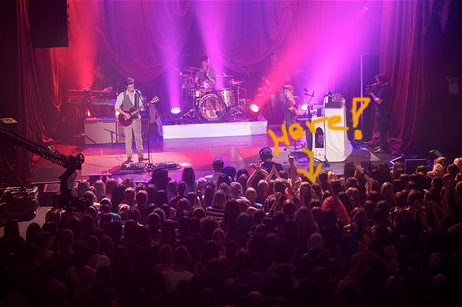 Standing:
Totally, totally awesome. About third row center, more to Taylor's side. The best jumping experience I'd ever had. When the crowd started to jump, you literally HAD to jump with them. We were packed too closely to choose otherwise! Which worked out well for me, as I always want to jump anyway. I was actually farther from the stage before the second song's (If Only ♥!!!) jumping compacted us all forward.

Show:
So, when I was trying to figure out what shows I most excited in the series (and by process of elimination only) which ones I wasn't as hyped up for,
This Time Around
came down on the latter side. In general I feel like the album is in a tough position in my Hanson love, being that
Middle of Nowhere
falls up extremely fuzzy nostalgia and
Underneath
is the album where I felt they had really grown up and started coming into their sound. Maybe carrying this mindset in influenced me but I thought this concert was
fantastic
, even moreso than I expected.
Yet, here is also where I have to admit something shameful: if I don't take notes directly after the show (and sometimes when I do), I cannot remember for the life of me the details of the concert! The roar of the crowd starts, the first notes are struck and I'm too high on endorphins! I'm in a feverish state of dancing and singing and yelling! This is my brain on concerts! I was so, so glad when I found out they were going to be filming this for DVD since that means I will get to watch the show again when I am sound of mind. So really you don't even need these notes, as there will be a DVD and the live streams are already up on YouTube! WHEW.
With that in mind, meager highlights! "You Never Know" is such a great opener, such attitude, such high energy! I will never turn down a "whoa whoa whoa", that's for sure. Plus, guitar soloooooo. "If Only" is, OF COURSE, a highlight of any concert ever! The jumping! The harmonica! I was vaguely hoping John Popper would come play with them but let's not kid, I live for Taylor + harmonica still. XD "Runaway Run" is a sentimental favorite for me, like, the imagery has always been a little cheesy and I LOVE IT. "As you sleep I'll just follow your door light"? Totally my favorite. All the rest of the middle songs were great, I was particularly excited to hear "Sure About It" since it's so rare... but then "Hand in Hand". HAND IN HAND. Ike went craaaaaazy at the end of that song, with his acoustic guitar in hand! It was seriously as undone as I've ever seen him and I
liked it
. "In the City" = JUMPING. JUMPING WITH TAYLOR. DO YOU LOVE ME FIRST PUMPS. ♥
Also 1) "Song to Sing" is not really an encore, it's totally part of the CD! The encore should have been "Smile" as that song is great and never played! (They played "Song to Sing" as the encore. XD) and 2)I still love that song so much, I think it's the ballad ending song that gets to me the most. Teary eyeeeeees! ;_;
Current Mood:
good