LOL, so I fail at posting a week's worth of posts in a week! But I have been inspired to restart my Hanson concert posts for two reasons:
1)
Last weekend I went to other non-Hanson concerts and they were amazing and I want to write about those too!
2)
Happy Shout it Out Day
! New album, wooooo! Hahaha, I'm sorry flist, but you have not yet escaped me posting about this. I'll be putting together a little something more later today and of course, I have more thoughts when I get to the
Shout it Out
concert. :)
4/28/2010 - Underneath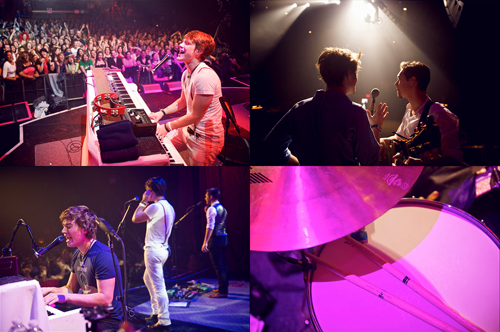 (All photos from Tourphotographer.com!)


Wore:
Sparkly Gold Jacket, pewter tank.
Line:
I had designated this as my "off" day! I slept in until 10:00 or so. Then I happily met
mojotastic
for lunch at Han Bat at 12:30! It was actually was first time having Korean food and it was just as delicious as it looks it dramas. ♥ The table can filled with all these little sidedishes that were each unique and tasty. And then my meal came served to me in a sizzling hot stone bowl, hot enough to cook the raw egg that was on top! Mmmm, so good. We got to chat and catch up (she filled me in on attending her very own movie premiere and I revealed the level of crazy truly inherent in this week), it had really been too long since I'd seen Morgan in person! Then I decided to do a little shopping and was I ever glad I did because it was then I found my Sparkly Gold Jacket. I LOVE THIS JACKET. It is covered in light-catching sequins so naturally I decided would be my obnoxious tradmark for the rest of the concerts. XD I arrived 3:30, a few people behind the atm, next to the door of the mexican place. I wound up sitting next to Michelle, whom I recognized from the day before as she is very lovely. She told me right off the bat that she had two more people coming and "Was that okay?" Of course, I said that was fine. We chatted in a friendly way (she was actually flying to Ireland the next day for a wedding as her boyfriend is Irish) but really had a bonding moment when we found out that she's from Randolph, a few towns over from me! Amazing. Her two friends arrive and instead of being irritating latecomers, it was a girl who had been only a few people in front of me yesterday and I kept accidently staring at her since she look like someone I was friends with in high school. Her name turned out to be Rachel (in grad school in Raleigh, sociology) and she was with her mom, Jodie (community theater director in Louisiana). We all actually got along well and the time passed delightfully quickly.
Standing:
Michelle and I went to the floor, wound up about 7-8 rows back a little bit on Taylor's side. We exchanged contact info in the crowd. Rachel came as a placeholder when Michelle went to buy merch, we exchanged contact info, her mom was sitting in the first row behind the sound board saving seats. She kindly took my bag back to her seat with her while I was a totaly jerk and forgot to remind Michelle to do the same when she came back! Saw Penny in the VIP section, wearing a sparkly silver jacket (actuallly made me feel like less of an ass about mine! XD) and adorable Tay-looking sunglasses. Wound up over the right shoulder of Tall Bald Guy, a row or so back.
Show:
Ahahaha, I didn't write about this one for a long time afterwards so I particularly don't have much to say! I loved it as an acoustic EP and I love
Underneath
as an album so is there any way for me not to love it as a show? :)
Lost Without Each Other
,
Get Up and Go
, and
Hey
are all classic concert songs by now and for good reason because they
rock
. Though I was extra psyched to hear
Misery
(looooove that song, it doesn't get played enough live for my tastes!),
Broken Angel
and
Lullabelle
! It just brings back such good memories of Zac really coming into his own on this album and I always love him at the piano. OH and the cutest part of this show was during
Penny and Me
when Taylor dedicated it to a special lady in the audience and looked to his daughter Penny in the crowd and we all cheered and clapped for her. So sweet! It makes me happy that they feel comfortable sharing litttle family moments with the audience now. Hansons! ♥
Post Show:
In a totally unprecedented move, I went for Chinese food in the Village with Rachel and her mom after the show! I'd never actually befriended fellow Hanson fans to that extent. Hilariously, we tried to go to a Chinese place Jody knew from years ago and it was only about after we sat and got a menu that we realized while we were in the right building, it was now a Japanese fusion place. XD Luckily we found another local restaurant that actually served Chinese food and I managed to navigate us to the right subway home. It was a nice way to wind down!
Current Mood:
relaxed