The day has come! I finally have tackled my own loving feelings when faced with a making of: I capped, I sorted, I conquered! It's quite the process to turn all the keysmashing my thoughts are reduced to into words and pictures but I attempted it.
This PV really might as well be entitled "Caring for Leader: A Guide" with the subtitle "Three Different Methods from Three Different Experts!". The entire making of is basically members loving on Ohno in their own special ways. Plus Aiba being adorable and adorably lonely without them. ♥
And now, the Making of Love Rainbow! Douzo~

All translations NOT AT ALL mine! I mean, I got the gist when watching it but all direct quotes are thanks to the stellar
wingsonwords
as provided
here
!
Why, look, it's Leader quietly filling out a form!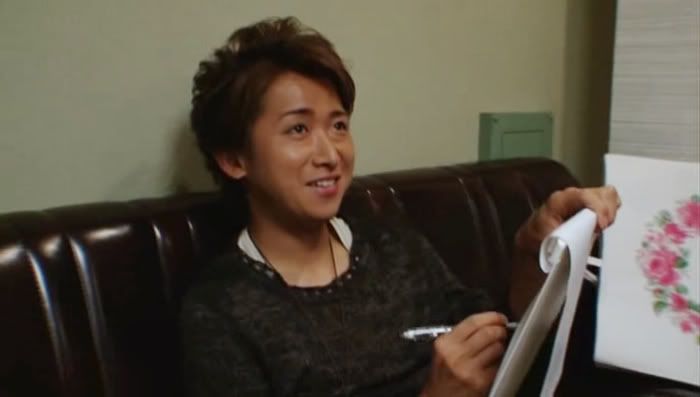 Not quietly for long!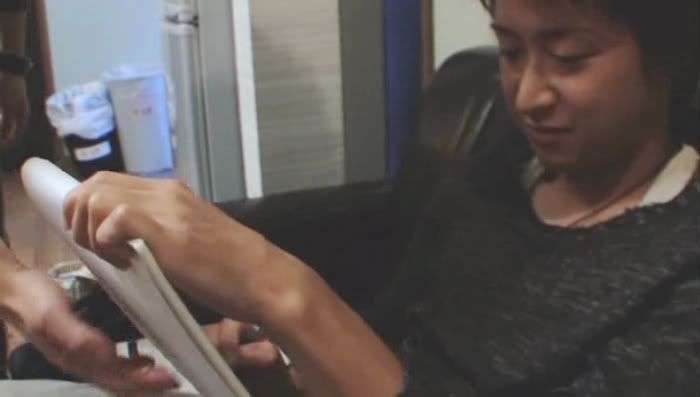 Nino has a special way of greeting people and that's being a pain in the ass until they give him their full attention. ♥
All errors courtesy of Ninomiya Kazunari. That's what his love looks like.
It is just not Sho's day, lip-syncing wise! The
Tae Kyung
pout is satisfying in the moment…
But what he really needs is to go mother a bandmate for a while.
And be ridiculously good looking while doing so.
Has Ohno eaten lunch? He'll check in on him.
With a ridiculously fond expression on his face
.
Ohno's mumbling into the couch is as soothing as a zen fountain.
Since Ohno has been fed, at least he can pour him a cup of coffee. And give him his own. THERE. Ready to face the set again!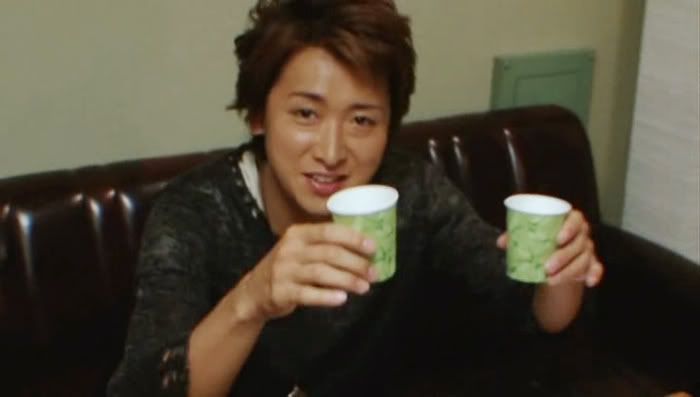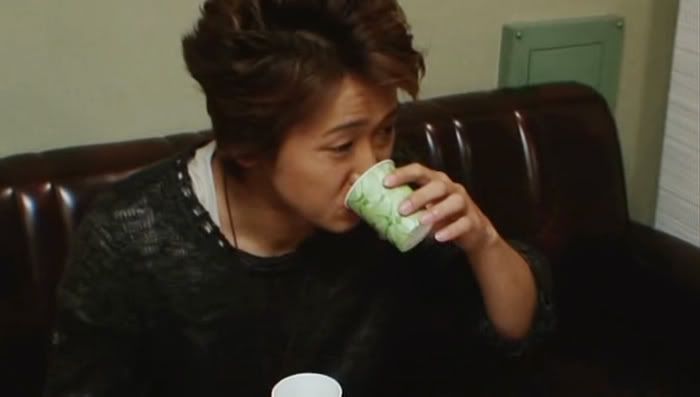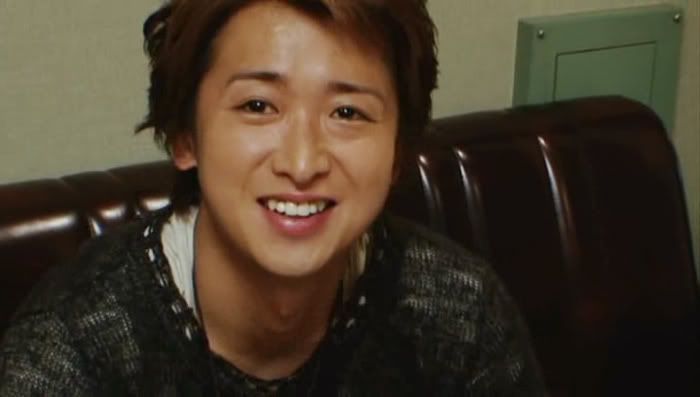 Yup, tastes like bandmate love. ♥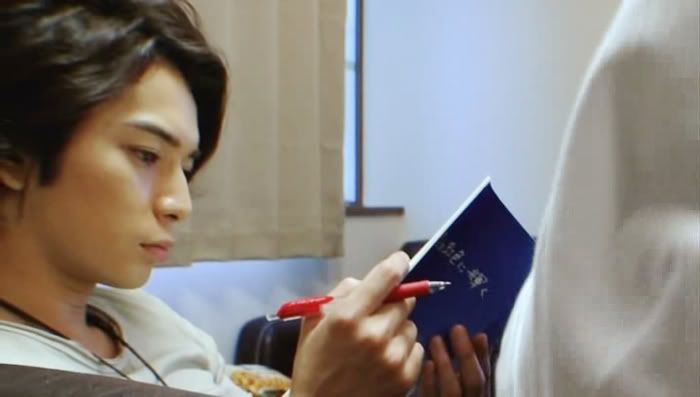 Pretty~ When you're the lead in a drama you have to be diligent… but it comes entirely naturally to Jun. :)
MATSUJUN, HAVE I MENTIONED LATELY THAT I LOVE YOU? ♥!!
"Oh, you noticed I got a little dark? That's just because I've been fishing instead of sleeping!" OHNO! I don't mind you getting tan but
please sleep
! (I swear, I've never before kept such a mindful eye on someone's lower eyelids to conjecture on their state of wellbeing. XD)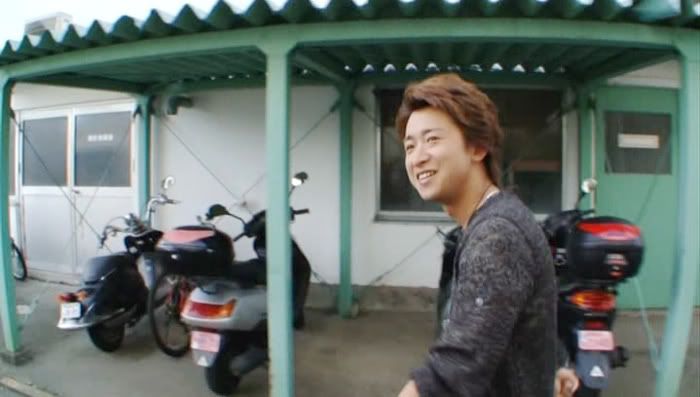 But so long as he's happy! (POSTURE. ♥)
I love how Sho felt it necessary to continually put him hand on the back of Ohno's chair. When he nurtures someone, he does it
right
!
JUST LIKE A MOTHER SENDING THEIR KID OFF TO SCHOOL. SHOOOO~ ♥
He got embarrassed halfway through. ♥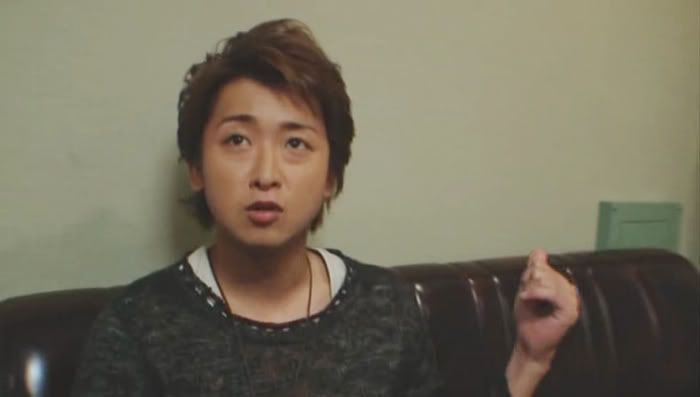 He didn't make a single mistake (but doesn't blame Sho-chan for his failing)! OHNO I AM IMMENSELY DISTRACTED FROM YOUR WORDS BY THIS WHOLE TANK TOP + THIN SWEATER BUSINESS THOUGH, SORRY TO SAY. :D (ALSO, I WILL PAY DOUBLE WHAT I'M PAYING FOR SINGLES IF ARASHI HAS TO SLEEP FOR A PERIOD OF TIME EQUAL TO THE CD LENGTH. FOR EACH CD PURCHASED. XD)
Aiba shows up on set looking fresh as pixie as per usual! Is it ridiculous that I was missing his face when he hadn't shown up for six minutes? That's a large percentage of Making Of time!
HAHAHA OH AIBA, I LOVE YOU SO MUCH! NO, IT WAS ONLY YOU. :D :D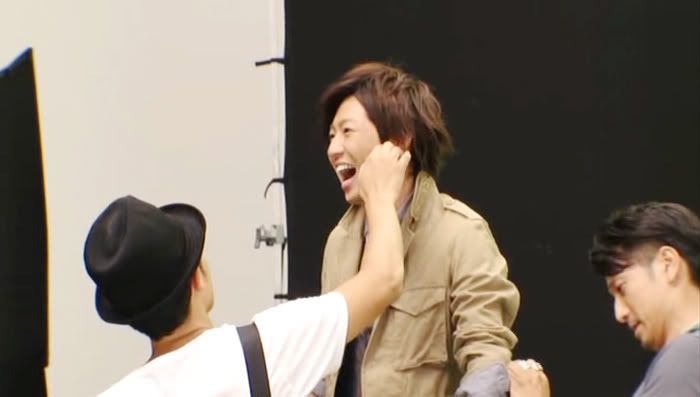 1) AIBA GRIN
2) I am
so
envious of the guy whose job is "brush the hair out of Aiba's eyes". I will pay
you
to have that job. XD
He's the only one here so he feels kind of LONELY. In this moment I was just so glad IT'S NOT JUST ME. I thought the main failing of this PV was that it didn't feel like they were actually in the same shot together (because they weren't) and the only failing (IF YOU CAN EVEN THINK SUCH A THING) of the making of is we never see Aiba with anyone else. And
he
misses being in scenes with the other members too!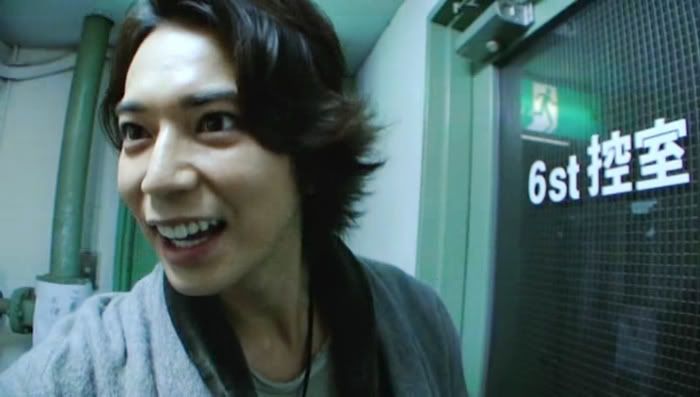 asking;hhdfgdkldkl I CAN'T EVEN TELL YOU HOW HAPPY THIS FACE MAKES ME. ALMOST AS HAPPY AS GETTING OUT BY 9PM MAKES JUN.
Otsukaresama deshita, Jun! After a hard day of work it's time to curl up…
Directly on top of Leader! You're right, Jun, nothing feels quite like love as being snuggled. :D :D
AUGH! There is something extra sweet about how Jun reaches over to pull the papers out from under him. They seriously couldn't be more domestic if they were shopping for curtains! :D (Jun's girly hips! ♥♥)
I WILL NEVER GET OVER THIS MOMENT. THIS MOMENT HAS BEEN ETCHED OVER ALL MY PREVIOUS MEMORIES. I love the way Matsujun mimics everything on the menu. How he demands "yeah~"s with little flicks of his fingers. How Ohno smiles and plays along despite being tired and distracted by tuna. I was just so reminded how about fortunate it is that these two were placed in the same group. Matsujun really needed someone he was comfortable sitting on top of and poking at, someone who will always accept whatever he gives him. I don't want to overemphasize the importance of Arashi but there aren't
that
many people I can imagine him completely letting his guard down around in his day. And Ohno could always use more people to keep asking him questions and sticking their heads into his world to check on him. BASICALLY, ONE OF THE BEST THINGS TO EXIST IN A MAKING OF/
LIFE
??
ALAS, HE STILL CANNOT HOLD A CANDLE TO A MAGURO.
SHOOOOOOOOOO~ What a looooooooser~ Marry meeeeeeeee~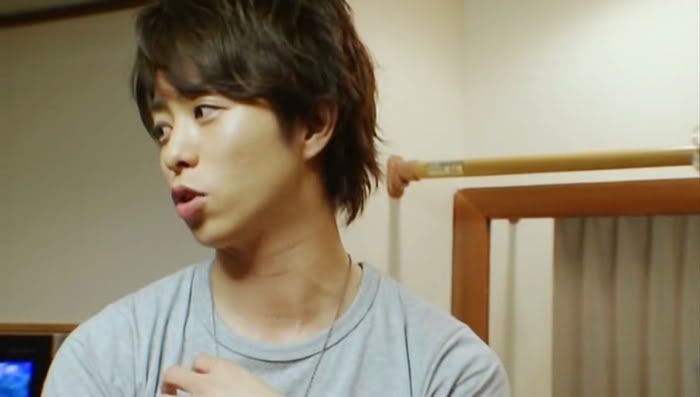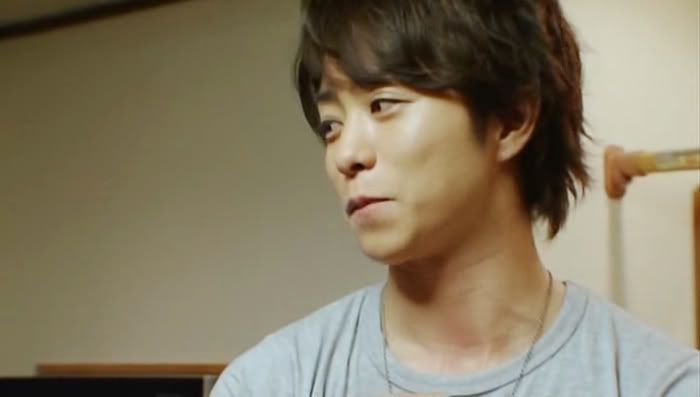 I love seeing the shadow of a smile on Sho's face as he turns in Nino's direction while talking to the camera. Really, I just love when Arashi members can be heard or felt just offscreen. Like, I think it's better that they never pan over to Nino and you just hear his chuckles and remarks.
DORRRRRRRKKKKKKK! "どう?"
Nino:
You know... I think it'll still be Jun-kun introducing the song in the end. To be honest. You'll never beat him.
NINO, YOU ARE ALWAYS HONEST. ♥ I just love when he lower jaw does that, goes all akimbo.
DORRRRRRRKKKKKKKS! PLEASE ALWAYS SMILE JUST LIKE THAT IN THE FUTURE! You can always count on these two to make each other crack up. ♥
Aiba:
I was so perfect, I scared myself!
lajshdfjhjahsa AIBA. He talks to the cameramen in such a conversational style, I mean they all do, but I particularly love it right now. CONGRATS ON YOUR VICTORY, BB,
Maybe shouldn't be as alluring as it is??
Nrghhhhhhhhhh.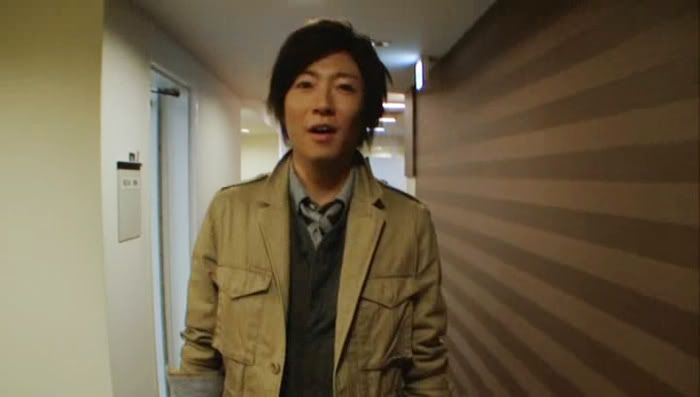 Aiba has such a
swagger
sometimes. He was having such a day of success, so it was really coming out in full force. GALE FORCE, AT LEAST.
CUTE AS A FUCKING BUTTON. A FUZZY KITTEN SHAPED BUTTON. :D
You know what game Sho never gets tired of? Guiding Ohno around the set with little nudges and having him visualize things and give messages to the camera. INSTEAD OF TEASING WITH LOVE, IT'S LIKE LOVE WITH A LITTLE TEASING. ♥ (Also, costume staff-san's little smile at their antics! Aw!)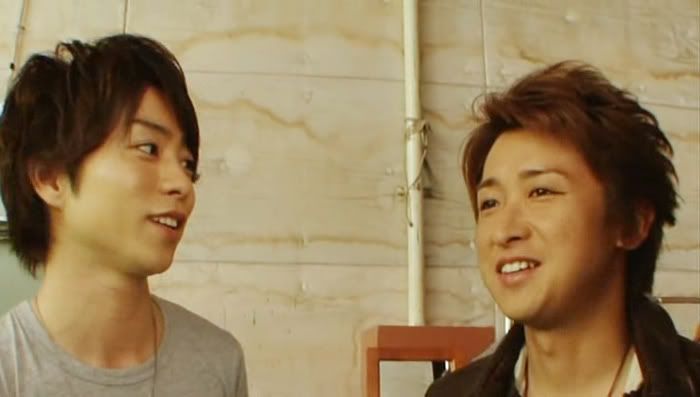 OHNO: EVERYONE'S FAVORITE TOY
akajhfdjkhgkjghdjkdfl NECK
Ohno and his little sniffles, man. Godammit, I feel bad he has a cold, but I feel this is a corollary of Ohno's sneezing being the cutest thing: OHNO'S SNIFFLING IS ALSO SUPER FUCKING CUTE.
Okay, this is where I have to GO CRAZY with caps because it's basically OHMIYA: THE DRAMA. Yeah, that's right, they love play-acting so much that they made an entire SCENE. Annnnd ACTION:
Nino:
You're done?
Nino:
I'm not done yet, so wait for me. Okay?
Ohno:
You're just starting, right?
Nino:
Yeah.
Ohno:
Then please make your way there first.
Nino:
What do you mean, "first"?
Nino:
I'm the last person, so...
Ohno
: I don't think we're in the same car for the return trip...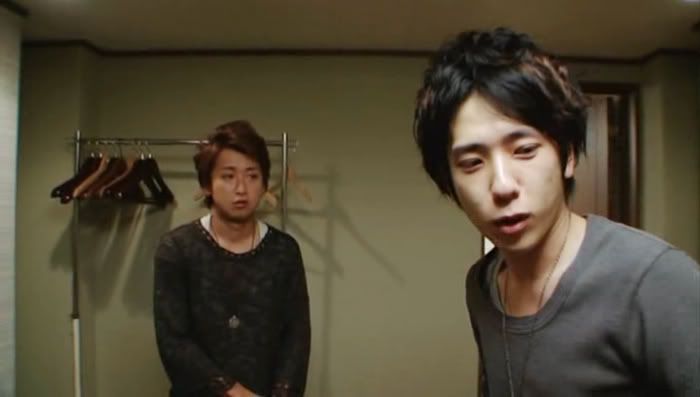 Nino:
I know that. But I'm telling you to wait. Okay? It's only natural. When I'm done, everything will--
Ohno:
Hurry up and go already.
Nino:
What's wrong with you?
Ohno:
Everyone's waiting for you!
Nino:
What's up with you!?
Nino:
No, I can't take it anymore. I won't move from this spot until you promise to wait for me.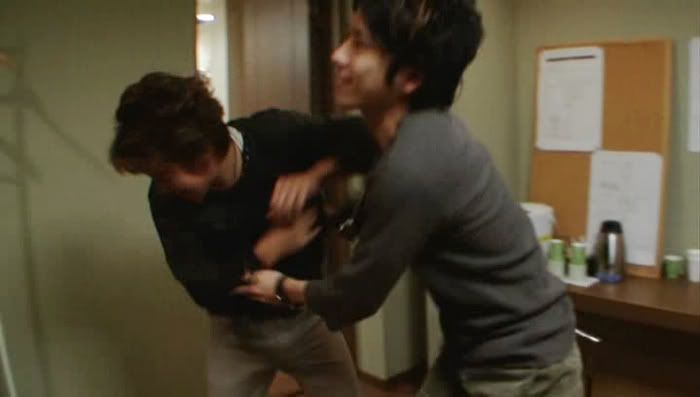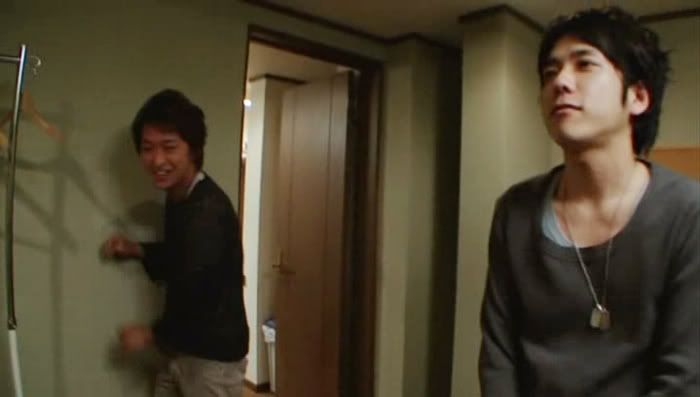 (hahaha, I love both how often they wrestle and how often that results in Nino winning. XD)
Ohno:
I'll wait. So...
Nino:
You'll wait, right?
Ohno:
Yeah. In that dressing room.
Nino:
The other one, right? You'll wait, right? Okay, I'll go then.
Ohno:
Thanks for the hard work.
Nino:
What was that? Huh?
Ohno:
Hurry up and go!
Nino:
I'm going. You better wait for me.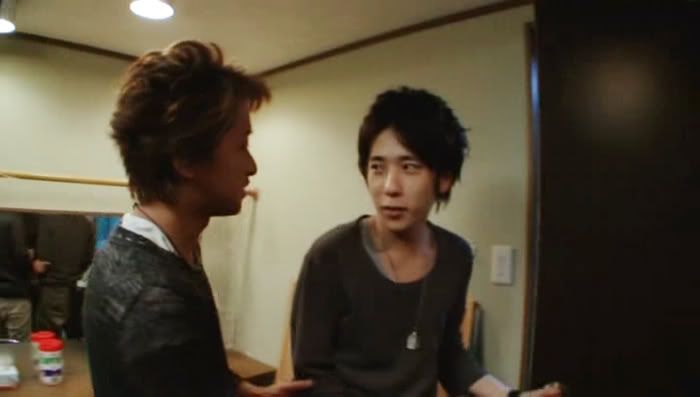 Ohno:
Everyone's waiting for you at the green screen area.
Nino:
Wait for me, okay?
Ohno:
Thanks for the hard work.
Nino:
Hey!!
lakdfkjlakj LIKE, was
any
of that planned beforehand or are they just
that good
at playing off each other? I THINK THEY JUST ADLIBBED THAT BUT EITHER WAY SAJKLHDJHF THEY ARE THE BEST. ♥
SHUT UP WITH YOUR FACE, OHNO. ♥ "I think it'll probably have forests and stuff behind us." hahaha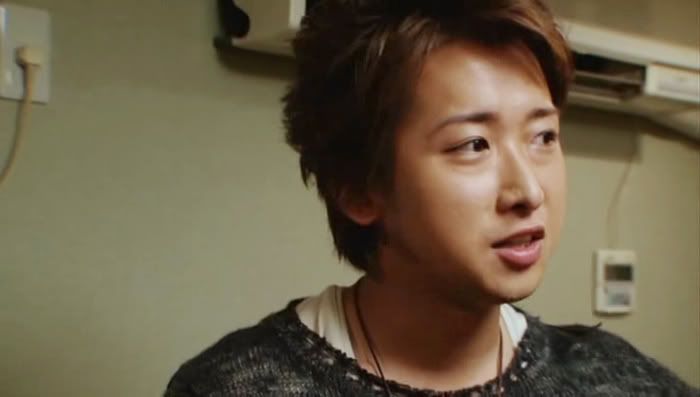 "Or... it might just be the green screen. That'd be funny and unique." YOUR FACE IS FUNNY AND UNIQUE. ♥♥!! (A good kind of "funny". XD)
Things I have a THING for: 1) Ohno's profile 2)When Ohno's eyes are hidden in shadow UNF SO HOT!
Oh. Oh, I am lost forever. ♥___♥
Oh. Oh wait. I am feeling some more feelings. ♥___♥
Nino:
Let's go straight to Ohno now.
So confident~
BYE~BI!
THIS MAKING OF HAS EVERYTHING I COULD EVER HAVE WANTED.
Sho:
Please listen to our song: "Love Rainbow".
Nino:
I don't think they'll cut this for you.
Sho:
Yeah, they might not. Thanks!
hahaha, yeah, Nino knew he had something
good
planned for the ending. SORRY, SHO. (Though Jun
never
had a shot of introducing
Love Rainbow
, he was going home first. XD)
alkjdkfhasjdhsfh "I waited!" His street clothes! :DD
I love how he keeps trying to pull his arm out again but Nino refuses to let him. No, Ohno, you are in Nino's clutches now. Give in.
FFSHKS;LLKA'SF OHNO'S HAND ON HIS BACK! OHMIYA, I AM SO WEAK TO YOU. YOU ARE WELCOME TO ALWAYS RIDE OFF INTO THE
SUNSET
DRESSING ROOM AT THE END OF MAKING OFS! :D
ask;lkkfdlgkldlf'gfg HOW CAN I POSSIBLY FEEL AS MANY/POSSIBLY MORE FEELINGS DURING EACH SUBSEQUENT MAKING OF?? AT THIS RATE I PREDICT I WILL EXPLODE FROM JOY TWO PVS OR SO FROM NOW. (Thanks for that, Arashi. ♥♥)
Dedicated to the person who always takes care of
me
,
phrenk
. My posts often wouldn't be possible if I didn't have you
firmly nudging
motivating me along. I would be like an Ohno without an Arashi if I hadn't met you. :)
Happy Birthday, Val! ♥♥!!
Current Mood:
loving