4/30/2010 - Shout it Out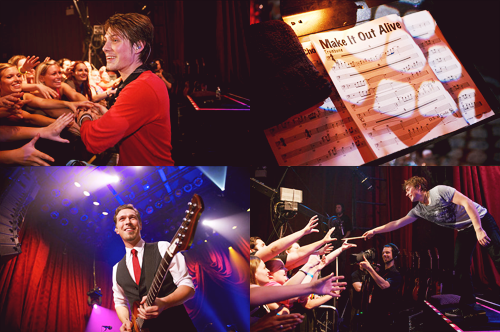 (All photos from Tourphotographer.com!)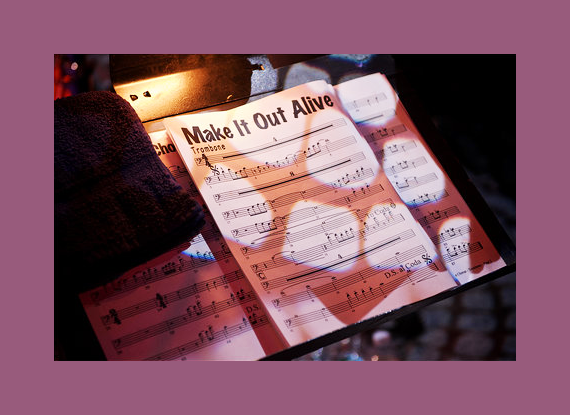 Wore:
Sparkly Gold Jacket otherwise known as my Matsujun Jacket, yellow and white dress, gray t-shirt, gray capris.
Line:
Woke up 5:30 am. Arrived 6:25 am. Sat before the first door of Duane Reed. Was promptly numbered by Nicole, number one herself, and received number 33. I also submitted Rachel and Jodie's names, as I figured there was no harm in signing them up for now. Rachel and Jodie arrived at 8:00 and we set up camp. Spent a very pleasant day on line! It was nice to have company, I don't usually make such fast friends on a Hanson concert line but it was way nicer waiting with a group I felt a part of. The day started out pretty chilly but it warmed up into a lovely day. I had both a book and my ipod to entertain me, as well as chit-chat with my new acquaintances. For lunch I was able to go meet Morgan and have another leisurely Korean meal at Han Bat. I also got to drop all my stuff back at the hotel in a relaxed manner, another advantage of a group! Although I arrived the earliest this day, I actually felt like it passed really quickly! I think I had hit my stride for waiting in lines. :)
Standing:
Fourth row center, a little towards Isaac's side. Though I had been hoping for just a little closer, I actually had a surprising amount of room for dancing (which was keeeeey for this show!) and a perfect view.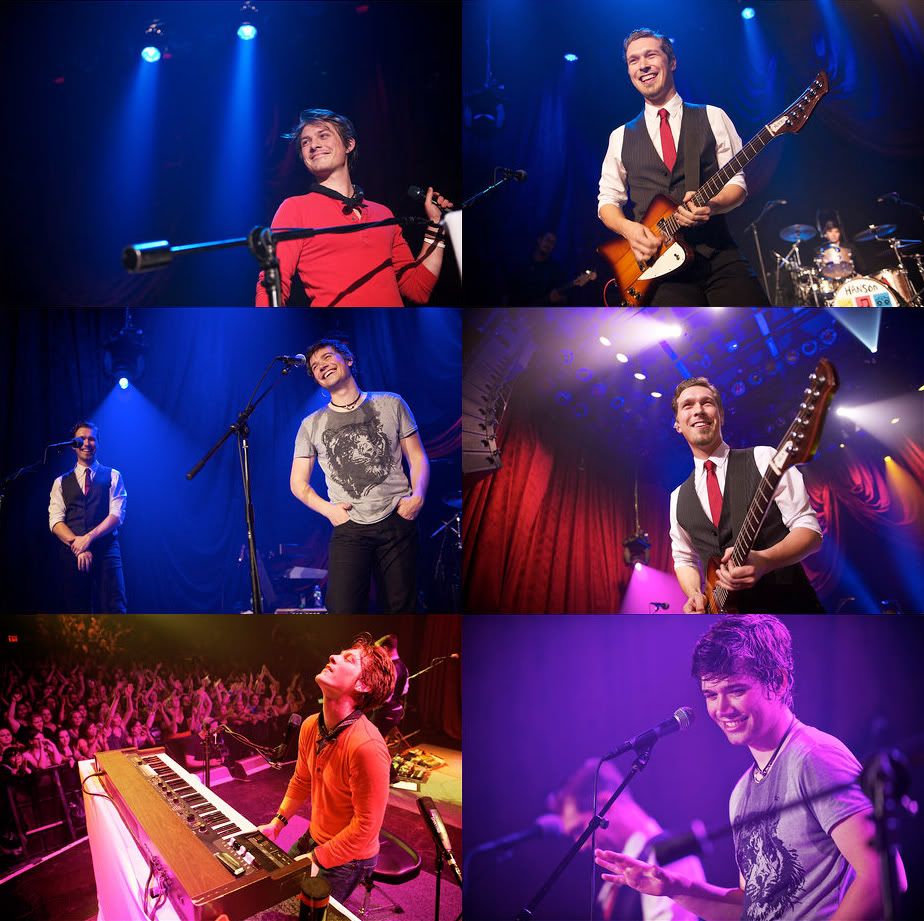 Show:
Oh my god. Oh my GOD. So I just finished the last Five of Five show for the new album and I just cannot believe it. It was a phenomenal show. As Taylor remarked himself, in what I can only imagine was a state of concert bliss, "I think this should be a month long series of concerts". I couldn't agree more, I was mourning the loss even while on line today but I never want to let go of this experience. It's the most unique and special concert (well, the whole series really) I've ever been to, something that I will remember for the rest of my life.
This concert was really interesting in that we only knew about half the songs, the rest were tracks we had only heard a handful of times while they were playing over the speakers as we waited around the previous nights.
Our opener is
Waiting for This
, which may be my favorite from the EP and worked perfectly for this situation. We were totally ready to scream ourselves raw for "shout it out!".
Then the first single,
Thinking 'Bout Somethin'
. I ADORE THIS SONG. I was really excited about this one since it's such a great uptempo number... but I totally failed at learning the dance in time. XD And unfortunately, no one in front of me was doing it either! I had to keep glancing over my shoulder at a girl who DID know it. OOPS. XD That said, such a WONDERFUL song, so fun and full of energy. I loved doing the claps, woooo audience participation!
Kiss Me When You Come Home
: A totally new one! I really liked it. It's downright strange to be in the audience of a Hanson concert when everyone doesn't know all the words to a song though!
Carry You There
: classic "Hanson spiritual", in the same vein as
I Will Come to You
,
Save Me
, etc, but a little more rocking. Not that it's overly spiritual, it's just I read it as the type of song where you raise your hand and sway and think about how much you love these guys. I'm sure some people could think of god or whatever, but I only think of Hanson. ;p
Give A Little
: WHAT. WHAT. This song was RIDICULOUS. Something about the opening hook just had the audience metaphorically on their feet, as we were already on our feet. There's something really funky and retro about this one, it's just made for dancing. And, lo, did I ever dance. XD
Make It Out Alive
: Another song where I thought "This is a great song! This is a GREAT concert song!" The drums on the chorus were totally sweet and made for clapping. I think we all learn the "We may not make it out alive! What does it matter, when you're here by my side!" part pretty quickly because there was definitely singing along.
And I Waited
: THIS. SONG. TOTALLY. ROCKS. I think a lot of us have a special feeling about the Zac lead, driving songs. It is SO the sequel to
Tearing it Down
. Favorite part: "I'm not gonna get off/ Until the last stop/ Nobody else is gonna save me." THIS IS THE MOST DELIGHTFULLY DIRTY HANSON SONG, BY THE WAY. :DD
Use Me Up
: Such a gorgeous song and I always love to see Zac on piano while Tay and Ike stand up front and just add harmony. There were two little things though, when they all sang all out, it seemed like it was blowing out the speaker or something! And also, I totally thought the trombone solo part was unnecessary and not really jiving (though the horns were otherwise rocking all night!)
These Walls
: Another very singable song in concert. We may have just had a lot of pent up singing energy tonight. My favorite part is the "the sky is falling all over again/ just another day's conclusion/ another disillusional night".
Musical Ride
: Ahahaha, not much an impressions except I liked the drums. I was kind of using this part of the concert to rest up and not die. XD
Voice In the Chorus
: Another one that I loved and something I really felt like it lined up with the "voice" of the audience well!
Me Myself And I
: Ah, the Hanson ending ballad! Personally I love them because it's a chance for them to show off their amaaaazing harmony and get Zac out from behind the drums. As Tay said "almost acapella-like". Annnnnnd then... we the audience totally jacked it up for filming. XD In the pause before the last verse, the was a ton of clapping... followed by embarrassed laughter from the crowd. Hey, we'd never heard this song before! There was a pause! The Hansons were totally amused and thrown out of serious mode. Tay was like "This is the longest piano song I've ever played on an album." *laughs* "There's one more verse." XD It was actually a really great moment!
Sooooooo, they thanked everyone and did a bow especially with the brass section and Ike made his lamely adorable comment about this being a real band. And also totally failed to throw two out of three picks, as they fluttered in front of the barricade. We knew an encore was coming, probably why we probably failed at pacing the call. XD
So the lead in was like "We want to dedicate this to all the people who couldn't be here tonight. (sort of tepid applause, haha.) And, well, we've been to Spain but..."
YESSSSSSS NEVER BEEN TO SPAIN. I really love that cover and the Tulsa lyric always gets such a great reaction.
Taylor intro the next one with a subtle transition of "I want you to gimme some lovin" FREAKOUT. The call and response in that song is always great and I think this was one of the ones where Tay hammed it up. I definitely grooved my little heart out.
AND THEN, OF COURSE:
Shake Your Tailfeather
which I didn't even realize how much I missed until they played it! OMG, SO SO FUN TO DANCE TO. I DANCED SO HARD. I definitely added the watusi and the mashed potato into my dancing. XD Oh god, I love Hanson retro dance songs. This and
Rip it Up
are like my favorite thing EVER. I swear, without thinking about it, my voice reached a pitch in screaming that it hasn't for YEARS when this ended. My throat
hurt
. I was that excited!
So, they leave the stage and the crowd is cheering but also talking and sort of unsure. I notice the camera is still directly on us and at this point it clicks "duh, they have to come out again" so I start cheering like a banshee even though that encore killed me.
So they come out again to roaring applause and start bantering. They tell us that we better have it in us for three more songs. "It makes the concert longer, if that's okay" says Zac to screams. And then Ike is like "You know, with the other albums we have the advantage of having played the albums a million times. But this really is our first time playing them."
Z:
"Except for in our living room."
*giggles*
T:
"You guys, are supposed to say 'Wow, really? I didn't even notice!'"
I:
"'It sounds perfect!'"
So Tay been trying to warm us up on the piano for
Me, Myself and I
but we just laughing and cheering and being all high tension. Cause duh, banter. Ike reassures us that Tay hasn't started as it "sounds like he's just showing off."
So we finally get to a lull and we're about to start, and some GUY wolf whistles Taylor. Already funny, but then Taylor makes a HILARIOUS face complete with eyebrow raise and contributes "I guess he really likes good fingers." The crowd TOTALLY LOSES IT. For good reason. I have never LAUGHED that hard at a show before. I'm so glad we've all grown up. ♥
Ike and Zac finally manage to calm us with shushing fingers and we mostly settle in. Taylor begins it... and immediately seems to have trouble with the mic's distance from his face. Maybe three lines in, he just giggles and gives up. SO CUTE.
And then Ike or maybe Zac, is like "Man, it IS just like you're in our living room. Flubs, laughing and bad jokes." ♥♥!!! They should just do livestreams from their living room every week!
After our successful
Me Myself and I
, I remembered to try and put my hair up and not ruin continuity. XD Then we did another
And I Waited
and we the audience kind of flipped out. We also redid
These Walls
and by this time I am really exhausted... but then because the Hansons are either crafty or can't count, we get one more song and it's
Give a Little
! Ahhhhhhh! Zac nicely asks us "Can you dance for this one? There's a line about keeping your body loose." So, OF COURSE, I have to go as full out as I can for the dancing. Plus, as I might have mentioned, I LOVE THIS SONG. It got a huge reaction from the crowd even playing it the second time around so Zac was "I guess you guys like the song, huh?" to huge cheers. XD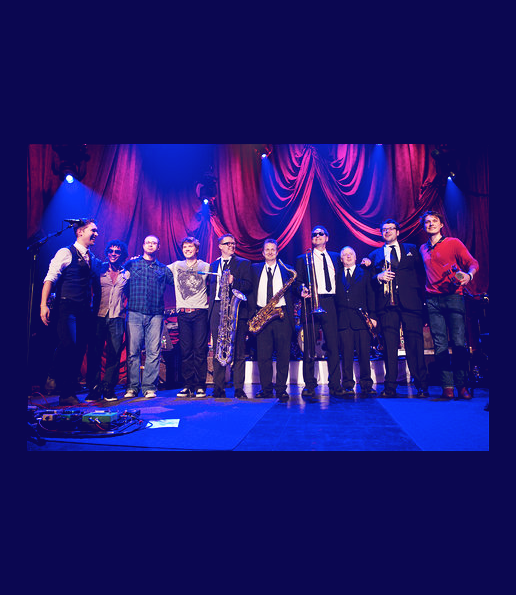 And then the goodbyes! Isaac thanked the crew and really everyone behind the scenes and also "the band" which included the brass section a second time. With a second bow. And a second awestruck and proud comment how THIS is what he calls a band. Lol, I love you, Ike. Zac said something like "And this was night Five of Five!" and threw out his drum sticks. Then, of course, Taylor jumped down in front of the barricade and started shaking hands... so of course, I rushed the stage as I haven't for so long. Ike also came down to shake hands and I was super close to him. (Apparently Tay went to one side and said he liked my roommates' shirts and Ike went to the other side and got told he was top trending on twitter. XD) After they left, I just sagged totally spent. With love, as always!
If I only get to attend one special event, I'm glad it as this one. I've never had an experience like this in my life and I doubt I will again. When I tell people it was a five-nights-in-a-row, every-album-they've-released concert series, I truly feel how unique it was. By the end, I felt like the whole audience was really wishing we could do this for a month straight. And while it probably would have killed me (I fell amazingly ill the day after this concert and spent the whole day in bed XD), I really wanted to do it. :D For that week I got to live and breathe Hanson and I couldn't have been any happier. Thanks, boys, for such an unforgettable time! See you at 10 of 10? ♥!!
Current Mood:
thankful
Current Music: Me Myself and I - Hanson