Oh man, is anyone else in North America awake right now? Are you looking up at the moon? If not, you definitely should be. ♥ This lunar eclipse is
off the hook
. XD No seriously, it's even cooler than I thought it would be. For some reason, maybe because I've seen a lot of lunar eclipse photography where the moon just looks red, it seems more impressive than I was expecting! It's totally different to stand outside and look at the moon slowly being eaten up by black and think "That's the
Earth
casting a
shadow
."
In other news:

I went to see
Deathly Hallows
and
Megamind
at the movies recently and thoroughly enjoyed them both. ♥ I haven't even been a huge Potterhead (...that may depend on how you define it) and I can't even believe they're almost over. There are some ways I think the movie could have done better (introducing people, Ginny) but so many things were really perfect. I wore my Gryffindor tie, just with jeans because I didn't want to be way too cool for the rest of the audience. I adoooooored
Megamind
, it was just hilarious and fast-paced and the shipping was FULLY A GO (seriously, I want so much fic) and just
I love send ups of comics
. Especially Superman because then there gets to be a Lois Lane (Roxanne Richi, be still my heart! ♥). I would totes go see it in theaters again except I waited until it was already going out of theaters, oops.

I have five inch scratch still visible on my back from
one week ago
. Before your minds go into the gutter, people, this happened when I was trying on a shirt. A shirt entirely covered in sequins. I now have a whole new appreciation for the hazards of being a Johnny, those things can hurt like a
bastard
! XD (Yes, I bought the shirt. Yes, this is the fourth sequined item in my closet.)

I also bought a super cute winter hat. I am now giving it to myself for Christmas so maybe I will take a picture of it soon. XD
ETA:
Okay my ears were getting cold and I wanted to wear it to moon-gaze so here's pictures now!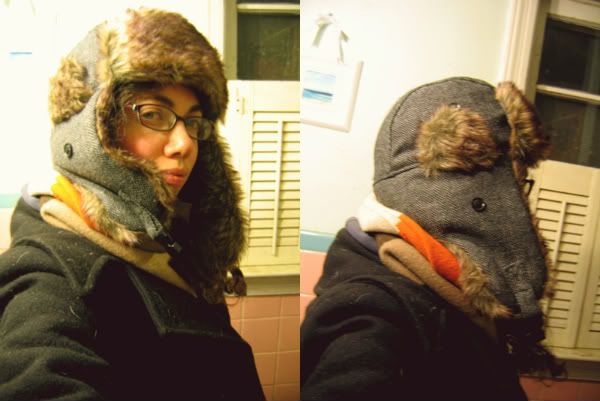 I LOVE IT. It has
earflaps
and soft FAKE fur and a pretty herringbone pattern! ♥ You can even put down those flaps on the side to have a double-thickness ear flap! Though I promptly tore the elastic on one side as soon as I put it on at home but it's okay, I tied it together and I bought this at deep discount anyway. XD I love hats but I rarely buy hats that seem so useful!
The most useful feature: it can buckle under the chin! My cheeks are largely covered from the wind! It's like a hug for my head. ♥

I have been watching an insane amount of
Misfits
(I was thinking about making a post but all I have written is some blather about Alisha's power being problematic) and now large quantities of
Parks and Recreation
(omg Leslie Knope is my hero). OH TELEVISION IN ENGLISH, WE ARE BACK ON.

I'm thinking of starting another Arashi drama since I haven't watched anything but the currently airing ones in a while! Maybe
Uta no Onii-san
? :DDDDD
(Also, to Val: ♥♥♥! *hugs* That's it, that's the whole message. :))
Happy Winter Solstice, everyone! TOP OUT.
Current Mood:
indescribable