Okay, I needed a bit of time to collect myself but I want to make my WOOOOOO GANTZ post! For my experience, I met up with
phrenk
and saw this grand World Premiere Event in NYC! (I sadly did not sell my kidney to pay for last minute flight to LA. for a one night event but Nino makes me seriously contemplate doing these things. XD)
So, first of all, I'm a loser who gets
really excited
about dressing on a theme so I'd started planning my outfit for
Gantz
four days before
Gantz
. So I might as well show you my process because I'm secretly a sucker for outfit snaps and I'm always nosily interested in what my own lj friends wear. ♥
I first considering doing the fashionable version of Gantz-ppoi: black and shiny but with a cardigan, jeans and accessories. I actually really loved this outfit and thought it was cuter than my final result so don't be surprised if you see me wearing this if you know me irl. XD I really loved the watch and necklace here, I just thought it was very
Gantz
! I also really liked that robin's egg nail polish even though I'd planned to repaint my nails.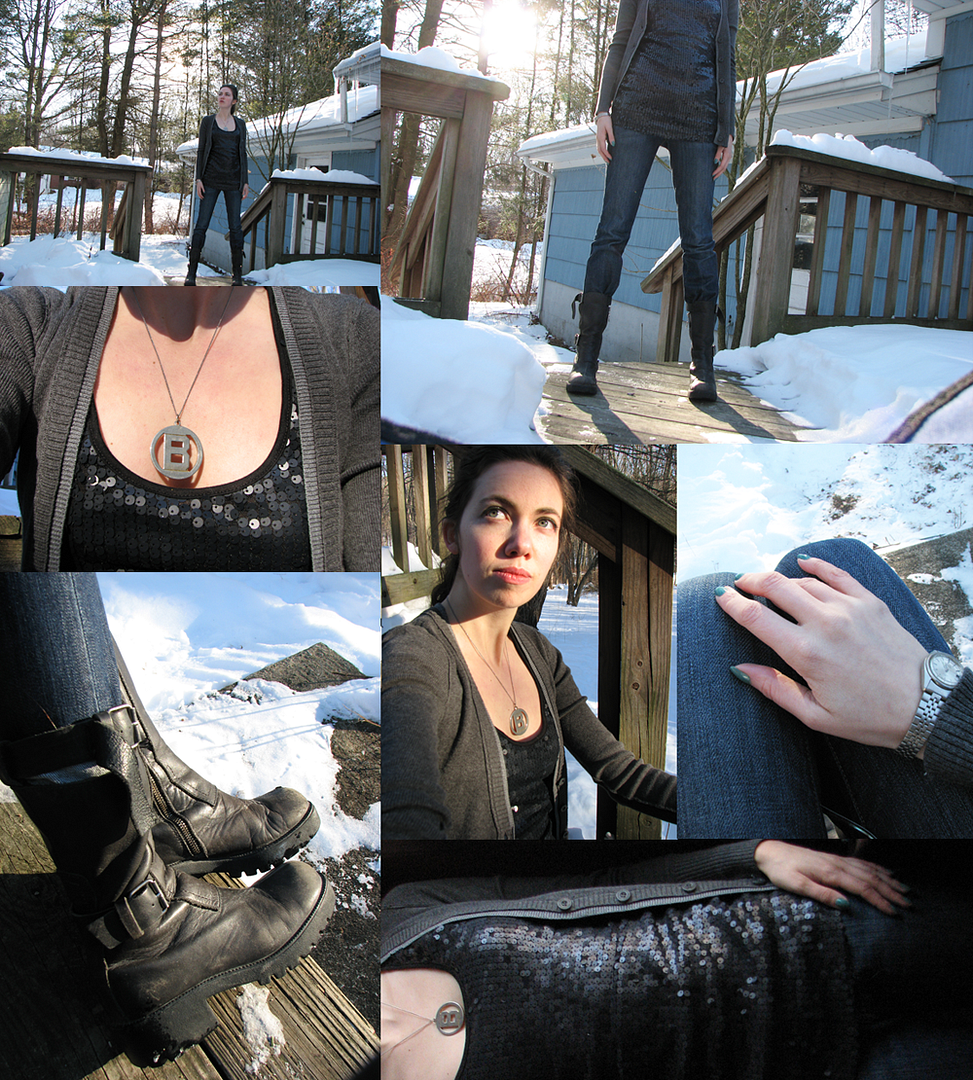 ALSO, right in the middle of when I was taking these photos, my
amazing
and
undeserved
present purchased for me by
madisonfink
on a recent mall trip arrived! AN ENTIRELY SEQUINED BERET THAT HAPPENED TO MATCH MY TANK TOP EXACTLY. If I had gone with my casual outfit, there is
no doubt
this would have been on my head... though I ended up needing a warmer hat so maybe it's best saved for next time. Anyway, it is
adorable
and I might also try to wear it as a snood because I used to loved snoods in high school. THANK YOU SO MUCH, BB! &hearts!!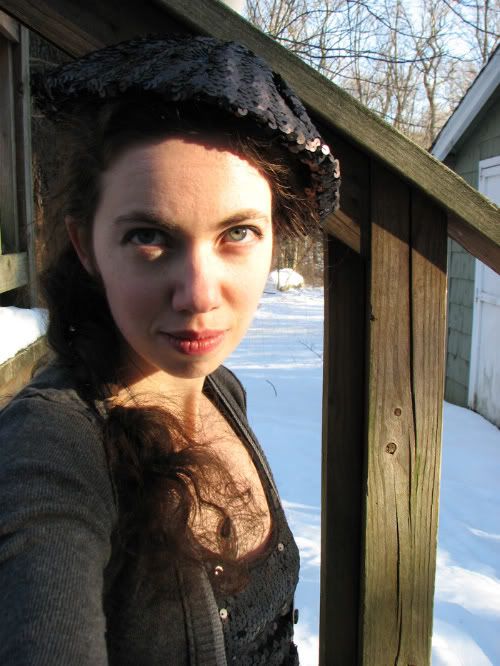 Sorry the picture doesn't show it off well, I was quickly losing the sunlight!
However since I was dressing
on a theme
and
for a sci-fi movie
, I ultimately decided I could wear my cute outfit any time and I should go even more cosplay-ish! I happen to own a skintight, black, catsuit-ish top (...from my Smellerbee from AtlA costume, lol! My boots are
also
originally a cosplay item, from my River costume) and originally I was considering doing black leggings instead of jeans but those got nixed for a) not being pants and b) not being warm enough. Also the buttons on the vest were meant to resemble the glowy circles on the
Gantz
outfits. ;P I would definitely go crazier on the eye makeup next time! (What a difference good lighting makes, the first outfit's photos are much more exciting! :D)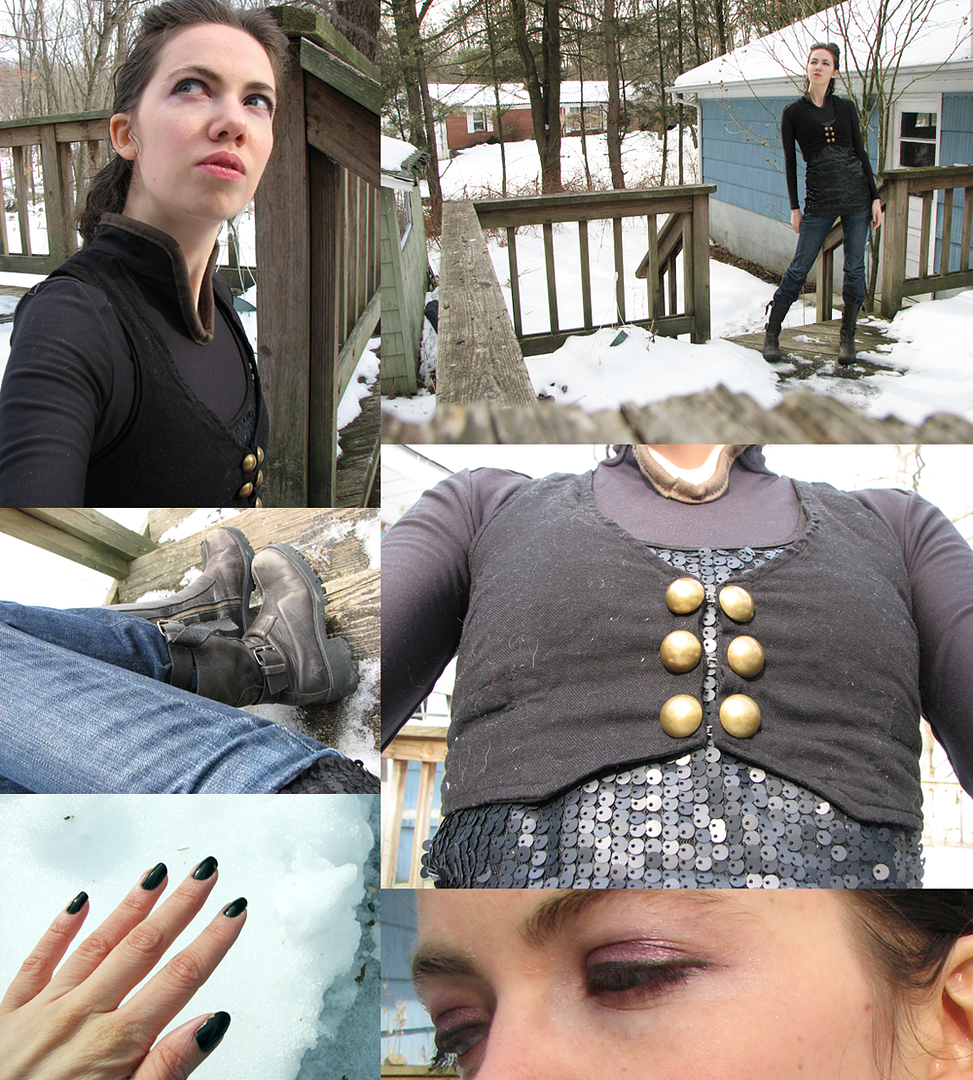 So to warm you up, Val and I decided we had to be united for our first ARASHI IN AMERICA evening at the movies so she generously agree to meet me in not-at-all-in-the-middle NYC. XD While I packed my stuff (to go sleepover her house for the weekend) and took an hour bus ride into the city, she bravely faced
bridges
and
construction
and
city driving with traffic
to see Nino with me! I must applaud her! (We didn't actually meet at the parking garage I had a coupon for but when she arrived at one five blocks away, it was totally for the best to just PARK THERE NOW. :D Plus the people there were nice and let me put my stuff in her car after she had given it to them to park.)
We then when off for our first stop on our Arashi day of fun by going to Kinokuniya, the land of the boyband magazines and cds! It was pretty much as glorious as ever. We met up with her friend Kate and browsed for a good hour and half. XD Val wound up with a copy of Non-no (a 19 page spread on Arashi and a fluffy "dazzin" bag came included!) and a puppy calendar. I lost hold of my
sense
wallet and bought the parting Arashi Wink Up and Potato from January and two interesting books from the anthropology section that I'd looked at on previous trips (one about how wolves were hunted to extinction even though they had been previously revered and another on "women's language" (
onna kotoba
or
joseigo
) and its importance in the construction of gender. Dude, I miss my readings for anthro class. XD)
After delicious dinner at a diner, we took the subway from to Union Station for our entrance into the Regal Cinemas Stadium 14! After killing time at the Strand we were only 45 minutes early, ha, victory! Seeing the super big (I mean compared to a lot of cramped movie theaters in this area) screen that Nino's face was about to be projected on was SO EXCITING. I was actually happy to watch the same five trivia facts over and over again. Two were about "Arashi" (quotes theirs!) which was both thrilling and hahaha, they couldn't have googled a little more? Sho's face during Honey & Clover on the teaser reel of movies was also a highlight and then the GANTZ WORLD PREMIERE screen came up and before we could prepare ourselves, there was NINO: LIVE VIA SATELLITE. OMG THE PRETTY. OMG THE LEATHER PANTS. OMG HIS CUTE ENGLISH AISATSU. OMG HIS FACE WITH HIS STUPID CHARISMA. It was somehow different when I knew it was live!
I'm not going to write a real-person review of Gantz but a few NOTABLE POINTS.
1) I liked it a
lot
! Okay, going into it, I had doubts whether it would actually be too gratuitously violent/bleak/misogynistic for me. Especially the last one, as in my excited the day before the premiere, I made the mistake of googling and winding up on a page about Natsuna in the Gantz costume and, along with the people thinking she's hot, the goddamn anime/manga fanboys once again proved to have a hefty scoop of dudes I found completely appalling who were hoping to see all these hella degrading things happen to her. SO YEAH, I know there's probably a whole lot of people who wish it was closer to the manga but honestly, in my I-haven't-read-it opinion, I was quite happy with the distance from the manga in that respect. I thought the action was all
excellent
and the plot was solid enough, although maybe they could have gone deeper into the moral ambiguity. However I honestly can't tell how
much
I liked it (I MIGHT HAVE REALLY LOVED IT) because....
2) OH MY LORD, THE AWFUL DUBBING. I knew it would be bad. I started a half-assed writing campaign to petition against it right after it was announced. However even for a dub, this was a PRETTY TERRIBLE dub! The writing was super obvious and dull and movie of the vocal performance were one-note and that note was painfully unnatural. The voices when there were crowds of people were laughable, pretty much all the minor characters got horrible overdone caricature voices. Matsuken voice didn't match him but was halfway decent and I actually thought the voice for Natsuna was pretty good but it definitely helped that I didn't know her voice. XD WOW, did they ever murder Yoshitaka Yuriko's part! She has such a lovely, unique raspy voice... so of course that was replaced by a high, trilling voice that was totally doing a stereotypical "teenager girl with ~crush~" impression the whole time. I can't describe it but considering I thought the movie didn't give her enough to do anyway, it really exaggerated the STALKER aspect of her. But obviously nothing can compare to the CARDINAL SIN of wiping over Nino's ~smooth~ voice with someone who changed tone enough that was occasionally hard to even recognize to it was Not!Nino speaking. It was BAD, people. I was totally inspired to redouble my efforts to urge Viz Pictures to CUT THIS SHIT OUT if (fingers crossed!!!!) they bring over the next one.
3) We already knew this from stills but NINO WAS REALLY FUCKING HOT IN THE GANTZ SUIT. Hoooooooly shit, Nino. *_____* I'm already ridic attracted to him on a daily basis but the 30-foot screen really did make a difference. HE WAS PRETTY. THERE WERE LINGERING SHOTS OF HIS THIGHS. But beyond that, he really sold the hell out of his part. Alternately disaffected, smug, heroic, cocky, ~mackin' on ladies~ and generally better than you? This is something Nino can do. For all that the dubbing attempted to strangle all life out of the movie, I was actually super pleased that a lot of the laughs in our theater (which seemed to be a lot more anime/manga fans than Arashi fans XD) were actually just responding to
Nino
as they were laughing due to his reactions shots! He definitely got the most laughs, maybe second only to people laughing at the dub's poor choices. Ninoooooo~ He was also such an ~ACTION STAR~! I felt so
proud
that he was headlining such a big budget film and totally taking names. I absolutely cannot wait to see it again, this time with added Nino-voice! SO GOOOOOOOOOD.
AND THEN AND THEN AND THEN, came the
real
main event for me, the post movie Q & A! As a million people have happily uploaded fancams, I'll just say a few words about my reactions. Staring with SA;DFJAK;DFGAHDKFGHDGFJKDGH!!!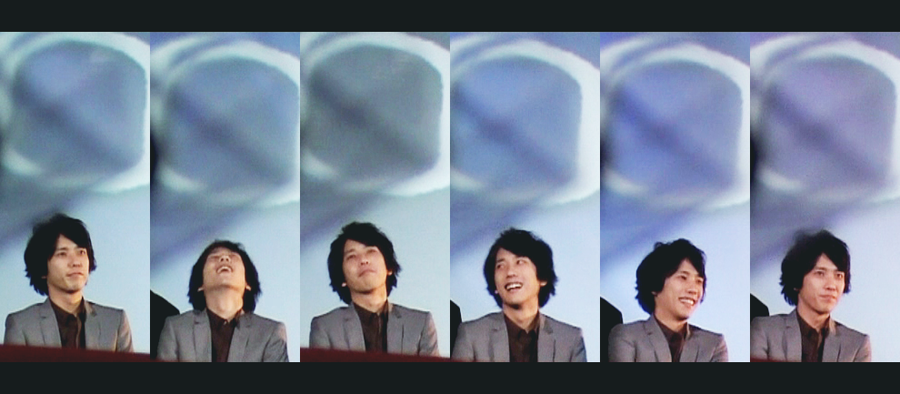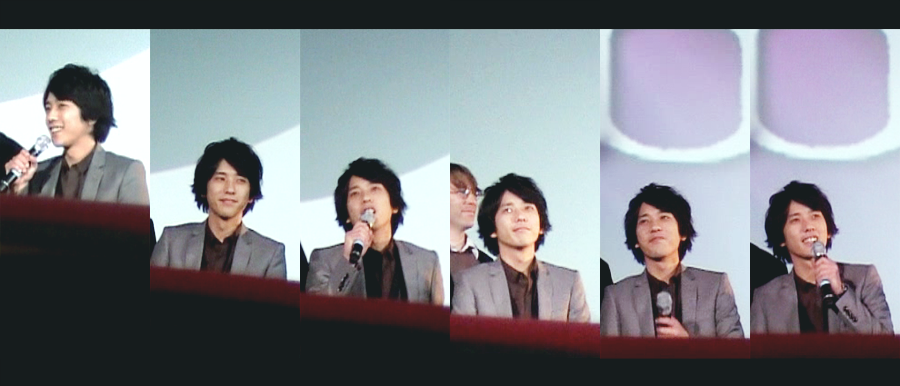 I think being a super idol has trained Nino for every possible situation because he just comes off super charming no matter what you throw at him. XD He was SO GOOD emoting through the language barrier and waiting for his interpreter (oh man, that one time when the interpreter laughed at what he said and he gave him a look like "LOL, you're supposed to be translating that, not reacting!" was adorbs) and smiling up a storm and
laughing
all the time. (I mean, I also enjoyed how Matsuken was adamant about not waiting for the interpreter and giving answers just as detailed as he would in Japan too! I especially liked how he brought up
Memoirs of Geisha
and
The Last Samurai
as a Western-gaze, othering sort of films about Japan.) I basically watched the whole interview with my heart in my throat and had a unchanging, ridiculous grin plastered on my face. Nino leaning in his leather pants and smiling and telling his homemade cake for Matsuken's birthday story live via satellite was almost too much. I was really touched too when I came home and watched the Q&A questions that were only done for L.A. when he talked about how "It's so fun just to come and hang out with you guys. Believe it or not, in Japan we hardly ever get this opportunity". Even though I couldn't be there and even though we miss out on so much by living overseas, it made me really happy both to have Nino say that and that he got to experience something special by coming here. ♥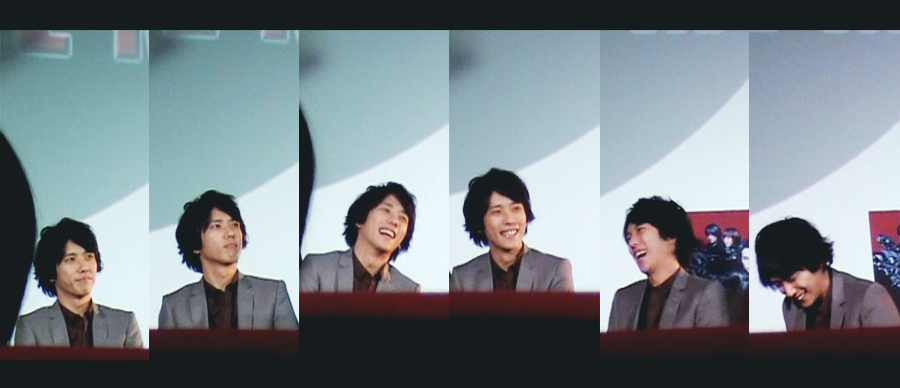 And then poor Val had to drive home in the snow in a car without four-wheel drive. It was pretty bad, we were driving on a three lane highway but all the cars wound up forming one lane a lot of the time because no one could see the lines. And of course there were semis kicking up the show right onto her windshield. *pets* We spent a loooong time mentioning every little detail of the interview we had both just sat next to each other to watch and played a fic brainstorming game (Arashi centric, of course) to keep her mind occupied. Still, even with terrible drives each way, she agreed it was totally worth it. SUCH IS THE POWER OF NINO. ♥♥

GAAAAAAAAAANTZ! ♥
Current Mood:
high
Current Music: Mou Ippo - Arashi