My Favorite Person™, Val, is currently going through a stressful period of her life. While she currently has a lot more to think about than the internet, I want to leave this here as an easily accessible dose of
love
for whenever she inevitably comes online and needs it. Val, I love you and am sending you positive waves right now! I hope you're able to take things one step at a time and no matter what, I'm proud of you for making changes in your life. In lieu of hugs, please accept this spam of our mutual favorite persons. It's time for a...
RANDOM SPARKLE SPAM

In no particular order and featuring mostly old stuff, since my newer stuff is sadly organized by date and magazine rather than by theme! :D
Sometimes I can't even deal with how much of a
dude
Ohno is and how much I love it. SUCH A DUDE. SUCH A BELOVED DUDE.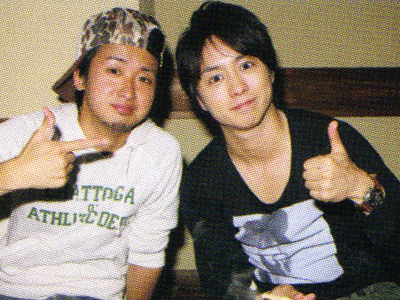 Just a dude, hanging out with his more responsible and nerdy friend. ♥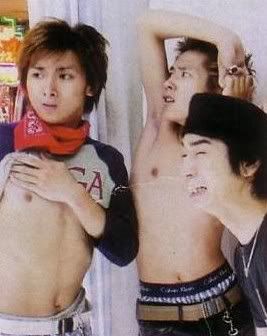 It wouldn't be an Arashi spam without pointed nipple-baring.
(
CRIES
, JUN'S FACE DEFINES
CRIES
)
...Okay, Sho wins.
I feel like loving Nino is liking falling into a bottomless pit. I just keeping loving him more and more and I don't think I'll ever stop falling.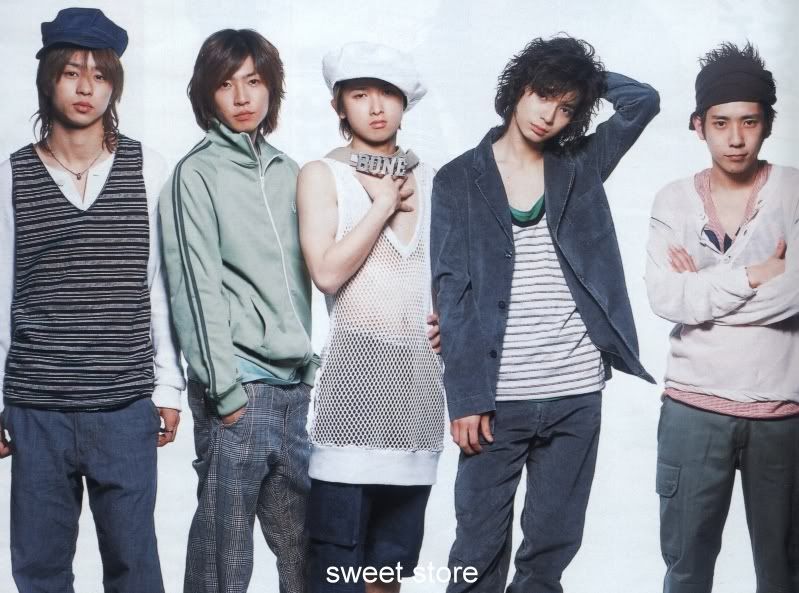 UGH, THESE PHOTOS WHERE THEY DRESS EACH OTHER ARE LIKE MY FAVORITE OF ALL PHOTOS!!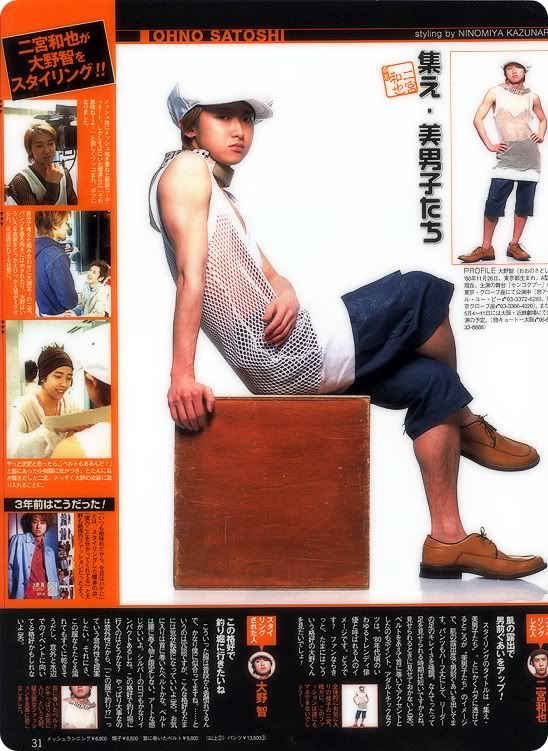 Of
course
it was
Nino
that put Ohno in a fishnet shirt and shorts and a BONE necklace and jaunty hat and no socks! Nino, WE SALUTE YOU. How is he so hot in something so outrageous?? ARMS!! HIS SEXY TALON HANDS! CALVESSS!! asajfk;g;lkg
Clearly that first try revealed that the winning combination is this venture is WEIRDNESS and NAKEDNESS. :DD Juuuuun and his painted naaaaails, oh honey, I love you! Sho and Aiba looking so demure in their nudity while Ohno is a BOSS. Nino's
right hand
!! PERFECTION.
Of course
, Jun would pick out an actual outfit for Nino. ♥ ...In the plaid he appears to already be wearing. And purple pants. ♥ He totally succeeded at making his own
Hipster Nino
. :DD
Ahaha, I am not surprised that Aiba picked Jun's! It's kind of sweet and sporty, while also dressed up with "Oh, Matsujun cannot be without
accessories
!" The hat! His smile! ♥
Shooooooo~ I love you so much for giving Ohno a badass character to play. Seriously, A++, you went above and beyond with this assignment. Faaaace! Haaaaands! So much skiiiiin! :DD
Ohno' idea? SIMPLE. He stayed true to his roots. The Aiba gun show? APPRECIATED.

This is SO UP NINO'S ALLEY. Ahaha, I'm so happy they gave him Sho. Who else would do this to Sho. XD He creates his own halter top by using belts, you guys. His serious critiquing face in stage 3! THE LOLING TOGETHER. And, hahaha, obviously everyone needs a picture of him with Ohno, the two masterpieces. :DD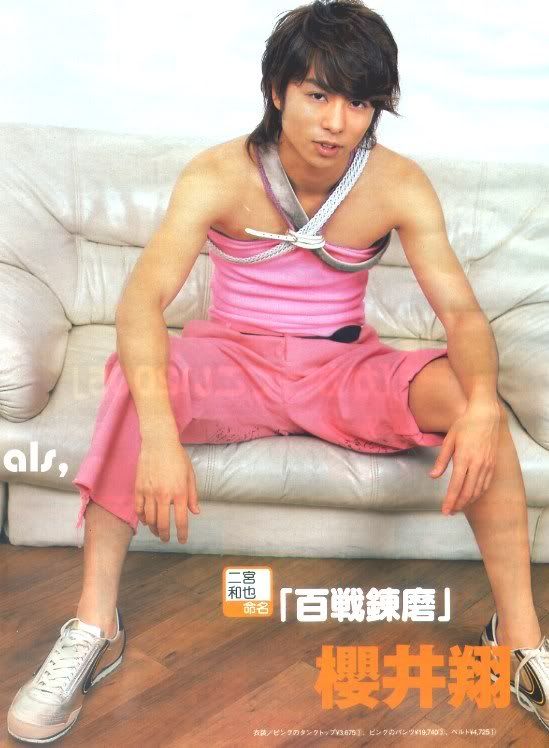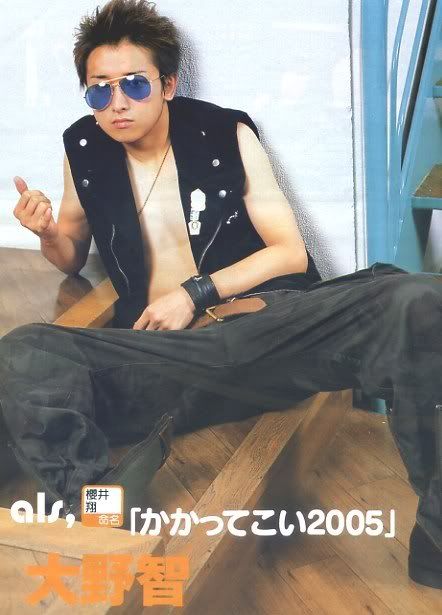 THERE WERE DUAL WINNERS THAT DAY.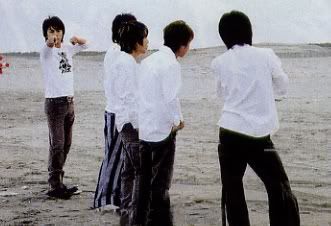 PHOTOBOMBING A.K.A. THE LIGHT OF MY EXISTENCE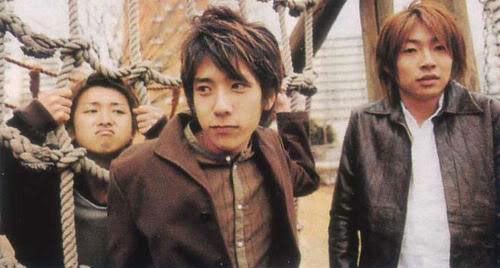 Photobombing is, like, Ohno's life calling. After fishing. And maybe bread.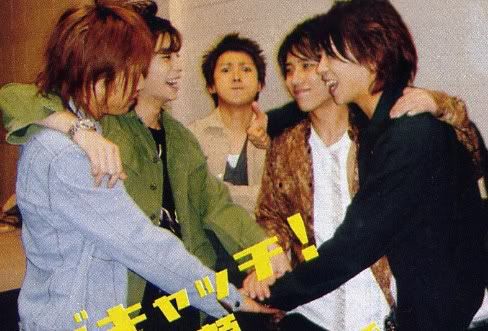 LEAVE IT TO THE MASTER.
You guys, it would have been a travesty if these two dorks hadn't found each other. Even though every relationship in Arashi is dorky in its own way, I NEED THEM ALL. ALL ARE CENTRAL TO THE FABRIC OF UNIVERSE. Ohno's smiiiiiiiile here! :DD
Oh my gosh, I can't even. *___* Obvs we all have a "Sakurai Sho loves his bandmates" kink but I think added to that, I also have a "dressing each other" kink. HOT. BOTH OF YOU. EVERYTHING.
OHMIYAAAAAAA SKKKKKKKK~ BEST POSE OF ALL TIIIIIIIIME~ THEIR HAPPY FACES, SO SWATHED IN LOVE FOR EACH OTHER.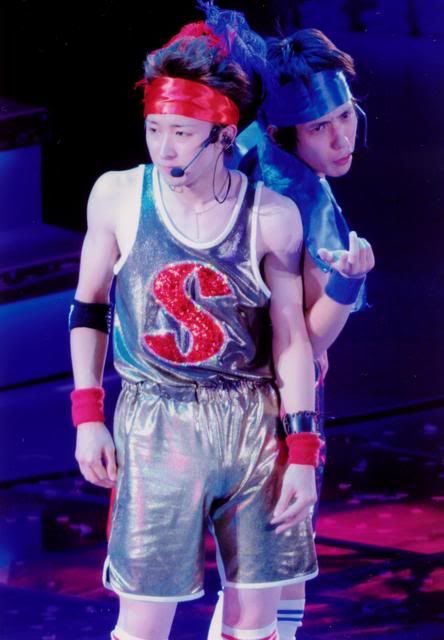 THE FACES THEY PUT ON THEIR FACE WHEN BEING THESE TWO, AUGH AUGH FAVORITE
I CAN'T LOOK AT THIS MONSTROSITY WITHOUT LAUGHING. I LOVE IT SO MUCH. IT IS SO UGLY AND YET IT ISN'T EVEN THE UGLIEST OUTFIT THEY'VE WORN. NO, IT'S ALMOST CHARMINGLY MUPPET-LIKE. I'M DYING.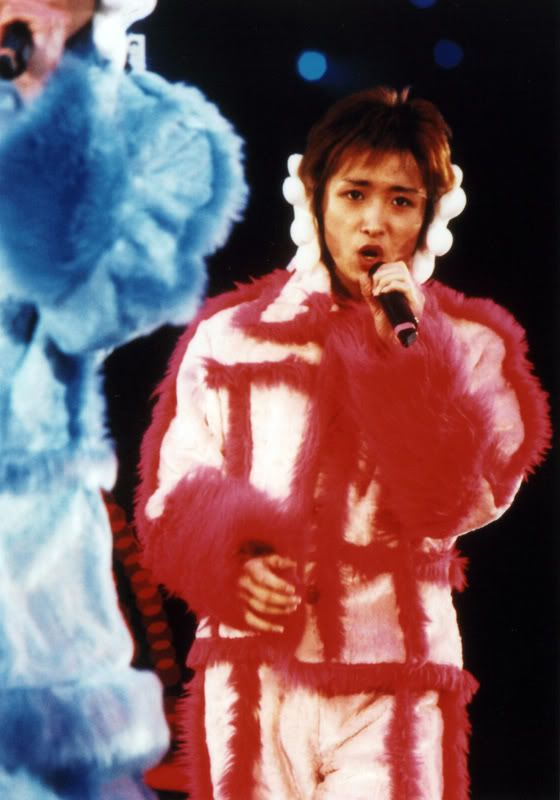 CRIES
AND IT GETS WORSE, OH, OH I CAN'T BREATHE.
NECK APPENDAGES
. THIS IS WHY YOU CAN'T EMBARRASS THEM NOW, THE FIRES THEY WERE FORGED IN BURNED TOO HOT.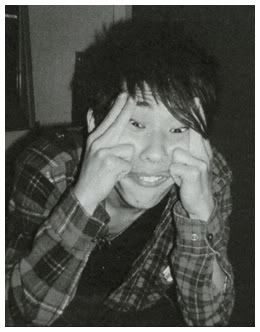 I'M A GOOD-LOOKING GUY.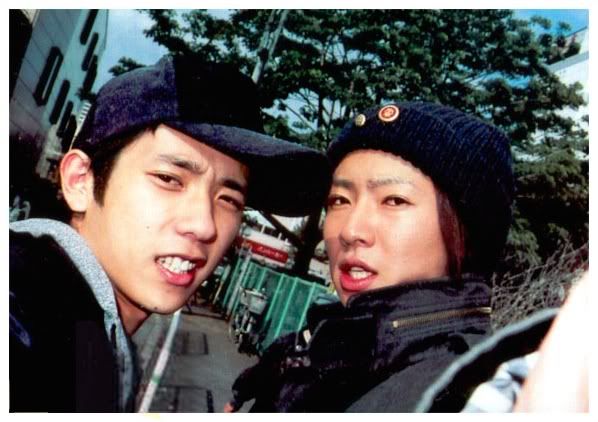 WINNERS. They've known each other foreverrrrrrr!
MATSUJUN, ALWAYS THE QUEEN OF ARASHI'S HEART AND ALWAYS TREATED ACCORDINGLY. So many awards, so many awards this could be.
THE HEALING KIND. I feel like I need nothing more than this face. ♥

HAHAHA, this picture is like CREEPER JUN: A SNAPSHOT. Only Nino is able to fend him off at all. XD He's already claimed Ohno, Sho cannot escape his admiration even if he tried (he would like to) and Aiba is accepting of all overtures, creeping though they may be. :DD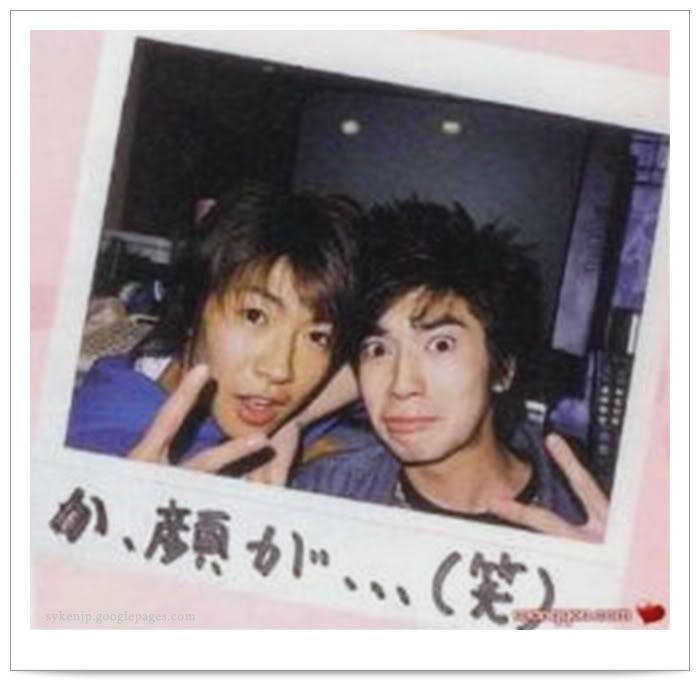 Emuuuuu~ GOSH, Aiba cut the kid a break and try not being so pretty in
every
photograph since you were eleven. XD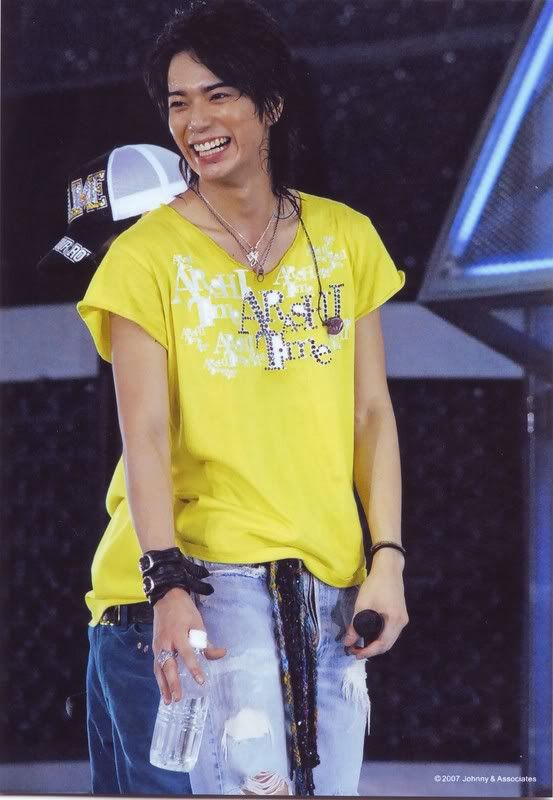 Matsumoto Jun's smiles when faced with an audience, the endless, renewable resource needed in these troubled times. ♥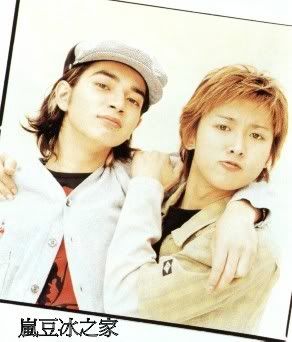 So much grabbing going on here, oh I love them. ♥
BEST BEST BEST, ALWAYS THE BEST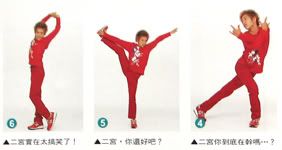 Not to be outdone: NOODLE NINO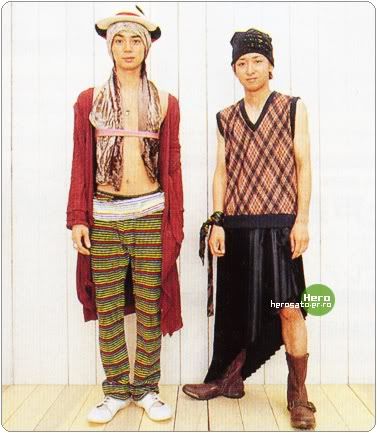 They carry this off TOO AMAZINGLY. YES, JUN, YOU CAN WEAR HEADSCARVES AND BELTS AS A SHIRT. PLEASE CONTINUE TO WEAR LOW SLUNG RAINBOW PANTS WHILE OUT AND ABOUT. Don't even get me started on how skirts and cowboy boots are RIDIC flattering to Ohno's calves. (!!!) JUST, YES, I DIDN'T KNOW I WANTED THIS BUT I DID.
Ohno's face is the only gift I want for Christmas. ♥
Never ceases to be THE CUTEST FUCKING THING. Especially how everyone else is just going about their business, nothing
adorable
to see here. :DD
For some reason low res pictures just make things even
better
. Nino drapes himself around people on a daily basis during work but Sho's red eye and concrete wall just makes it feel like this was taken at some college party or something. ♥
WOW, WE ARE REALLY RUNNING LOW ON PHOTOSHOOT IDEAS, HUH? ;DD
Sho once again radically misinterprets the Mannequin Five theme. (He may have misheard "funky" as "
Fünke
".)
I still remember watching this for the first time (with Val♥), when I was still so young and innocent in the ways of JE. ♥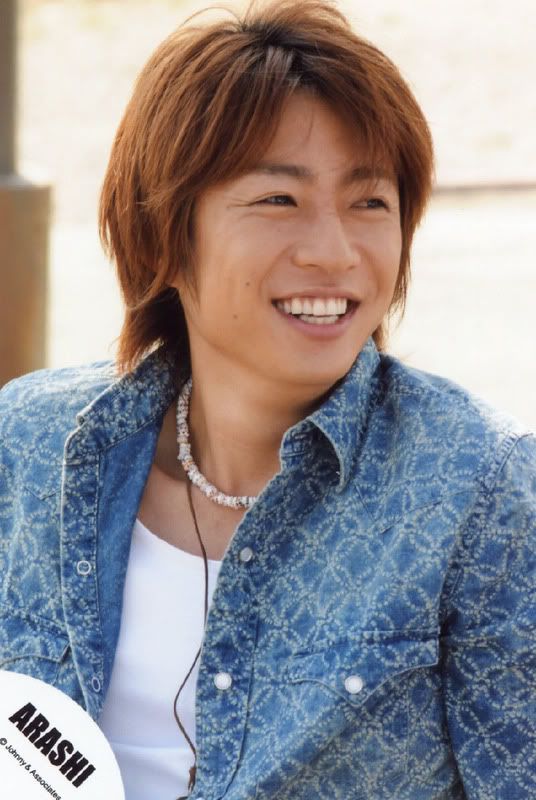 What a barren place the world would be without Aiba Masaki!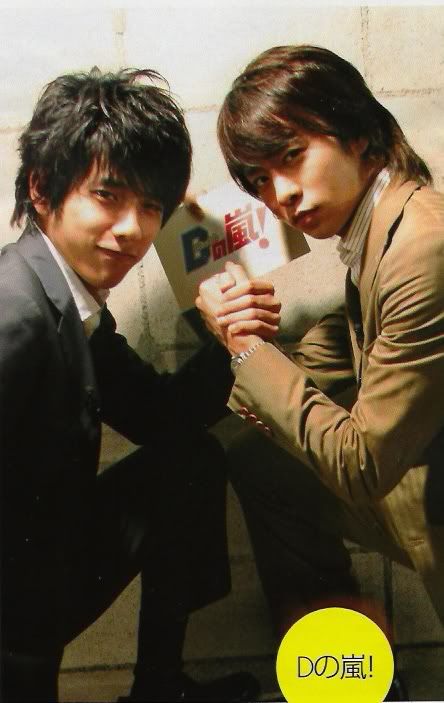 ~BEST FRIENDS FOR LIIIIIIFE~ Theirs is a friendship for the ages.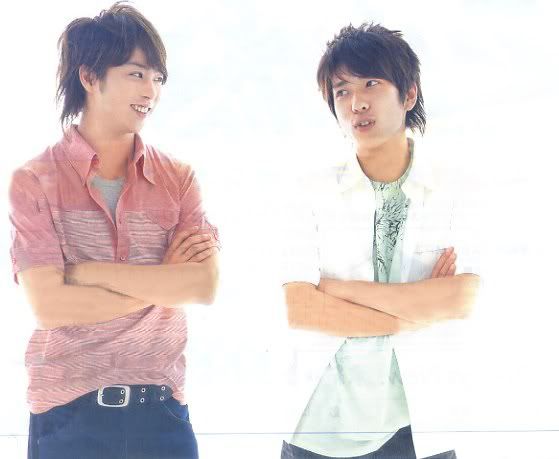 The fond Sho eyes! (P.S. - I imagine this whole scene happening a lot in
Auxiliary
. ♥)
hahaha AIBA. You are irreplaceable. :DD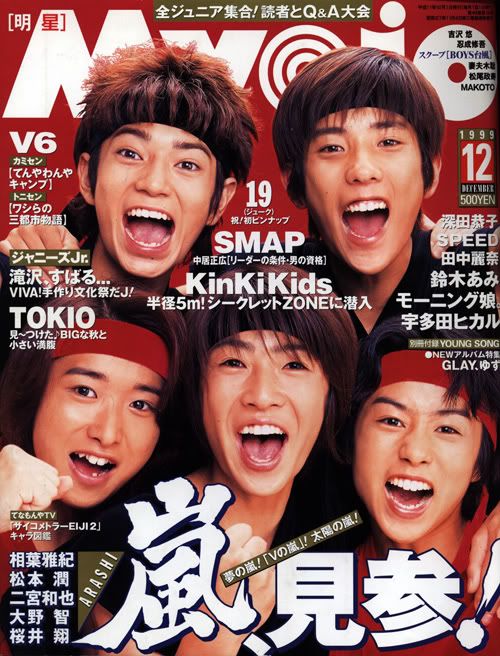 So good, kids, SO GOOD.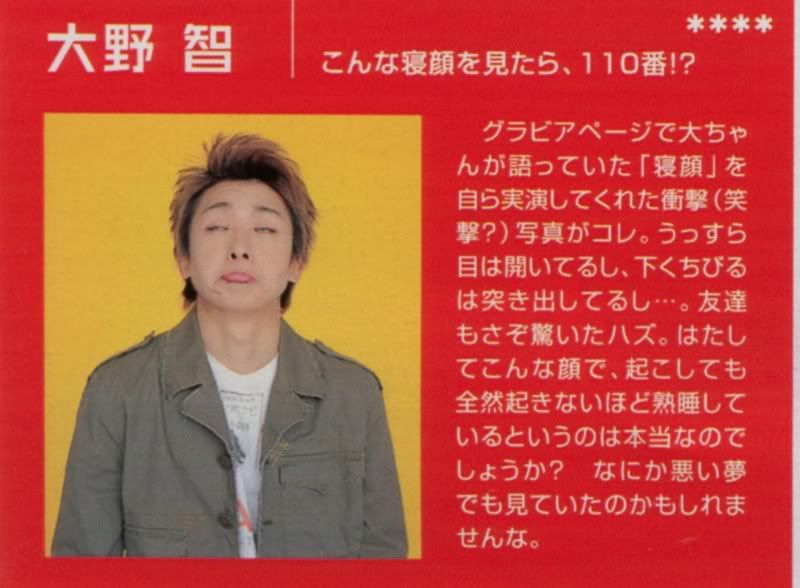 Ohnoooooooooo~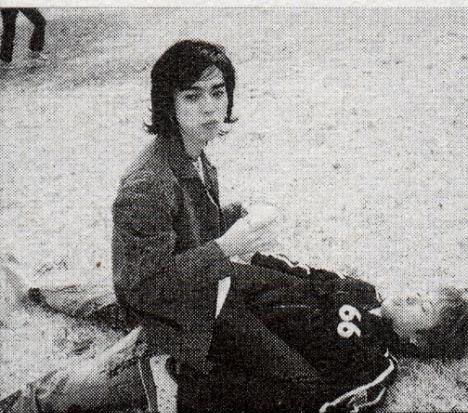 Yup, just a usual day. ♥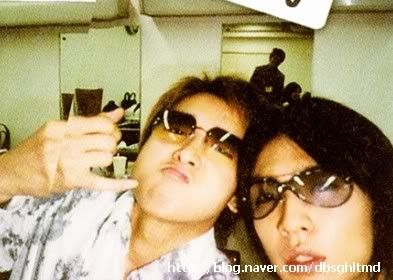 HOTTTTTTTT. (I have said yet today that I
adore
candid photos?? :DD)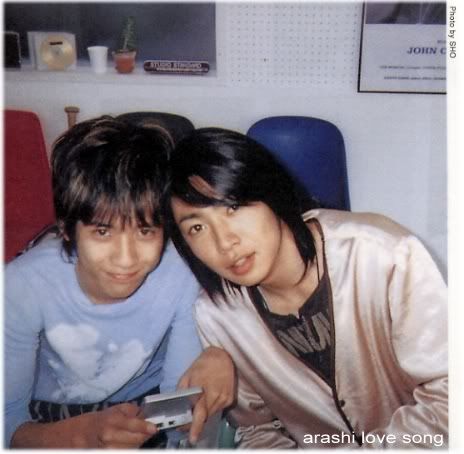 I feel like Aiba photobombs pictures with RANDOM GORGEOUSNESS.
JUN, YOU ARE SO
YOURSELF
! NEVER STOP!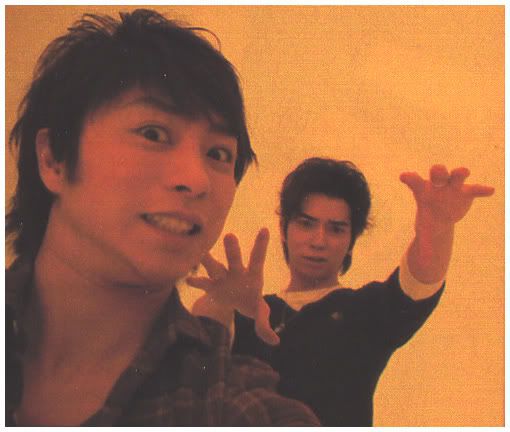 Dorksssssss~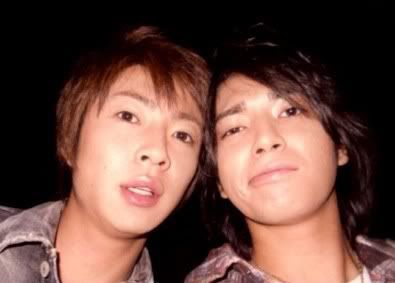 No seriously. I could not love these people anymore than I already do. ♥
Sho, you warm me up. :)
I find this image both
hilarious
(Matsujun is expert on all things himself) and
true
(of course he really would have to be the expert, in order to perfect his craft. He really does scrutinize the playback footage!).
I love their kind of fun, the kind of fun that happens when these two are together. ♥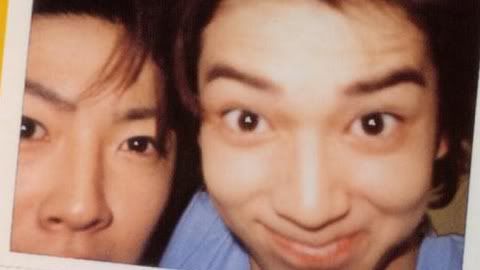 YES!! BEST FACES!! (Val, that face kind of reminds me of your face. ♥♥)
Weirdos and the darlings who love them. ♥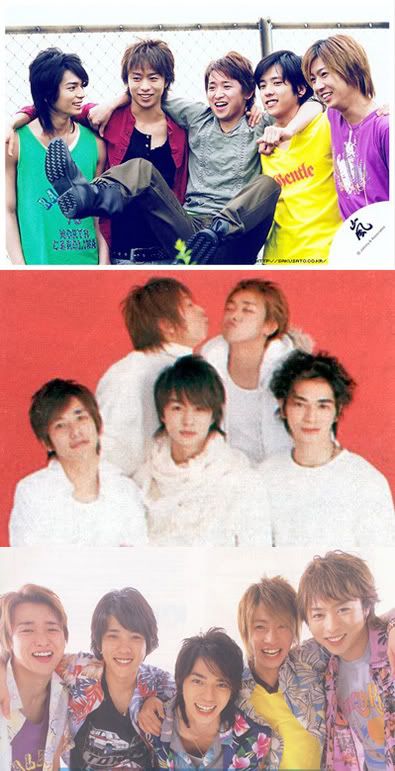 Leader lovin', kisses and Arashi for you!
I love you, Val!♥♥♥
Current Mood:
loving