I almost forgot! I have something perfect for today's occasion! So, at the beginning of March,
tika_veilan
was very nice to me and I said I would make her something in return. She suggested a Yoko wallpaper and I had an idea for one that I put together quickly but due to the events of that month, I kind of forgot about it and it was sadly never posted. No longer!
Happy 30th Birthday, Yoko! ♥
Thank you for being the most hilarious, immature, determined, shy, relatable and loving super idol around. As soon as I "met" Yoko, I knew there was room in my heart for all of Eito and my life has been all the better for it. I hope there's lots of bbqs and Monhan hours and brother time in your week. Feel free to live your thirties however you'd like but please keep letting us see that heart of glass sometimes. ♥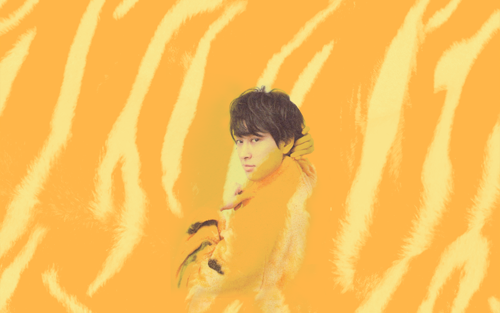 (1920x1200)
(1680x1050)
(1440x900)
(1280x800)
(1024x768)
(1920x1200)
(1680x1050)
(1440x900)
(1280x800)
(1024x768)
Notes:
LOL, so, this picture was a predictable choice when faced with all the Yoko photos in existence but I picked it because I adore Tiger!Yoko and giant patterns and orange. :DD That "YOU 45" was hard to manage so eventually I just decided that what you see here was as good I as I going to do. XD Thanks so much to
tika_veilan
for the inspiration to make something and sorry I didn't post this for you sooner!
If anyone needs a resolution that
isn't
just the same aspect ratio made smaller, give me a shout and I'll see what I can do.
Comments are always appreciated! :D
Enjoy and happy birttthhhday to youuuuu! ♥
Current Mood:
thankful