This is a project from last November, otherwise known forever as "that month Top stopped watching everything else and fell headlong into
We Got Married
". :D It's only really in the last half a year that I've really gotten into kpop and as a result, korean variety programming. I started off with
Kiss and Cry
(skating show of my heart), then
Running Man
(which is an excellently fun scaled-up version of hide-and-seek whether you know the celeb in it or not) and then the Heechul related
Good Daddy
(Heechul and Hongki Have Daughters). Yet I feel my true match came in
We Got Married
. Two idols pretend to be married and basically play one bit of domestic fluff after another? SIGN ME UP.
Anyway, the Adam Couple (Brown Eyed Girls' Ga-in and 2AM's Jokwon) are still my reigning favorite. ("Adam" means "small, petite, tiny" and became their couple name because they are both of a small stature. SO CUTE. :DD) They are just so
unusual
, I love how they completely switch up all these gender stereotypes. Basically, it's a "real-life" noona romance, one of my very favorite drama tropes. :DD Ga-in is
such
badass (
Jokwon on Ga-in:
"When and how can I protect my wife? After seeing my wife today, I realized that this woman can survive anywhere.") and Jokwon is so.. himself. (
Ga-in on Jokwon:
"I just wanted a normal man. Not like this man who seems like a variety show every day.") :D LMAO, actually in episodes 3 and 4, I got all nervous that I wouldn't like them after hearing so much about how everyone loves the Adam Couple. Jokwon was giving her such a hard time and I hadn't yet gotten used to how
Jokwon
he is all the time and I just thought it wasn't going to work for me! I'm so glad I pushed through that. The magic of the Adam Couple is that despite their differences, they mesh together amazingly well and turn the simplest of scenarios into something
hilarious
. The
process
is what makes them something special. ♥ Now I've totally been converted and, if you were to look in these flaily notes I have been writing to myself while I watch the episodes, they are full of all these affectionate sobriquets. Nothing but "Kwonnie" and "the tiny husband" and "our wife" now. THE ADAM COUPLE PROVED INESCAPABLE. :D
And so, I found myself in desperate need of some simple wallpapers. I had a lot of fun working on these. ♥
1.

(1920x1200)
(1680x1050)
(1440x900)
(1280x800)
2.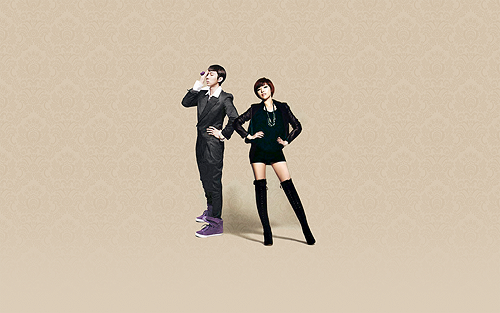 (1680x1050)
(1440x900)
(1280x800)
3.

(1680x1050)
(1440x900)
(1280x800)
4.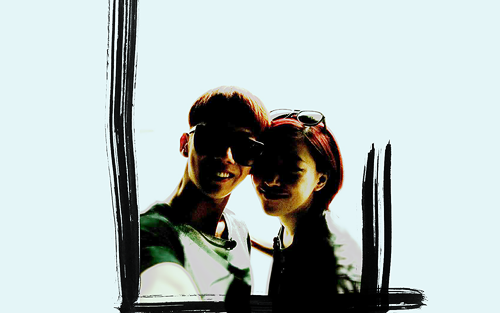 (1680x1050)
(1440x900)
(1280x800)
5.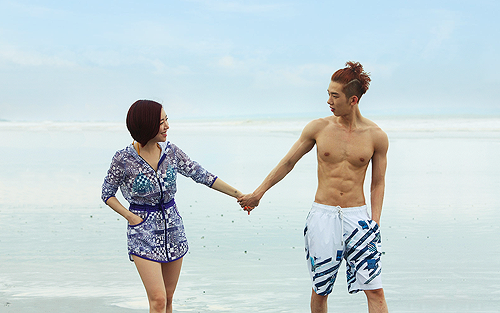 (1680x1050)
(1440x900)
(1280x800)
Notes:
Maybe not the wallpaper for work? ;) Ohhhhh, this one looks so simple but to make it wallpaper size, I had to extend sides and top. Luckily oceans and skies are pretty forgiving but I'm still a little proud of my work here. :)
6.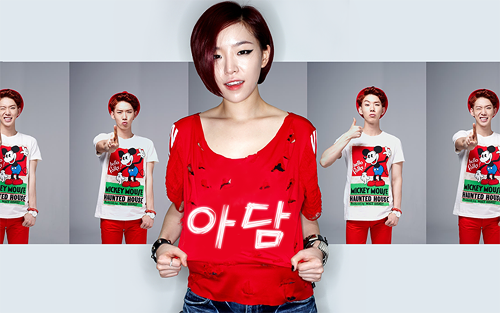 (1680x1050)
(1440x900)
(1280x800)
Notes:
Ga-in's shirt says "adam". :D
7.

(1680x1050)
(1440x900)
(1280x800)
Notes:
First shirt Ga-in is holding says "shiabeoji" or "father-in-law" as in what she calls JYP when she meets him. ;P Next shirt reads "adam".
8.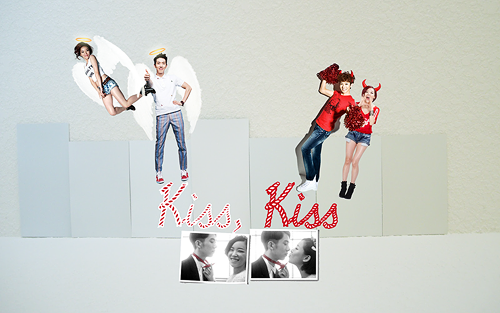 (1680x1050)
(1440x900)
(1280x800)
Notes:
omgggg, this was the MOST FUN thing to make! I'm really excessively fond of Shoulder Angel and Shoulder Devil Adam Couple, they just came together
perfectly
. I really need more excuses to photoshop wings and little devil horns on people. ♥ By the way, Jokwon's swapped shoe colors were a happy coincidence that I only noticed after I started working on both. Meant to be~ The general idea, if it didn't come across, is that both shoulder angels and shoulder devils approve of kissing. XD
Resources:
Texture from
#2
:
invaderjohn
@ deviantart
Brush for
#4
: bsilvia
Wings from
#8
: by
upfromtheashes
Font from
#8
:
Rope
All other textures repurposed from photography found via Google Image Search except heart in
#1
, that's unknown. :)
If anyone needs a resolution that
isn't
just the same aspect ratio made smaller, give me a shout and I'll see what I can do!
Comments are always appreciated! :D
Enjoy! Please don't repost them to Tumblr, especially because I plan on doing that once I figure out how to make them square. ♥
(If anyone wants to talk
We Got Married
, I'm currently watching Adam Couple, Khuntoria, Woojung, Brave Couple and Teukso! :D)
Current Mood:
lazy
Current Music: Catch My Disease - Ben Lee