I take a lot of caps that I don't wind doing anything with, I just can't resist documenting the moment. So I thought it might be fun to do a little post of caps I probably wouldn't use otherwise! With cuts for each section, it case there are spoilers for you. :)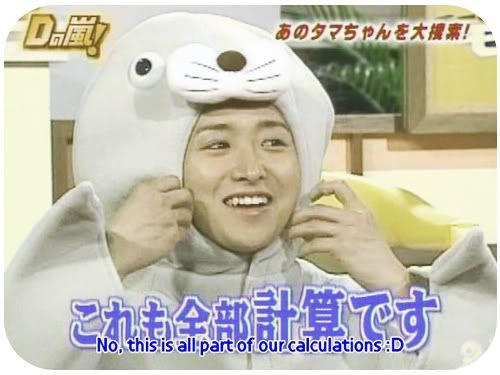 Youkai Ningen Bem (eps 1-3)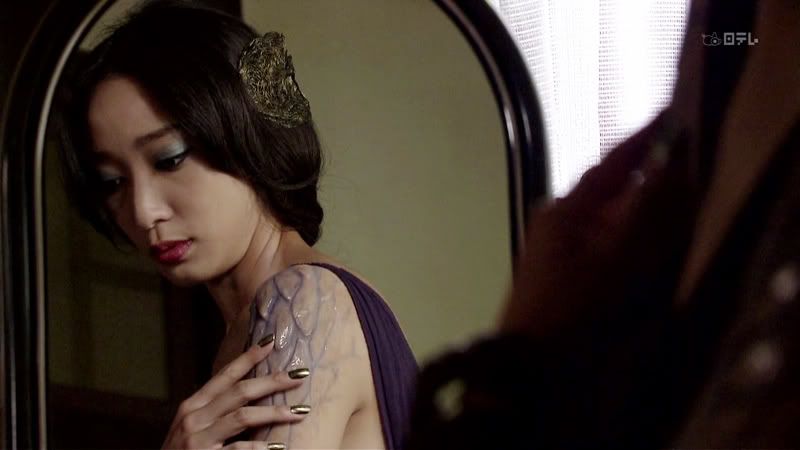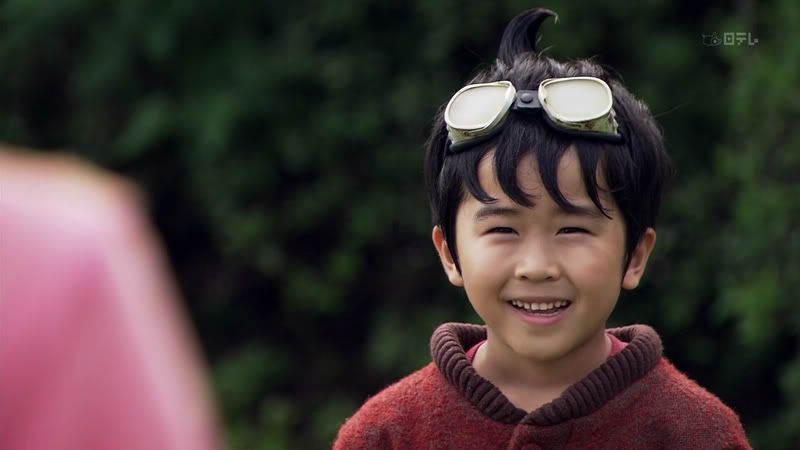 I recently started watching
Youkai Ningen Bem
and augh, it is everything I wanted it to be. I
would
have tuned in just because I found the character designs so appealing but it's a
good show
in a number of ways. I'm really into "monster" shows at the moment, I like the general theme of exploring the defining perimeters of humanity. And just like how vampire shows often also have an overlaying commentary on desire or sexuality, I really like how monsters tend to approach things from the idea of superficiality or prejudice. Basically I am just really into these lonely monsters that are always judged by their forms and not by their hearts! So far
Youkai Ningen Bem
has had a nice touch with their themes too, not too ham-fisted. SUPER INVESTED IN THE FUTURE OF THESE PEOPLE RIGHT NOW. ♥ (ALSO, really in love with Kame's silver hair and Bela, oh Bela, guarded and fearsome and never honest about her emotions and so, so kind Bela!)
Luther (eps 1-2)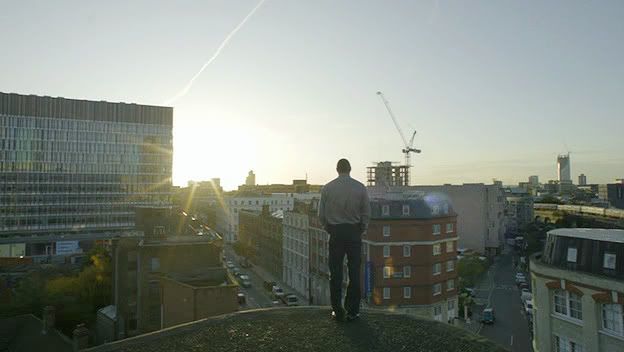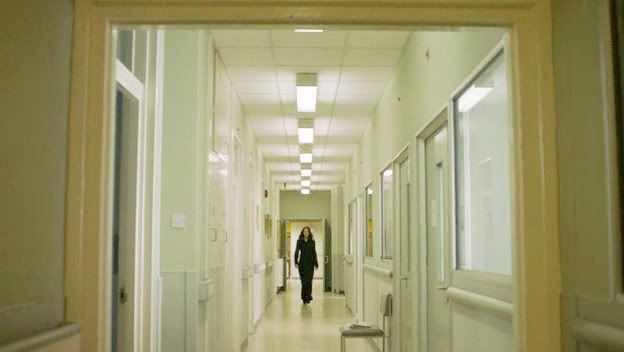 SPEAKING OF MONSTER SHOWS!! I KNOW I AM WAY BEHIND THE TIMES BUT LUTHER IS THE BEST SHOW!! Oh man, I felt like I was holding my breath about 80% of the time when I watched the first two episodes. Idris Elba is amaaaaaazing as John Luther, his
voice
and his
eyes
and basicallly he should star in all the things. And while I'd heard a brief description of Alice Morgan, I was far more frightened by her than I expected to be. Frightened and utterly fascinated and completely in love. I know that Alice is going to go so far. And Zoe! Is so wonderful! And his boss! I'm
so so invested
in basically everyone on this show already which leaves me completely on edge about what could possibly happen to them. This show could explore anywhereeee. WHAT A GREAT SHOW. :DDD
Bonus edit: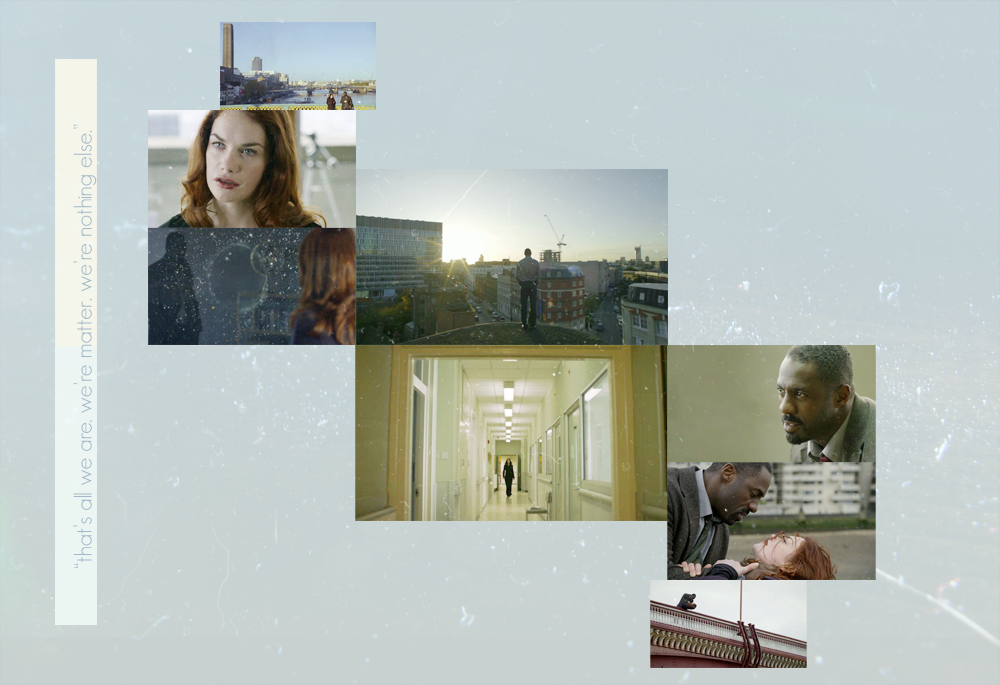 Ohno in HnA 2012.01.19 with Ishihara Satomi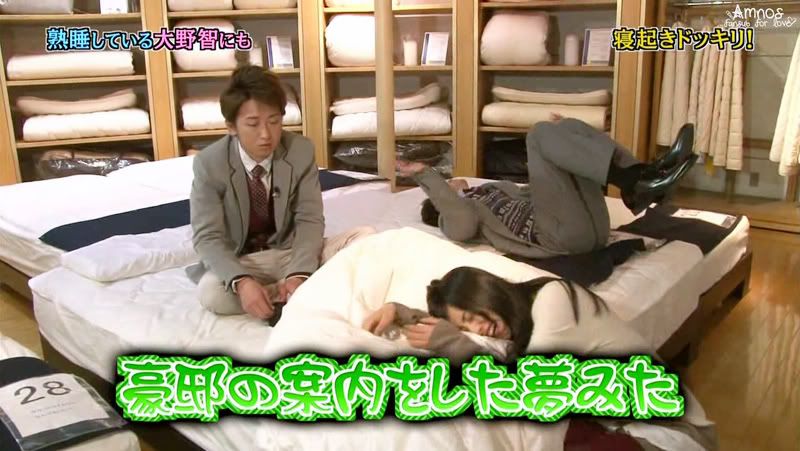 I'm sorry, Ohno is just the
most hilarious
person in my life. There is some combination between his brain and his delivery and his face that just cannot be matched. I laughed so hard during this episode. :DD Plus I have an ongoing idols/sleep otp and I
love
Ishihara Satomi.
Oshima Yuko's Face!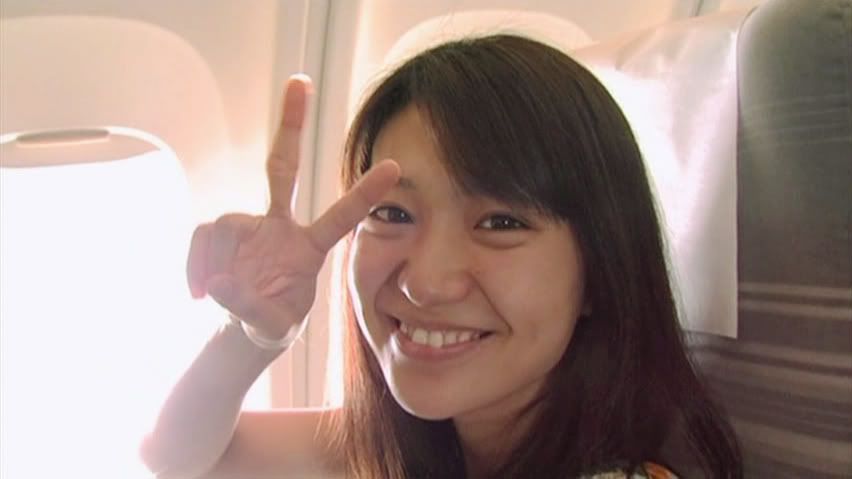 I downloaded one of those borderline creepy gravure-ish DVDs of Oshima Yuko, since I am really quite fond of her face, and lucky it turned out to be mostly on the side of not-creepy for me. :)
A Jim/Pam The Office Rewatch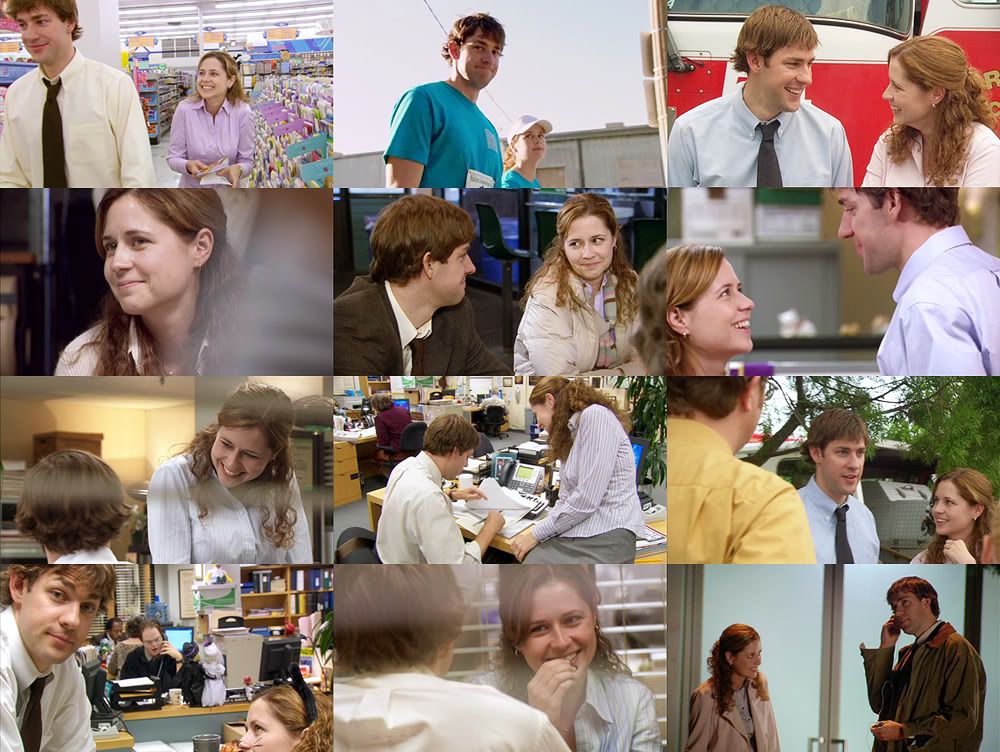 One night I was watching fanvids on YouTube, as you do, and came across a Jim/Pam one and was thrown back to the days I was suuuuuper into them. Oh,
The Office
! :) I don't watch it anymore but I still have so much fondness for those early days. ♥ I wound up rewatching a good amount of seasons 2-4 and when I went back through my caps, a high percentage were Pam gazing lovingly at Jim. I think it's easy to focus on Jim's angst the first watch through but since then, I watch Pam's journey more. These two... I think they will always be one of the fluffiest loves of my heart. ♥
Karina on AnS #31 2007.04.30
Was I making my Karina shipping decisions a little bit based on who was holding her dog as Arashi interviewed her? Absolutely I was. XD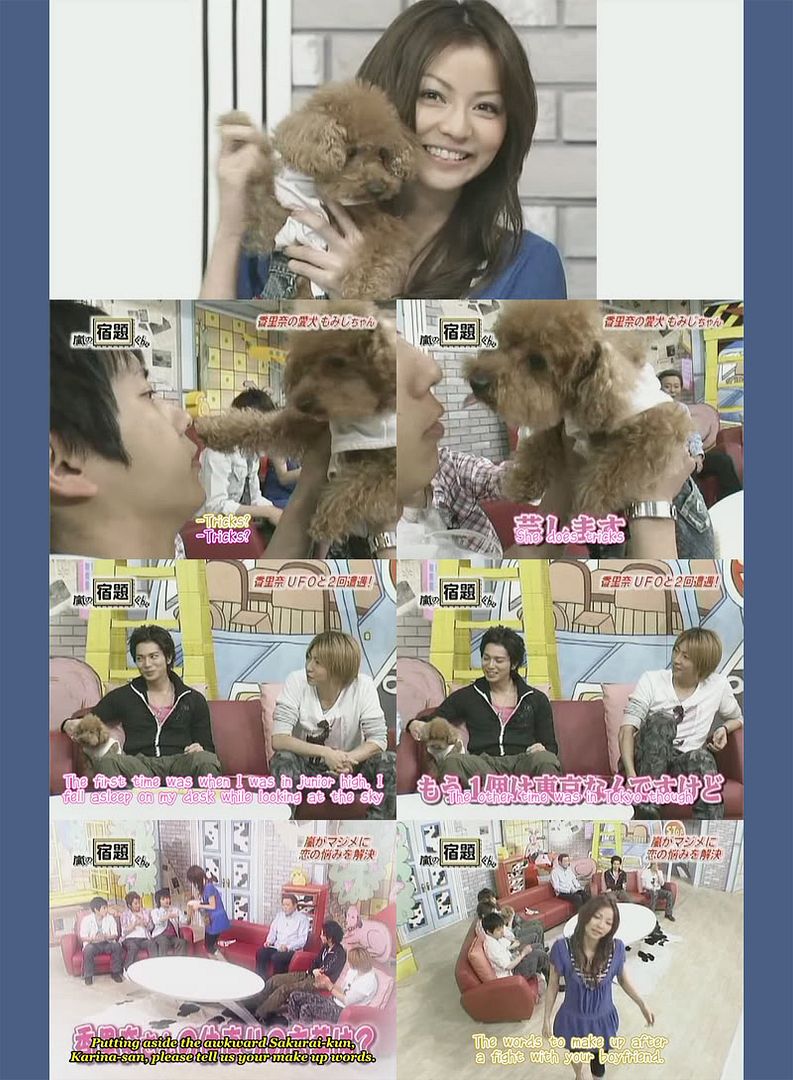 Adam Couple in WGM Horror Special
Okay, my problem with the Adam Couple is that I can't cap anything because I want to cap EVERYTHING but here's a few caps I managed to take by their lonesome. The set-up here, Gain is completing in a sit-up contest with two other WGM "wives"... and totally sucking,
So when she is giving up, she comes up the last time with this sheepish grin and they are just helplessly lauuuughing and she grabs his arms to support herself and I'M SORRY THEY HAVE TOTALLY BROKEN ME. I find all these little things so cute. :DDD
SO THEN, they actually go into the haunted house as the last couple. We have already seen the first two couples all tense and scared going through it... so of course, the Adam Couple just totally kicks the ass of this haunted house. A creepy lump of hair falls to the ground when they pull a string... Jokwon immediately starts wearing it. He makes the room of ghost schoolgirls break and start smiling. When Sadakos from The Ring come crawling... he gets down and crawls right back at them. THE CLUB CANNOT HANDLE KWONNIE'S TROLLING. :DD And for the very last picture, when an arm snakes out from behind the couch to grab at Gain...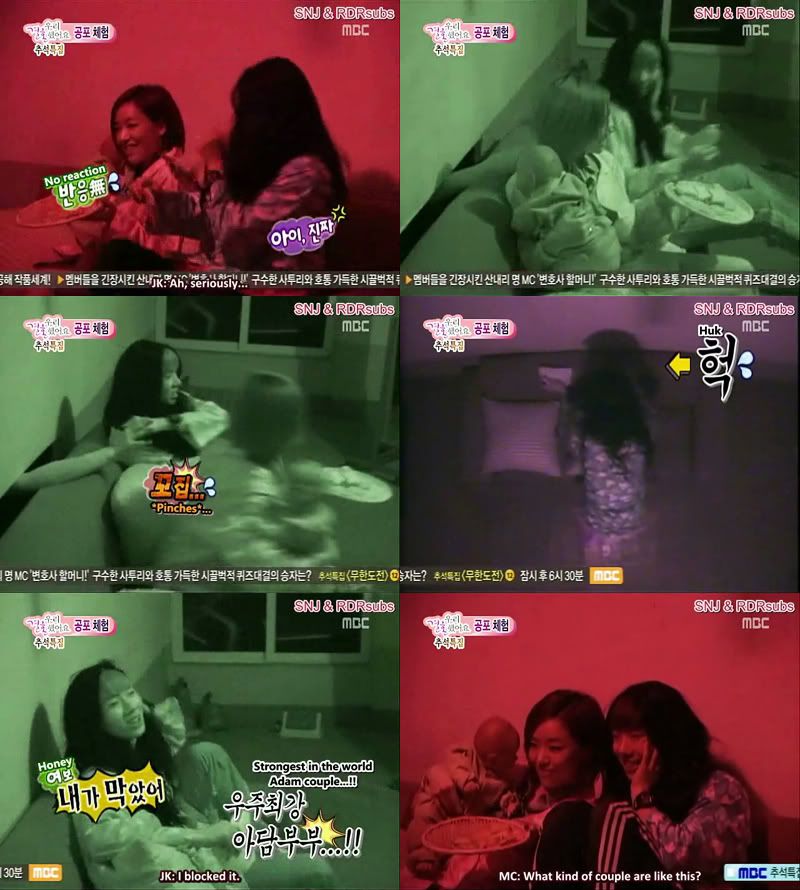 STRONGEST IN THE WORLD, ADAM COUPLE!! I LOVE THEM. ♥♥
Mogura Team in DnA #76 2004.12.15
aklsfkjahfljgdhgkljahg LOOK AT THESE WEIRDOS. ♥

They were truly in full Ohmiya SK mode that day. :DDD It makes me happy, how entertained they are by themselves. ♥
Yup, wiping the yolk (from the week-old, unfridgerated egg he just ate) off his partner's face. This is life.
OHNO IS MY LIFE'S HERO.
ajhklfdghkajhg SO OHNO EATS THE STARCH SYRUP GELATIN AND SAYS "AGH, THAT WAS A MISTAKE"... BUT BY THE TIME THEY MOVE ON TO THE NEXT ONE, HE IS
STILL EATING IT
. "You'd be surprised at how that flavor could catch on," says Leader. I CAN'T BREATHE, I AM LAUGHING SO HARD.
This look of
love
, you guys. Love for Ohno's willingness to eat whatever he hands him. ♥

ajkadhfkljdfhgkj NINO INSTANTLY MOSAICES OUT OHNO'S FACE WHEN GOES TO SPIT THE STUFF RIGHT BACK OUT!!

OHNOOOOOOOO~ aklsjdhflkjahglahd could anyone be more gleeful??

I love how Nino honestly does think Ohno genius for his ability to eat anything. ♥
Current Mood:
relieved