So, unfortunately, I haven't kept up with posting every week! What a shame! I really loved posting more frequently. I miss photoshop and lady posts and random screencaps! I've really been far more removed from lj than I'd like. BUT I do have a reason for the drop off as I've had a lot on my mind recently. Including some DEVELOPMENTS--
In chronological order, with some things of lesser importance in here to mix it up a little. Plus, pictures, I always feel like I need visual aids~ XD
1) It was my birthday last month and I officially turned
how am I this old
. :D It was a nice surprise though, my brother bought me a necklace! We're not big on present-giving in my family as of late so it was very unexpected. It's topaz-themed because he knows I have a stronger connection with my username than with my birthstone. AW! :D Here, I'll show it off: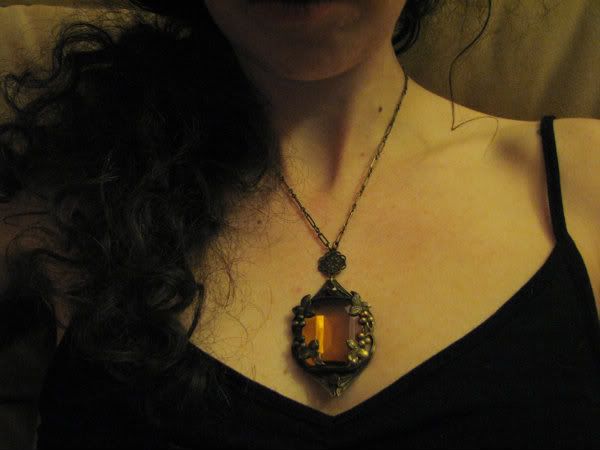 It really is very me, I was impressed! ♥
Also, while we're at it, what I wore that day! It's pretty twee for me, subconsciously flying in the face of my age, maybe? :D :D

There is also a hidden cosplay reference, hahaha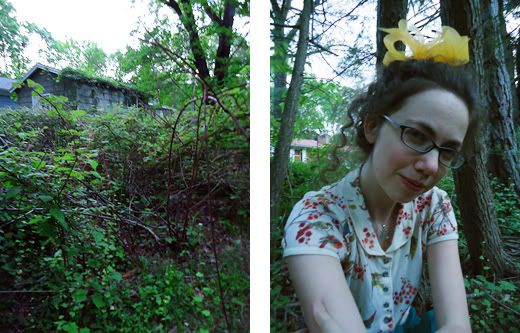 With the raspberry bushes.
2) I got my braces off almost two weeks ago! I had them on for three full years, to the month. Oh, orthodontist, that original estimate of eighteen to twenty months was such a lie! Such a pie-in-the-sky dream! XD Unfortunately, that means that I'm now on to my adjustment period for my new
retainers
. I've got the old-school Hawley version and they didn't let me delude myself about how long I'll be in them this time: I'm supposed to wear them 24/7 for a whole year. I'm still having a bit of trouble with my speech, a lot of lisping. Though my family assures me it's better than I think it is. Still, it's going to take some getting used to. I completely adjusted to having something on the
outside
of my teeth but this covering my soft palate deal is a whole different story. :) But HEY, this is still much better than the time I tried to get Invisalign braces and cried for three days straight! XD The bar was set pretty low~ :D


Still going to have a goofy, gummy smile though~ Believe me, they tried to sucker me into further ways to they could fix me (and take my money) but they foolishly told me too much about the surgery. AHA, I am afraid of both blood and needles! Take that, periodontist who gave me a sneaky, free consultation! :DD
3) I got my
Beautiful World
DVD! IT WAS WORTH THE SOMETIMES INTERMINABLE WAIT. IT WAS WORTH EVERY PENNY. I'd kind of forgotten how much I wanted performances for the BW album songs! It's been a while since I was super into them! Aha, there was a period when I thought, for some unknown reason, I wasn't going to cry this time! That I was in control of my emotions! HAHAHA. Then
Doko ni Demo Aru Uta
happened. Oh dear sparkle, even having listened to the song and read a translation and gotten a lot of my feelings out previously (or so I thought) did not prepare me for how that song destroyed me. XD It's my current favorite solo from the concert. NINO MADE A PRETTY COMPELLING CASE THIS TIME FOR THE CROWN. (...Though I really should have remembered they sang 5x10 at the end of this, my destruction was really always guaranteed. XD)
I have a lot of various feelings about this concert but I just can't imagine trying to get them all down right now so I'll only summarize with: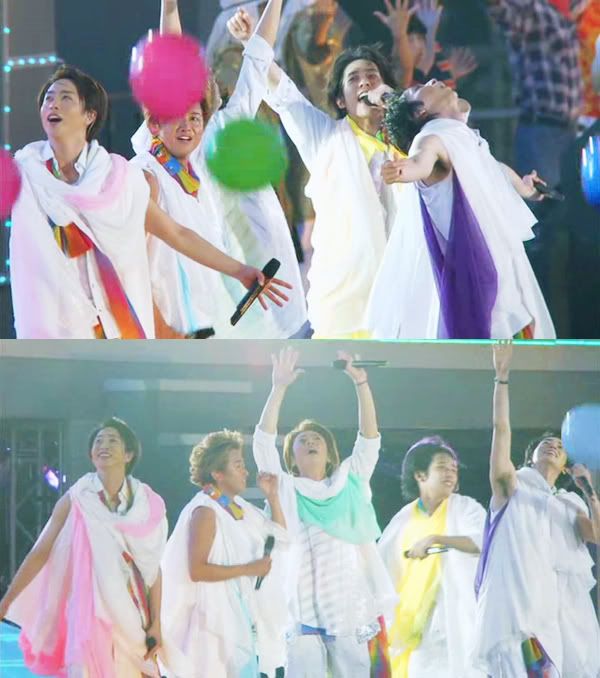 I REALLY LOVE THESE PEOPLE. ♥♥♥
4) I've been really into
The West Wing
recently! I've never seen the sixth and seventh seasons and I decided now was the time to just roll through them both! A LOT OF OUT-OF-DATE FANDOM FEELINGS RIGHT NOW. I'd talk about them further but yes, I am type to worry about spoilers for a long shuttered fandom. XD
I've been distracting myself with American TV recently, BECAUSE my usual Japanese TV hasn't been nearly as distracting as of late due to my next news...
5) Most importantly but also what I've been nervous to actually talk about and make real,
I am going to Japan for the summer
. Ahhhhhhhhhhhh~ I've been to Japan once before but that was eleven years ago now! I was in high school and I went along with the Rotary Club who arranged everything for me, so it was really a whole different kind of experience. This time I'm going with my brother, we're aiming for moderately-inexpensive-by-comparison trip by doing a couple homestays and some hostels/dormitories. I KIND OF CAN'T BELIEVE THIS IS HAPPENING AND WE LEAVE ON JUNE 13TH alsdkla;dfgl. But it's a good time, neither of us has commitments right now and we might as well do something memorable with the time!
I'm sure at some point I will be really excited but right now, I'm incredibly nervous??Sometimes I get up in the middle of the night and have a minor panic attack. XD It's just
so much
to plan, trying to figure out where we're going to be and how we'll get there! This was a pretty last-minute trip that's mostly being arranged for my brother's sake and I'm just the companion. And planner. XD Plus, I understand more Japanese than I speak and I certainly can't read more than a few kanji so I'm still not sure about how I'll get around in day to day life! I'm especially concerned about transportation, both buying the tickets and figuring out how to get on the right stuff! Buses! I'm not very good at buses even when they are in English! I'm trying to tell myself that I can only take it a day at a time but it's hard not to
worry
in advance. :)
SO, if anyone on my flist has any Japan experience/will be in the country and wouldn't mind fielding an occasional
omg I'm confused
question, I'd really, really appreciate it? :D It would be reassuring to have a language-emergency contact. :) I know a couple people with be there, like
felixkeep
! Though I'm not sure if I'll be in the same place as anyone, I think we'll be spending a lot of time in the Kansai area. WOW, I'M STILL IN DENIAL THAT I'M ACTUALLY GOING. :D Any general travel advice would be much appreciated too! Really, I'm very open to anything. :D
SO YES, TO SUMMARIZE: JAPAN! JUNE 13TH-SEPTEMBER 3RD! I'D BE HAPPY TO MEET UP WITH FANDOM PEOPLE IF WE OVERLAPPED SOMEWHERE! I WOULD EXPLODE WITH JOY IF I COULD GET INTO EITHER THE ARASHI OR EITO EVENTS THIS SUMMER, IF ANYONE HAS ANY IDEAS FOR HOW TO DO THAT WHEN TICKETS ARE AS EXCLUSIVE AS THEY ARE!! AHHHHHHHHH~~~~ :DDDDD
Current Mood:
nervous