Okay, so flist, you may or may not know that I'm currently in love with asian dramas. It's like American TV, but much crackier! And since they have a set amount of episodes, they never have a chance to fall off-track and become terrible! Seriously, it's so great to just a 12-16 episode season to watch of pure
fun
.
If you're new to dramas, I'd have to recommend you actually start with
Hana Yori Dango
as that's the show that hooked me. It's a recent classic for reason! However, there have already been
great pimp posts
about that show... so here's one about my current show that needs more love/fandom:
Full House
. It's about an aspiring writer, Han Ji-eun who, through a series of plot twists, winds up sharing a house with Young Jae, a famous actor.

You should watch Full House if you like:
1.
Terrible
Amazing
Amazingly Terrible
Fashion. While Young Jae can't quite compete with the ~outfits~ put together by Chuck Bass or Domyouji, he does like to expose at least 30% of his chest at all times. And, as far as they go, it's a very nice chest. :D
(That lime green crocheted v-neck is still seared on my retinas.
Btw, all ~looks~ come from just the first two eps. XD)
2. Han Ji-eun is both adorable and not afraid to kick some ass/be generally immoral. Like, conning some celebrity (...okay, it's Young Jae) she just met out of some money because she really does need it! Or headbutting him in the face. Also, her profession is an "internet novelist" which is just how you put "fanfic author" on your resume. She's one of us!
(Yes, Han Ji-eun will headbutt you in the face and chase you down in three inch heels.)
3. Couples who aren't too cool to like playing on a swingset. Seriously, the main couple enjoys psedo-dates would make many 13-year-olds say "Please, that's so lame" but are really
adorable
activities.
(Examples: learning to ride a bike, going ice-skating and, of course, playgrounds.)
4. There's a scene in which both our male and female lead try to make the other nervous by stripping off some clothing. It's as awesome and hilarious as it sounds!

(Two words: strip chicken.)
5. You need the sweet, sweet crack that only asian dramas can provide. Trust me, you do.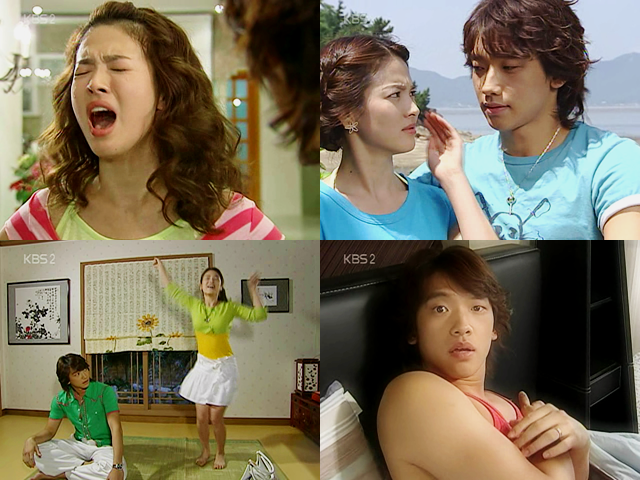 (Warning: Do not watch for the plot.)
ALSO: You might recognize the actor who plays Young Jae from his
infamous
rivalry
with our very own Stephen Colbert.
RAAAAAIIIIN!
...This brought me so much joy.
If you're interested in downloading this, or any other, Asian drama, you should go join
jdramas
. It's an awesome community that's provided me with many hours of entertainment. <3
Coming up next, icon posts. And why you should go watch Nodame Cantabile, because I'm going to be flailing about that one too. It has more plotty elements in addition to the adorablity and crack. Pfft, if that matters to you or something! ;)
Current Music: Short Skirt/Long Jacket - Cake